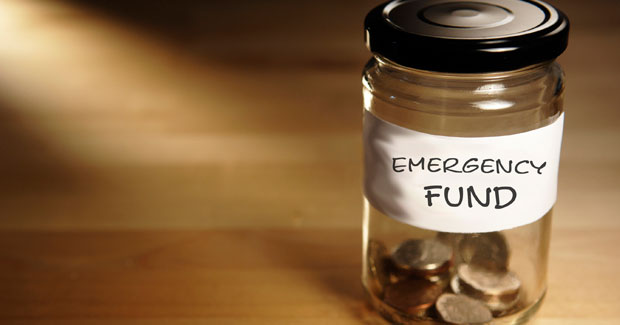 Apart from the saving strategies like the 365 Day Money Challenge we featured earlier, one way to avoid the negative impact of debt is to keep an emergency fund handy.  There are several economic reasons why people accumulate debt.  Some of these are overspending, having chronic medical problems or getting caught on the wrong side of economic downturns. However, for those finance fans out there, there is an answer to these problems.  That answer is an emergency fund.
Emergency funds – the basics.
Emergency funds aren't rocket science – they are pretty much a pot of cash designated specifically for emergencies.
You need an emergency fund because life is unpredictable.  Accidents happen, cars break down, people don't pay you, children cost more than you expect, etc. An emergency fund should be able to cover your expenses when an unexpected situation arises. The emergency fund should be easily accessible, so cash or equivalents like CDs or money market accounts are usually a good option.
There are typically several questions about emergency funds, so here are a few you may be having.
Should you keep emergency funds at home or in a bank?
The answer is: both. You should put your emergency funds in the bank and at home. The reason for doing this is to counter the potential of any systemic issues that may stop you from drawing money out in an emergency. While this isn't something that will happen regularly, banks can and do go out of business.  While the FDIC protects your deposits, it can take time to get your money out of a bank especially if the bank is having problems or is under supervision.  Keeping some cash at home is additionally wise if you live someplace where natural disasters occur, such as the US States along the Gulf of Mexico.
How much should you keep at home versus in a bank?
The rule of thumb is to keep 50% of your emergency fund at home, and 50% in a bank.  If you have a substantial amount of money to keep in a bank consider looking at the banks Certificate of Deposit products to see if they are offering competitive rates.  Prevailing rates of interest are pretty small, but you may make a few extra bucks if you evaluate your options.
An alternative to banks is to keep your money in credit unions. Credit unions are non profit and are owned by the majority of their members, so you will often get a better deal than with commercial banks. The only disadvantage of keeping money in credit unions is that they have fewer branches. Therefore, if you want to use credit unions, make sure that they're easily accessible from your home or via the internet.
How much should you have available?
Two to 5 months expenses. As previously mentioned, the emergency fund should be enough to cover your expenses.  But how long for? According to experts, it should be able to cover all of your expenses for at least two to five months. Think about the expenses you have for rent, food, electricity, and loans that you may be paying for each month. If you're living alone or with a partner but you don't have kids yet, then at least two months to cover your expenses should be enough. But if you have kids, the rule of thumb is that for every child that you have, you should add another month to your emergency fund. For example, if you have three kids, then make sure that you have at least five months of cash to cover your expenses.
What are the benefits of an emergency fund?
Emergency funds provide obvious financial stability but there are number of other advantages.  These are:
It helps build discipline.  You keep your cash in a separate account, which means its 'out of sight, out of mind' – so you won't be tempted to spend it.
It prevents you from making bad decisions.  Getting short term cash is often doable, but at what cost?  Short term unsecured loans typically have high interest and fees. Going with these is often a bad idea from a financial standpoint.
Emergency funds reduce stress.  If you don't have an emergency fund you are living a high risk lifestyle.  This is because you are betting on nothing happening to you.  This essentially means you are exposing yourself to chronic financial stress, which has detrimental psychological and health effects.
How emergency funds can fit within your investing plan
You can think of an investment strategy as a pyramid.  Usually pyramids have a strong base of low risk/high safety investments such as cash, certificates of deposit, money market shares, treasury securities or very safe stocks. Next in the pyramid are more risky investments such as riskier stocks, more volatile mutual funds or real estate.  At the very top of the pyramid are speculative investments like actively managed currency accounts, options and futures, direct investments in businesses, highly speculative stocks, etc.  As an aside, there tends to be more leverage in riskier assets, this is because according to the FXCM, leverage increases the profit potential of an investment.  Here is a very nice infographic from Transamerica which shows the main idea behind the investment pyramid.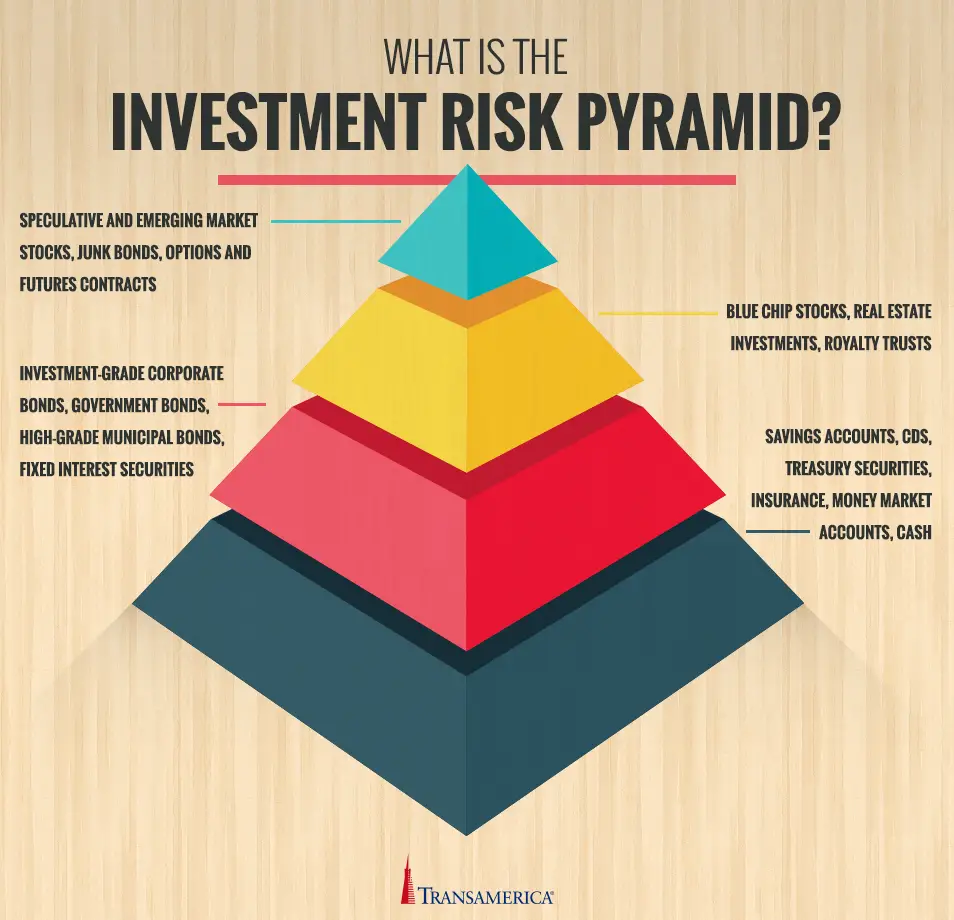 Don't put your emergency funds in high risk investments. There are a couple of reasons why you don't want to have your emergency funds in higher risk investments. There are a couple of reasons why.  First, high risk investment can and frequently do lose money.  The last thing you need is to get caught in a situation where asset prices are declining and you need to take your money out.  Second, cash is more liquid than other assets.  Cashing out a CD or money market fund is often as simple as making a trip the bank, whereas selling stocks or bonds can take 2 or 3 days before funds are available.
As a final word of advice, don't treat your emergency fund as something that can be used to pay for your credit card debt. An emergency fund should only be used in situations where are is an actual emergency.  If you don't have an emergency fund yet, you can start now by putting a small portion of your salary away each month.  Savings challenges like the 365 Day Money Challenge or the 52 Week Money Challenge are great ways to get started.
Where To Go Next
Saving up an emergency fund is one important part of financial health. Another is managing the amount of debt you have. If you do have any debt, consider going with an outfit like Social Finance (SoFi) and refinancing. If you owe more than 10% interest it might be worth your time. Click the link here or go with the banner below to contact them.

For more of our great articles, consider reading these:
Use Paribus for Painless Savings
How Lauren Greutman Paid Off $40,000 of Debt
Yes, You Can Pay Off $137,000 in 7 Years
How To Dump Debt When You're Behind On Your Bills
Image source: Transamerica.
Get Regular Updates!
Like Our Debt Free Family? Sign up for our free email newsletter.