[fusion_text]
Each month I am going to bring you a recap of the previous month's progress on our debt freedom plan. This will serve two purposes — to keep my husband Mike and me accountable to our financial goals and to give you a look behind the scenes of our strategy for paying off our debt.
My hope is that giving you this open and honest review will inspire you to keep going on your own debt free journey. Or if you haven't started yet, I am hoping this information will help fuel your fire to get going on reaching your own financial goals.
Don't worry, I won't go line by line through our budget. But I will give a rundown of things that happened during the month that affected our budget and point out some areas that worked and some that need improvement.
While we have already paid off a lot of debt in a short amount of time, you'll find that our journey is not perfect in any way. When my husband and I review each month, we often discover opportunities we missed where we could have put more money toward our debt.
We definitely make mistakes, and in retrospect, many times we will find situations where we have spent more money than necessary. But we don't let these findings discourage us. We try to learn from our mistakes and use them to propel us forward into the next month.
Let's take a look at how January 2015 went…
[/fusion_text][fusion_text]
A New Year, A New Beginning
Our Financial Goals for 2015
Each December for the past few years, I take some time to reflect on the year that has passed and dream about the possibilities for my life in the coming year. I believe very strongly in the power of goal setting, and the last month of the year is a perfect time to clarify the achievements we would like to make happen over the next twelve months.
On New Year's Eve, after we put the kids to bed, Mike and I stayed up and shared a bottle of wine. We discussed and wrote down our goals for 2015 in the seven key areas of life — career, financial, spiritual, social, physical, intellectual, and family.
Keeping in mind that our ultimate financial goal is to pay off all of our debt including our mortgage by the time we turn forty (seven years from now), we have come up with the following financial goals for 2015:
We will pay off the remaining balance of our home equity line of credit (HELOC) by June 1, 2015. (The balance as of January 1st was $21,469.33.)

And, we will pump up our emergency fund to $25,000.00 by December 31, 2015. (We are keeping it at $5,000.00 until our HELOC is paid off.)
This means that we need to come up with $41,469.33 to meet our financial goals for the year. These are definitely stretch goals for us since that equates to almost $3,500.00 each month we would need to come up with in order to meet these goals.
We don't know yet how we're going to accomplish this, but we are determined to do our very best. Like Les Brown said, "Shoot for the moon, because even if you miss, you'll land among the stars."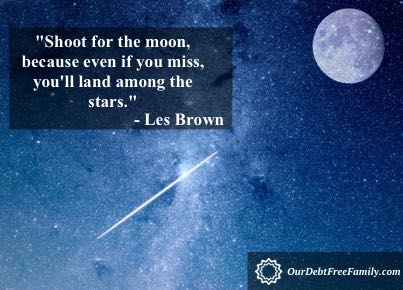 [/fusion_text][fusion_text]
We Launched the Website!
Another huge goal of ours was to launch this very website on January 27th. The idea for the blog and website was first born last April when I started doing financial coaching to help others get out of debt, but the progress was slow-going.
In June, Mike and I registered the domain name and created a landing page for the website, and I made it my goal to start working on my writing. But without a set launch date for the website, I struggled to make my writing a priority while balancing the responsibility of managing our home and taking care of a toddler and a baby.
As the months went on, I wrote here and there, but I didn't feel like I was getting much closer to launching the website. Finally when November arrived, I knew I had to set a date to launch the website and stick to it.
Helping others get out of debt is something that I am extremely passionate about, and I believed starting a blog would be the best way to spread my message and have the potential to reach countless lives. It was something I felt compelled to do, and I knew if I let January 27th pass without meeting my goal, I would feel terrible. It was time to put the excuses aside and make my dream a reality.
Mike has been a huge supporter of my dream and worked tirelessly to build the website for me. During the months of November and December, we didn't focus on the website as much as we had hoped because of the holidays so when January rolled around, we knew it was crunch time.
We put our heads down and worked together as much as possible — when Mike got home from work, during the kids' nap time each day, and after we put the kids to bed. We are fortunate enough to live only minutes away from his parents, and they have always been gracious to watch the kids for us when they can.
With the launch of the website came some unexpected expenses. Prior to January, we were spending $116 each month for training and software, but while getting the website ready to launch, we realized we needed a few more things. Those new one-time expenses totaled $151.17.
Having these new expenses caused us to re-examine the $116 that we had been paying monthly. We decided to cancel my monthly subscription to a training program that cost $30. And I discovered that a software I was using that charged $67 each month had an offer to sign up for two years at a 50% discount if I paid in full. That offer cost $741.93, which was a big hit to our budget, but it will be worth it not to pay the $67 each month going forward.
All of the charges totaled $1,009.10 in the month of January! This was way more than we expected to pay to launch the website, but going forward, maintaining the website should cost only $19 each month for my email service.
[/fusion_text][fusion_text]
What Went Well
We Paid Extra Toward Our Debt
Even though we had the large unexpected costs for the website, we still were able to put extra money toward the HELOC. This was partially due to the fact that we held off on making an extra payment in December.
In 2013 and 2014, we were budgeting for every four weeks instead of every month. Because my husband gets paid every two weeks, it was easier for me to start our "month" with one of his paydays making each "month" two full pay periods. This made it really simple to see how much extra we had leftover to put toward our debt at the end of each four-week block.
In December we decided to switch to monthly budgeting in 2015, and it felt more complicated for me to determine what our extra payments would be so I put it off. It turns out it wasn't all that complicated when I took a moment in January to figure it out. Here's what I did:
I took our checking account balance and subtracted $5,000 for our emergency fund. (We earn a higher interest rate on our checking account than our savings account so we have decided to leave our emergency fund in our checking account.)

Then, I subtracted out the balance on our credit card so that we could pay that in full.

Next, I subtracted out the bills that were still left to be paid that month.

Finally, I subtracted out how much I expected us to pay for groceries for the rest of the month.
The amount left over was $2,171.46! We had already made the minimum (interest-only) payment on the HELOC for January of $115.68 so we paid a total of $2,287.14 toward our non-mortgage debt!
Here is how our Debt Snowball changed from January 1 to February 1 and since we started our plan in August 2013:

In the month of January, we reduced our non-mortgage debt by 10% and our total debt by 1%. Since we started our plan back in August 2013, we have reduced our non-mortgage debt by 78% and our total debt by 24%.
If we continue to reduce our debt at this rate (24% reduction in 18 months), we will pay off our debt by January 2020 when Mike is 39 and I am 38! Exciting!
[/fusion_text][fusion_text]
We Paid $14.98 for a Brand New Vitamix
Ever since I first read this article, I have wanted a Vitamix blender. I told Mike about the article and the power of the blender, and he was impressed — amused but impressed.
After reading more reviews online and talking with friends and family who own a Vitamix, we decided that our next blender would definitely be a Vitamix. But a $500 blender is a "want" not a "need" so we thought that it would be on our list of items to purchase after we pay off the HELOC and build up our emergency fund. We appreciate quality products and don't mind paying extra for effective products that last.
We started to rethink that plan in December, however, when we noticed that Vitamix blenders were on sale for the holidays. Mike and I had multiple conversations trying to justify the purchase. "It would be our Christmas present," we said. "A gift for the house." Once the new year began I wanted to "detox" from the holidays and eat healthier. I planned to start having smoothies for breakfast, and a Vitamix would make smoothie-making fun and easy.
But I had this nagging feeling that it wasn't something we should splurge on just yet. Mike and I agreed to hold off.
A couple of weeks into the new year of making smoothies everyday we began to talk again about how nice it would be to have a Vitamix. Then I had an idea.
I had thousands of Swagbucks that I could redeem for Amazon gift cards. Mike travels periodically for work so he checked his airline points balance and found that he could cash in his points for $200 in Amazon gift cards. We had received $75 in Visa gift cards as a Christmas gift from my aunt and grandma so we bought $75 worth of Amazon gift cards with those. Plus, I already had $105 in Amazon gift cards credited to my account from Swagbucks that I had previously redeemed.
The total for the cost of the Vitamix and shipping charges from Amazon was $464.98. After redeeming our airline points and Swagbucks, we had accumulated $450 in Amazon gift cards so our total out of pocket amount was $14.98 for the Vitamix blender!
So far we have been really happy with our Vitamix and would highly recommend it to anyone looking for a high-quality blender. (As long as it works with your budget, of course! 😉 )
[/fusion_text][fusion_text]
What Didn't Go Well
Now for what didn't go as planned.
As I mentioned above, one of my goals for the new year was to "detox" from the holidays and start eating healthier. I had heard more and more about the Paleo Diet and was interested in trying it. Mike, being the ever-supporting husband, was onboard to try it with me so we decided to give it a go for 30 days to see how we liked it.
Luckily, eMeals, the inexpensive meal planning service we love, offers a wide variety of meal plan options — everything from Clean Eating to Slow Cooker to Vegetarian and, yes, Paleo — so we knew trying Paleo would be an easy switch.
What we didn't expect was how much meat we would need to purchase for the diet and how it would affect our grocery bill. We choose organic food as much as possible, and loading up on organic eggs, meat, and veggies adds up quick.
We ended up spending $1,018.72 on groceries for the month of January, which was more than double our budget of $500!
We are not okay with spending that much on groceries each month so we are committed to cutting our spending on groceries going forward.
In addition to totally blowing our grocery budget for the month of January, we also blew our restaurant budget. Each month we set our restaurant budget to $50 because we don't plan on eating out much. But by the time the first weekend of the month was over, we had already gone over.
On the 1st, we treated a dear family friend to lunch. She is always so generous to us and our kids so we wanted to do something nice for her. On the 2nd, we were out and about and didn't plan ahead what we were going to do for lunch so we decided to try out the popular Paleo restaurant in Portland called Cultured Caveman. The food was delicious, but those two purchases put us over our budget for the month.
On the 16th, we attended a retirement party at a restaurant for two of Mike's coworkers and bought ourselves dinner there, and on the 24th, we went to a family dinner to celebrate both my dad's and my niece's birthdays.
By the time the month had ended we had spent $152.66 on restaurants.
[/fusion_text][fusion_text]
Goals for February
For our January budget, some parts went better than expected and some categories were totally blown out of the water. We plan to do better in February.
For the month of February, our goals are:

Pay $1,462.39 toward the HELOC,

Stick to a $500 budget for groceries, and

Stick to a $50 budget for restaurants.
[/fusion_text][fusion_text]
Final Thoughts
While we did not stick to our budget in several areas this month, we are pleased that we were able to pay extra toward our debt despite the added expenses.
We have learned time and time again that even when you bust your budget you can still make progress on your financial goals. The point of the budget is to be intentional with your spending. But when something comes up and you decide to stray from your original plan, that can be okay too.
[bctt tweet="Creating a budget and tracking your spending will get you closer to achieving your financial goals."]
The act of creating a budget with your partner (if you have one) and communicating about your spending throughout the month will get you closer to achieving your financial goals. Remember, "Shoot for the moon, because even if you miss, you'll land among the stars."
[/fusion_text][fusion_text]
What About You?
Participate in the conversation. How did you do on your January goals? What are your goals for February? Share in the comments below.
[/fusion_text][rev_slider Opt-in][fusion_text]
Disclosure of Material Connection: Some of the links in the post above are "affiliate links." This means if you click on the link and purchase the item, I will receive an affiliate commission. Regardless, I only recommend products or services I use personally and believe will add value to my readers. I am disclosing this in accordance with the Federal Trade Commission's 16 CFR, Part 255: "Guides Concerning the Use of Endorsements and Testimonials in Advertising."
[/fusion_text]

Team Our Debt Free Family is the administrative WordPress user account for Ourdebtfreefamily.com. Our Debt Free Family is a premium classic personal finance blog. Our mission is to inform, educate and help you get out of debt.