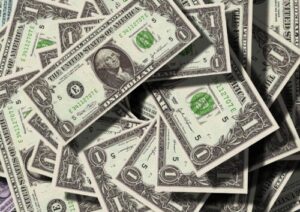 February was a great month for us. We are getting situated with my husband's new job as well as focusing on improving our health – physically, mentally, and financially. We made progress in all of those areas last month, which feels SO great. Here's our February recap…
Our Credit Scores Went Up!
One of the best things about the debt freedom journey is watching how paying off debt will help you improve other areas of your life too. Our credit scores have gone up, especially within the past two months. At the beginning of the year, both of us stood in the "poor" area of the credit gauge and we've now graduated to "fair."
There is still a lot of progress to be had, but overall, we are super proud of this progress. Not to mention, being able to improve our credit scores can help us land a consolidation loan (which is something we've been discussing, especially for my pesky IRS debt).
February Debt Update
As always, at the end of the month, I liked to give you all an update on the numbers. In January, our debt counts looked something like this…
My Car Amount Owed: $20,217
Credit Card Total For Both: $487
Student Loans: $24,362
Matco/Snap-On: $6,673
Amount in Collections: $679
Overall, we put about $1,600 towards debt payments in February. At the end of the month, here are our updated numbers (with interest accounted for)…
My Car Amount Owed: $19,729 (Under $20K!!)
Credit Card Total For Both: $455
Student Loans: $24,352
Matco/Snap-On: $6,243
Amount in Collections: $679
Accounts Being Paid Off!
One of the biggest things we are looking forward to in March (outside of our first wedding anniversary) is paying off yet another account. This account, once it is paid, will free up an extra $106 per month. While that isn't a ton of money, it will allow us to pay off our credit card fairly quickly. Having our line of credit open will help us further improve our credit scores as well.
Then we will switch our focus to what we have in collections and get that paid off. Because those items have the highest impact on our credit, we'd like to focus on those. In about two years, our goal is to be in a place financially where we may be able to start looking at homes to buy.
Once collections are paid off, we will refocus on paying his tools off, student loans, and then our car loan. By July, we hope to double our monthly payments towards debts ($3,200 per month). Doing that will help us pay it off even more quickly.
Readers, where are you in your debt journey? Let's chat!
Read More