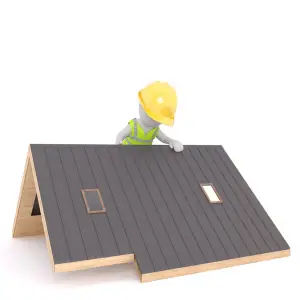 Whether you decide to repair an existing roof or repair your current one there are certain things that must be included in your roofing contract. Since many homeowners aren't fully aware of the scope of roofing services, terms, and warranties here's a list of key points that must be included in your roofing contract.
Roofing Warranty
Home remodeling contractors in the United States all offer a different type of contract when it comes to your roof installation or roof repair work. Before you sign a contract with anyone make sure the contract spells out in clear and unambiguous language. Make sure the extent and period of warranty offered by your roofing contractor is included in the contract. The warranty provided by your residential roofing contractor will be for a shorter duration as compared to the manufacturer's warranty but can help you save time and money if any problem arises due to improper installation or any other error in workmanship.
Detailed project description
After you've received your custom roofing quotes and are proceeding to a contract with your selection, there are certain things that contract should include like specific details about the materials being used in the job. This includes brand, type, color, and price of every and every product. There should also be a start and end date of the project. You wouldn't want your contractor to take three months to fix your leaking roof. If there is no end date of the project in your contract, that could happen. The contract must also include demolition details, clean-up, and pick-up details as well. If your contractor ruins your flowers and landscaping in the front of your house, they need to be responsible for covering those damages as well. Discuss all exclusions with your residential roofing contractor and understand their nature and extent before including them in the contract.
Payment terms
Every contract must include payment terms. This includes payment details and number of payments. The general practice is to pay 10 to 25 percent of the total contract price as a deposit and the remaining balance upon completion of all work. Make sure there details regarding the law in your state is including in the contract as well. Certain states protect consumers against negligent workmanship. You should discuss the clause with your residential roofing contractor and include it in the contract after receiving their consent.
Insurance and license details
Roof repair and replacement projects have their fair share of risks and injuries due to on-site accidents. To avoid resultant claims for compensation, make sure the contract includes details about workmen's compensation and Public Liability insurance. Don't forget to include your roofer's license details including the license number and contact details. Don't ever work with a contractor that isn't licensed and insured for liability reasons.
Provisions to cover unforeseen circumstances
The cost of workmanship is bound to rise steeply if the contractor experiences any unforeseen difficulties in executing their duty. An example would be if the professional will have to deploy more labor and use extra material due to wood rot in your roof. The contract must include details about additional costs.
Terminating Contract
If for any circumstance you want to terminate your roofing contract, the terms and conditions for terminating should be clear in your contract. If the contract is terminated payment arrangement and compensation details should be included as well. Most contractors still want a percentage of the cost of repair even if the contract is cancelled. Understand all the terms and conditions before signing anything. If you are unsure don't hesitate to have a lawyer check the contract before you sign.