Each month I bring you a recap of the previous month's progress on paying off our debt.
This serves two purposes — to keep my husband Mike and me accountable to our financial goals and to give you a look behind the scenes of our strategy for paying off our debt.

My hope is that giving you this open and honest review will inspire you to keep going on your own debt free journey. Or if you haven't started yet, I am hoping this information will help fuel your fire to get going on reaching your financial goals.
Don't worry, I won't go line by line through our budget. But I will give a rundown of things that happened during the month that affected our budget and point out some areas that worked and some that need improvement.
While we have already paid off a lot of debt in a short amount of time, you will find that our journey is not perfect in any way. When my husband and I review each month, we often discover opportunities we missed where we could have put more money toward our debt.
We definitely make mistakes, and in retrospect, many times we will find situations where we have spent more money than necessary. But we don't let these findings discourage us. We try to learn from our mistakes and use them to propel us forward into the next month.
Let's take a look at how April 2015 went…
Our Financial Goals for April 2015
If you saw our March 2015 Debt Freedom Progress Report, you may remember that we paid off more than $10,000 of debt (!) and met most of our goals with the exception of the ones related to our food budgets.
While we prepared our wills in March, we didn't get them witnessed or notarized to make them official so we put that on our goal list for April.
Also, a constant theme for us has been our struggle with adhering to a $500 grocery budget and a $50 restaurant budget.
With these things in mind, our goals for the month of April were:
Pay $879.66 toward the HELOC,

Stick to $500 budget for groceries,
Stick to $50 budget for restaurants, and
What Went Well
We Stuck to Our Restaurant Budget of $50 (Well, Kinda…)
I had a hard time determining if this was a win for the month or if this should go in the "Needs Improvement" section so please forgive me if you disagree.
According to our budget spreadsheet, we spent $50 on restaurants, but that includes some, um, adjustments, as you'll see below.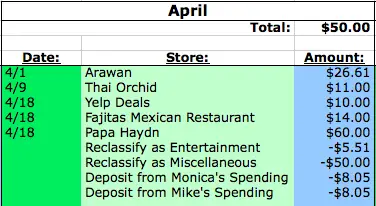 When the new month hit and our food budgets refreshed, we picked up some Thai food for dinner. I took the kids out for more Thai food on the 9th with a friend (yes, we love Thai food!), and that left us with only $12 remaining in our restaurant budget for the month.
Mike and I had our date night (see more about that below) on the 18th, and we found a deal for Fajitas Mexican Restaurant on Yelp Deals
. We got $20 worth of food for only $10!
That would have kept us under budget, but we decided to splurge a little on dinner, and then we headed to Papa Haydn for dessert.
By the time the night had ended, we had overspent on our restaurant budget by $71.61. Yikes!
We discussed our options for dealing with the overage and decided to reclassify what was available in our entertainment and miscellaneous categories. When we saw that those adjustments weren't enough, we agreed to fork over some funds from our personal spending money, too.
So here's the lesson —
It's okay to go over budget sometimes if you know you have room in your budget elsewhere to cover it.
You make the rules. You decide the numbers.
[bctt tweet="You make the rules. You decide the numbers. #budget"]
BUT when you do this, realize that it may mean you don't have as much to put toward your debt or other financial goals. More about that later on in this post.
We Enjoyed Another Night Out Without the Kids!
As I discussed in our March report, one of our family goals for 2015 is for Mike and me to enjoy a date without the kids at least once each month.
In March we enjoyed our first true date night of the year, and we were able to do it again in April!
When the date started out, we had the intention of keeping the evening cheap so we searched for local deals on Groupon
, Yelp Deals
, and Amazon Local
.
We landed on a Yelp Deal for $20 worth of food at Fajitas Mexican Restaurant for only $10.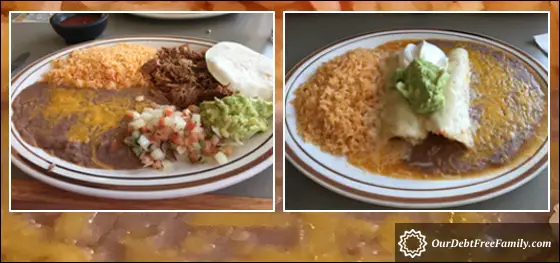 After we splurged on dinner (see above), we got a little excited and decided to splurge on dessert at one of the best restaurants Portland has to offer, Papa Haydn.
We each got a dessert and a fancy coffee — and a glass of wine. And we picked up a dessert for Mike's mom, who was watching the kids for us. After adding in the tip, we left $60 poorer!

That evening (and a question in the comments of Amy's Journey to Financial Freedom) inspired my post about 55 Frugal Date Ideas for Couples on a Budget so I hope to report that our date in May is on the more frugal side.
We did have a wonderful time and ended the evening at home enjoying each other's company while talking and dreaming of our future together.
We made a list of things we want to do after our HELOC is paid off and our emergency fund is up to $25,000. That was a really fun exercise and added motivation for us to pay off our HELOC as quickly as possible so that we can move on to our next goal.
If you haven't yet made a list of the things you want to do after you've paid off your non-mortgage debt, then give it a try. Brainstorm and daydream about trips you want to take, things you want to buy, charities you want to donate to, and projects you want to complete with the freed up space in your budget.
Here we are after our evening out: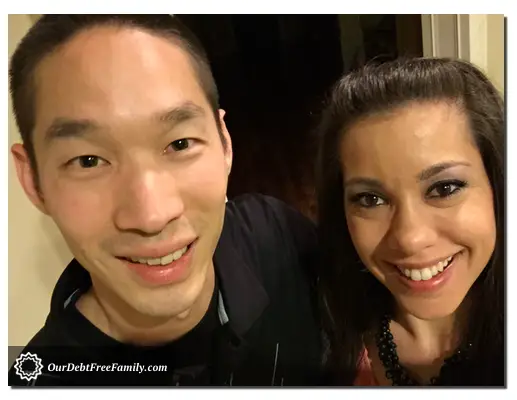 I am so blessed to be able to spend my life with the man of my dreams! 🙂
We Signed Our Wills and Got Them Witnessed and Notarized!
At the beginning of March, I wrote A Checklist for a Strong Financial Plan and was reminded of the importance of having disability insurance and written wills in place.
In March, two of our goals were to sign Mike up for disability insurance and to write our wills.
We completed both tasks, but our wills weren't official if they weren't signed, witnessed, and notarized. So we made it our goal in April to do just that.
Unfortunately, we let the month slip by without getting our wills witnessed and notarized, so on April 30th, Mike got on the phone to our bank and his older brother.
He made an appointment for us to meet his brother and our sister-in-law at the bank at 9:30am when they opened on Saturday, May 2nd. We needed two witnesses for our signatures on the wills, and luckily, they were available. The branch manager at our bank notarized everything, and now our wills are official!
While this technically didn't happen during the month of April, I am pleased to report that this is something we can cross off our list.
Knowing that I needed to report back to you spurred us into action when we very easily could have let the wills sit unsigned for another month or two — or even longer.
If you don't have someone holding you accountable to your goals, I highly recommend finding an accountability partner to remind you why you set your goals in the first place — someone who you don't want to disappoint.
I don't want to disappoint you, so THANK YOU for keeping us accountable to our goals!
What Didn't Go As Well
We Went Over Our Budget for Groceries… Again
I feel like a broken record on this one.
So far this year, we have only stayed within our food budgets one month.
In January, we spent more than $1,000 on groceries and vowed never to spend that much again in one month.
In February, we stuck within our goal amount of $500, but that was mostly due to Mike being out of town for most of the month for work.
In March, we spent $586.73 on groceries and $65.89 at restaurants.
And in April, we went way over our groceries budget, yet again.
Here are our numbers for our grocery and restaurant budgets for the month of April as shown on our budget spreadsheet:

As you can see, we went over our groceries budget by $266.72.
But $250 of that was a deposit for a quarter of a cow from Basket Flat Ranch.
We should receive our portion of the cow in June or July so the balance will be due at that time and reflected in our groceries budget for that month. The cows on this farm are pasture fed, and while they are not technically organic, the farm does follow organic practices. 🙂
This means that while we'll be investing a lot up front to get our beef, we will save money on almost-organic meat in the long run. And a quarter of a cow should last us quite a while.
We hope that making this investment will help us to reduce our grocery bill in future months.
If we deduct the deposit for the quarter of a cow, then we really only went over budget for groceries by $16.72! While this still does not put us under budget for the month, it is much improved from January and March!
We Didn't Pay Any Extra Toward Our HELOC
Unfortunately, we weren't able to make an extra payment to our HELOC in April.
I usually perform my calculations to determine how much extra we can put toward our debt after we receive Mike's last paycheck of the month.
This way I know that all of the bills have been paid, and I can easily deduct any future expenses we expect to have for the remainder of the month.
But I realized that while our bank account looked to be in good standing, we needed to hang on to the extra funds. They would be used to cover our mortgage payment that would be coming out on the 1st of May and other bills that would be paid before we received his next paycheck.
Once I deducted everything that needed to come out of that paycheck and our $5,000 emergency fund, we were in the negative.
With only making our minimum payments on the HELOC and our mortgage, here is how our Debt Snowball changed from April 1 to May 1 and since we started our plan in August 2013:
In the month of April, we reduced our non-mortgage debt by only 0.06% and our total debt by 0.16%. Since we started our plan back in August 2013, however, we have reduced our non-mortgage debt by 89.5% and our total debt by 27.5%!
Even though we didn't make much progress in the month of April, we are still on track to meet our long-term goal of paying off all of our debt, including our mortgage, by the time we turn 40. If we continue to reduce our debt at this rate (27.5% reduction in 21 months), we will pay off our debt by January 2020 when Mike is 39 and I am 38!
Goals for May
While we didn't make much progress toward paying off our debt during the month of April, we do have a plan of attack for the month of May.
As we stated in our January 2015 Debt Freedom Progress Report, our first big financial goal for the year is to pay off the HELOC by June 1, 2015.
We've paid off more than $12,000 since January 1st. But with the balance still over $9,000, we are going to need to pull out all the stops to meet our goal.
Mike and I have some ideas for some extra income, and we plan to be diligent about sticking to our groceries and restaurants budgets.
With all of this in mind and after much discussion between Mike and me, here are our (ambitious) goals for the the month of May:

Pay off our HELOC! The current balance is $9,383.01,
Stick to $500 budget for groceries,
Stick to $50 budget for restaurants, and
Final Thoughts
While we are disappointed that we couldn't report greater progress for the month of April, we are still eager to pay off our HELOC so that we can move on to our next big financial goal for the year — boosting our emergency fund to $25,000.
On our date night, we dreamed about what we would do when reach that point, but first, we need to keep our focus on our current goal.
This is an exciting time!
When we started our debt free journey in August 2013, our non-mortgage debt totaled $89,447.24 and our total debt, including our mortgage, was $319,689.13.
In 21 months, we've paid off almost $88,000 of debt on a single, middle class income!
As you can see, this is not a linear journey, but one with many ups and downs, wins and challenges. We have great months, and we have not-so-great months.
But we keep going. We keep moving forward toward our goal.
And now the finish line to our first major race is drawing near.
Thank you for your support on this journey. We hope that we can report a record-breaking month to you in our May 2015 Debt Freedom Progress Report.
And more importantly, we hope that we have inspired you to start or continue your own debt free journey.
What About You?
Participate in the conversation. How did you do on your April goals? What are your goals for May? Share in the comments below.
Disclosure of Material Connection: Some of the links in the post above are "affiliate links." This means if you click on the link and purchase the item, I will receive an affiliate commission. Regardless, I only recommend products or services I use personally and believe will add value to my readers. I am disclosing this in accordance with the Federal Trade Commission's 16 CFR, Part 255: "Guides Concerning the Use of Endorsements and Testimonials in Advertising."

Team Our Debt Free Family is the administrative WordPress user account for Ourdebtfreefamily.com. Our Debt Free Family is a premium classic personal finance blog. Our mission is to inform, educate and help you get out of debt.