Each month I bring you a recap of the previous month's progress on paying off our debt. This serves two purposes — to keep my husband Mike and me accountable to our financial goals and to give you a look behind the scenes of our strategy for paying off our debt.
My hope is that giving you this open and honest review will inspire you to keep going on your own debt free journey. Or if you haven't started yet, I am hoping this information will help fuel your fire to get going on reaching your financial goals.
Don't worry, I won't go line by line through our budget. But I will give a rundown of things that happened during the month that affected our budget and point out some areas that worked and some that need improvement.
While we have already paid off a lot of debt in a short amount of time, you will find that our journey is not perfect in any way. When my husband and I review each month, we often discover opportunities we missed where we could have put more money toward our debt.
We definitely make mistakes, and in retrospect, many times we will find situations where we have spent more money than necessary. But we don't let these findings discourage us. We try to learn from our mistakes and use them to propel us forward into the next month.
Let's take a look at how March 2015 went…
Our Financial Goals for March 2015
If you read our February 2015 Debt Freedom Progress Report, you may remember that we weren't able to pay any extra toward our home equity line of credit (HELOC) because of an unexpected business expense.
A constant challenge for us this year has been to stick to our food budgets. And in February, we reviewed our Checklist for a Strong Financial Plan and added the missing items to our goal list for March.
With these items in mind, our goals for the month of March were:
Pay $1,438.64 toward the HELOC,
Stick to a $500 budget for groceries,
Stick to a $50 budget for restaurants,
What Went Well
Our Income Went Through the Roof!
March was a very good month for us income-wise.
Here are three ways we increased our income during the month of March:
We sold some jewelry that brought in over $2,000!My mom passed away two years ago, and since then, we have slowly been going through her things to sell and donate.She was quite a collector. She loved to surround herself with pretty things, and one of the things she loved to collect was jewelry. Over the years, she acquired a variety of genuine gemstones, precious metals, and fashion jewelry.She wasn't picky. She just bought what she thought was pretty so she had a variety of styles too.Mike has been in charge of listing things on eBay and Craigslist to find buyers so that was our plan with the jewelry. But first, Mike contacted a local jeweler to ask if they could tell us which pieces were real and which were costume. Our plan was for the jeweler to separate the jewelry for us so that we could begin to list the items on eBay and Craigslist.But when Mike took the jewelry in, they offered $2,102 for all of it! We thought they may offer a few hundred dollars, but a couple thousand was hard to pass up!He asked me what I thought, and I gave him the go ahead to make the sale.

We figured this was a better deal for us because now we didn't need to take the time to sell each piece separately and negotiate with individual buyers. Plus, we did not expect that the jewelry would be worth so much!

That was by far the quickest and easiest $2,000 we have ever made so when Mike got home, I told him to see what else he could sell for another couple of thousand. I'll keep you posted on that one! 😉

We received our tax refunds!When I wrote out our goals for March in the February report, I hinted that we expected to receive our tax refunds, but I was not including them in our payoff projections until they were received.Thanks to the fact that we have two kids, we received more than $5,000 back from the state of Oregon and the federal government.I am one who believes that we should do what we can to reduce our tax refunds so that we can increase our take-home pay throughout the year without giving the government an interest-free loan on our money.BUT it sure is nice to see that large deposit in our bank account each year and know that the government owes us rather than the other way around.
March was a three payday month!We don't have much control over this one, but because Mike gets paid every two weeks, a few times a year he receives three paychecks during the month instead of the normal two.This is nice for our debt payoff goals because we keep our monthly budgeted amounts the same and put the additional paycheck straight toward our debt!
We Paid Off More Than $10,000 of Debt!
Because of all the extra income, March was an exceptionally good month for paying off our debt!
When all was said and done, we paid off more than $10,000 of debt!
Here is how our Debt Snowball changed from March 1 to April 1 and since we started our plan in August 2013:

In the month of March, we reduced our non-mortgage debt by more than 51% and our total debt by more than 4%! Since we started our plan back in August 2013, we have reduced our non-mortgage debt by 89.5% and our total debt by 27%!
Making such great progress in the month of March has propelled us forward on our journey to meet our long-term goal of paying off all of our debt, including our mortgage, by the time we turn 40. If we continue to reduce our debt at this rate (27% reduction in 20 months), we will pay off our debt by September 2019 when Mike and I are both 38!
We Enjoyed a Night Out Without the Kids!
One of our family goals for 2015 is for Mike and me to enjoy a date without the kids at least once each month.
Last year, we had a nursing baby who refused the bottle so I think the last time we went out on a real date was for our anniversary in September. Before that, I can't honestly remember when our last date was. It may have been when I was pregnant with our daughter back in 2013.
Now that our daughter is past the baby stage, Mike and I are determined to focus more on each other and strengthen our relationship.
But so far in 2015, life has had other plans.
In January, we were focused on launching the website so any time we had without the kids was spent working. And Mike was gone for most of the month of February for training for his job. So when he returned, we were determined to make good on our promise of a date during the month of March.
On March 14th, the stars aligned, and Mike's older brother and our sister-in-law came over to entertain our kids so that we could enjoy our night out!
Let me tell you, it was such a freeing experience!
If you don't have kids, it may be hard to comprehend, but when we left the house without kids in tow and had the entire evening to do whatever we wanted, we felt like teenagers who had just been given the keys to the car for the first time.
We barely knew what to do!
I wanted to feel special so I curled my hair, got all dressed up, and put on some fancy red lipstick.
To keep our expenses low, we went to a local Vietnamese restaurant for some pho. (Yes, we strayed from our normal Paleo diet for date night!) It was a casual restaurant, and I was certainly overdressed, but I was on a date with my husband for the first time in a long time!
We each had a bowl of the delicious soup, and our bill came to only $21 with tax and tip. Not bad!
When we were done with dinner, the night was still young so we decided to make a trip to Portland for some desserts.
Don't they look amazing??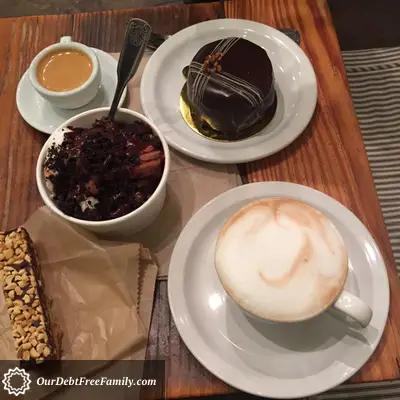 We spent $25 on our desserts and ended up borrowing from our "Entertainment" fund to cover it, but enjoying the evening together with some delicious treats was worth it.
We ended the night watching the movie, "Chef" on Netflix at home. It was a wonderful evening, and I can't wait to do it again this month!
(For more frugal date ideas, stay tuned for the next installment of Monica's Two Cents where I answer a reader's question about how to stay frugal when you are tempted to spend money going out with your significant other.)
Mike Signed Up for Disability Insurance & We Wrote Our Wills!
When I wrote A Checklist for a Strong Financial Plan at the beginning of March, I was reminded of the importance of having disability insurance and written wills in place.
We knew these items were essential, and we had planned to look into them ever since starting our journey back in August of 2013 but just never got around to it. Due to us never getting around to it in the last couple of years, we thought it best to try and get a long-term disability quote in minutes by researching disability insurance policies online.
Now that we have this blog, we are using it as a way to hold ourselves accountable to do the things we need to do to protect our future and our children's futures.
As outlined above, two of our goals for March was to get disability insurance for Mike and to write our wills.
With Mike's job as our sole source of income right now, it was irresponsible of us to go so long without disability insurance for him. If he gets sick or injured and is unable to work, our ability to pay our bills will cease, putting us in a preventable situation of financial strain. That is not the example we want to set for our kids so we have now taken the necessary steps to provide an income for our family if that ever were to happen.
We compared a few options that are offered through his work, and a friend who is an insurance agent reviewed them for us to determine if a private option might be a better fit. He helped us determine that one of the options through Mike's work was a great deal so Mike signed up, and we are now protected if he gets sick or injured.
On March 31st, we sat down to write our wills. I found a template for the state of Washington, and we decided who the guardian would be for our kids and who would be our personal representative and trustee in the event of our deaths.
This is not a fun subject to think about, but it would be worse to have one or both of us die unexpectedly and place the burden of making these choices on our families.
I urge you if you haven't already, no matter your circumstance, write your will and inform your loved ones that you have done so.
We still need to sign the wills with two witnesses in front of a notary for them to be in effect, but we appreciate the peace of mind knowing that we have already made the tough decisions and we have a plan for our kids if something were to happen to us.
What Didn't Go Well
We Went Over Our Food Budgets
Sticking to our goal amounts for groceries and restaurants has been one of the most challenging parts of our budget.
In January, we spent more than $1,000 on groceries and vowed never to spend that much again in one month.
In February, we stuck within our goal amount of $500, but that was mostly due to Mike being out of town for most of the month for work.
In March, we went over our budgeted amounts of $500 for groceries and $50 for restaurants.
Here are our numbers for our grocery and restaurant budgets for the month of March as shown on our budget spreadsheet:

We went over our food budgets by $102.62 so we will try to do better in April. This is much better than January so we think our goal amounts are realistic. We just have to be careful about what we purchase and continue to try to eat from the pantry when we can.[/fusion_text][fusion_text]
Goals for April
March was an exceptional month in paying off debt and more than makes up for our lack of progress in February.
But we still have to be diligent and focused to reach our goals for the year.
Because we won't have the benefit of the extra income that we saw in March, I am forecasting that we won't be able to put as much toward the HELOC as we would like. I have reflected this in our April goals.
Here are our goals for the the month of April:
Pay $879.66 toward the HELOC,
Stick to a $500 budget for groceries,
Final Thoughts
We are thrilled with the progress that we made during the month of March, but we still have a long way to go with paying off our debt.
In the January 2015 Debt Freedom Progress Report, I detailed our financial goals for the year as follows:
We will pay off the remaining balance of our home equity line of credit (HELOC) by June 1, 2015. (The balance as of January 1st was $21,469.33.)
And, we will pump up our emergency fund to $25,000.00 by December 31, 2015. (We are keeping it at $5,000.00 until our HELOC is paid off.)
With only two more months until our June 1 deadline of paying off the HELOC, we will need to pay off an average of $4,694.16 each month. This is quite an ambitious goal, but now that the HELOC balance is under $10,000, the end is in sight and we can't wait to have it completely paid off.
We will need to get creative with bringing in some extra income in order to meet our goal. I will be sure to keep you posted and hope to bring you another great report for the month of April.
What About You?
Participate in the conversation. How did you do on your March goals? What are your goals for April? Share in the comments below.
Disclosure of Material Connection: Some of the links in the post above are "affiliate links." This means if you click on the link and purchase the item, I will receive an affiliate commission. Regardless, I only recommend products or services I use personally and believe will add value to my readers. I am disclosing this in accordance with the Federal Trade Commission's 16 CFR, Part 255: "Guides Concerning the Use of Endorsements and Testimonials in Advertising."

Team Our Debt Free Family is the administrative WordPress user account for Ourdebtfreefamily.com. Our Debt Free Family is a premium classic personal finance blog. Our mission is to inform, educate and help you get out of debt.