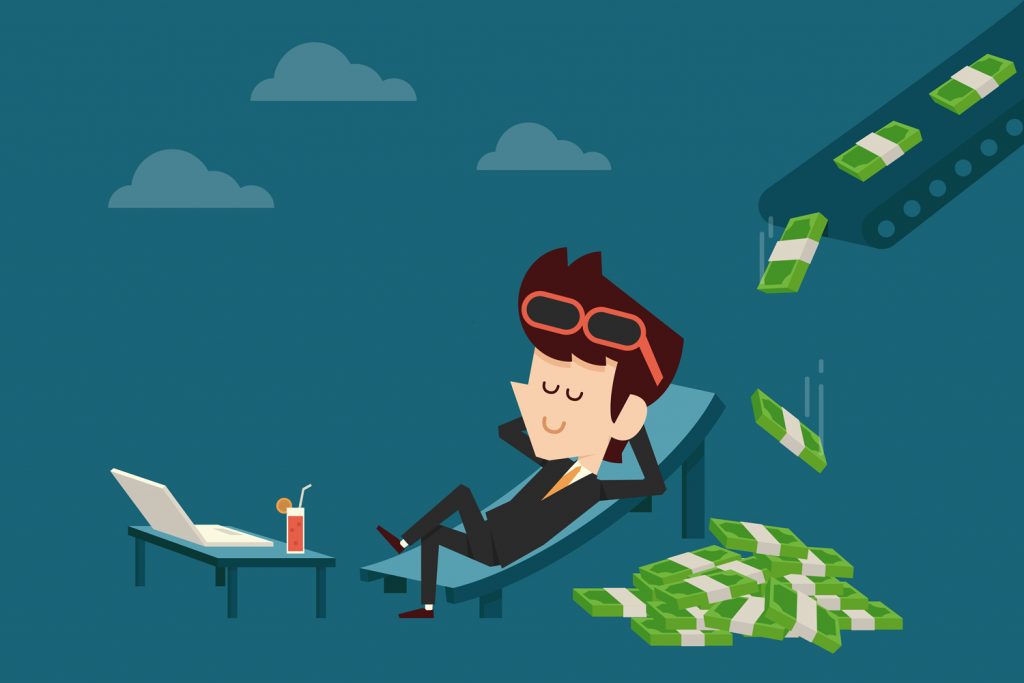 Roll out of bed, shower, get ready, head to the office, work, return home and sleep.
This is the routine of many American adults. We all need to go to work to make money but what if you could make money while you sleep?
Can You Make Money While you Sleep?
Most of us could use a little extra cash. Whether it be for a vacation or it goes towards your debt payoff efforts, a side hustle or additional income is always a positive thing. Though making money while you sleep sounds impossible, it's not.
When it comes to making money while you sleep many people think of investing. However, there are many ways to make money without really having to work for it. In fact, there are even a number of businesses that are known to make money for you while you sleep.
How to Make Money While You Sleep
Now, when I say there are businesses that make money while you sleep, you'll likely be creating the business or putting in an initial investment (whether it be money or time). Here are some of the best ways to make money while you sleep:
Start a blog. It may sound crazy but there are bloggers out there worth millions of dollars. A blog will take some effort, however, you will continuously make money from it (even when you're not actively working on the site itself). You can do this through advertising and affiliate income. As previously stated, you will have to put in additional work like finding a domain name. It will take some time and dedication to get started but can lead to some handsome profit down the road.
Create an informational product. If you know a lot about a certain subject, consider forming an informational product of sorts. You can create a website that requires paid membership or write an ebook and place it for sale on Amazon. Both of these ways will continuously make you money while you sleep. As with starting a blog, there is a certain amount of initial time investment (and possibly a small cash investment as well) but it will pay off over time!
Royalties. Getting royalties is pretty easy if you're a photographer. Simply take a photo and upload it to a site like Flickr. Each time someone downloads or uses your photo, you get paid! This is one of the lower effort and lower cost ways to make money while you sleep.
Start a community that requires membership. Many people will pay for membership on a site if it is providing something worthwhile. For instance, many sites have forums where a community is formed. If a member enjoys the conversation and community enough they may be inclined to pay for the services. Like starting a blog or creating an informational product, this will take some initial time investment. However, once you get it going you'll be making money in your sleep.
Flip websites. Flipping websites is something that is fairly new but profitable. To do this you'll need some cash for the initial buy. Scout out websites that you are interested in (usually a niche). Once you've found a few and negotiated with the current owners, you may be able to purchase the site. Then clean it up and flip it! This can be very profitable, however, it can take time to see a return.
Investing. This is one of the more traditional ways to passively make money. Of course, you'll need money to start investing. You don't necessarily need a ton of money to do so though. In fact, apps like Acorns have been making it possible to start investing with your spare change. This is one of the best ways to make passive income.
Rent a property. Of course, renting isn't going to be an option for everyone. This is only for individuals who have a second property or space to rent out. One of the best ways to do this is if you have an extra room or a guest house to rent. The cash you get from your tenant will be 100% profit if you do it that way.
Making money while you sleep will take a little time but it isn't impossible. If you have more ideas on how to make passive income, let us know in the comments!
---
Other readers also enjoyed: 
---
Photo: Creating Passive Income
Amanda is an editor and writer. She has a passion for sharing information that helps people and communities to better themselves in some way. In addition to writing online, she also freelances for local newspapers in her hometown of Charlotte, NC.