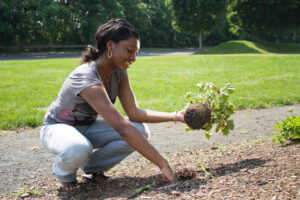 According to Houzz, two in every five homeowners admitted to using their bathroom to relax. You shouldn't have to go to your guest bathroom to find a quiet place in your home. If you've been thinking of transforming your backyard into your own private oasis for your family, but you've been worried you couldn't afford it, no worries! Here are a few ways you can transform your landscaping and boost your curb appeal all on a budget.
Raise Your Flower Bed
One great way to improve curb appeal on your family home is with flowers. Flowers add beauty and fragrance. However, raising the flower bed can give you these benefits while also creating some more contrast between the parts of your yard. As you plan to raise your flower bed, consider the different materials you could use. If you need to go with the cheapest option, that's alright. But if you can spend just a little bit more money, consider going with solid wood. Solid wood is more environmentally friendly and sustainable than other popular landscaping materials. It also makes the flower beds more attractive.
Plant a Functional Garden
Your garden can serve both an aesthetic and practical purpose. Consider a vegetable garden that will feed your family. Plant things like herbs, fruits, and vegetables in your yard. They're often very beautiful, with foliage and flowers that are perfect for decorating. Then, once the edible parts are ripe, you'll also be able to provide fresh, healthy food. If you've never gardened before, start simple and try a few plants that you know you like. Then experiment each year as you build your garden. It will add color and personality to your yard, boosting your curb appeal.
DIY a Walkway
Having a walkway from the sidewalk to your door is a simple way to improve your curb appeal. However, getting it done by a professional can be expensive. Look into DIY options to set it up yourself. Using paving stones can create a whimsical, yet useful walkway without having to spend hundreds of dollars on supplies. If you keep it simple, you can get very good results this way. It will not only serve a practical purpose, but it will also add some uniqueness and contrast to your yard.
Add Lighting
Landscape lighting is beautiful, adding a warm glow to the yard in the evening and at night. While there are expensive options available, you can also get great results cheaply. Use solar pegs to illuminate your walkway. These are often inexpensive and can also serve a practical purpose by guiding visitors toward the safe ways to your front door. Look into string lights, as well. With the right lighting, you can make your yard look cozy, exciting, or both at the same time!
Hang Window Boxes
By hanging window boxes and filling them with flowers, you can improve the appearance of your home's exterior without spending a lot of money. Flowers add a splash of color to the front of your house, making it look cheerful to anybody passing by. You can do a number of different things with your flower boxes. Plant identical flowers in each one to keep a neat theme going. Or plant various flowers together to get a rainbow of colors in your home.
You don't have to spend a lot of money to improve your home's curb appeal. With a few cheap purchases and some extra work on your part, you can have a home and yard that look expensive and comfortable. This can help if you're planning to sell your house, but it can also just make it a more enjoyable place to live.