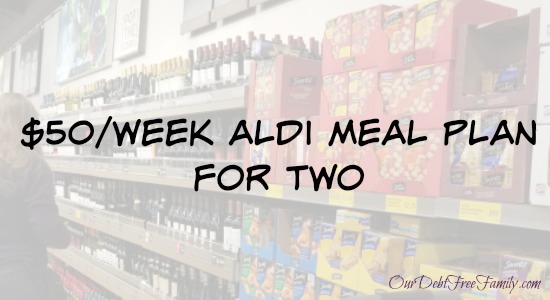 It sounds crazy but I've been put-off of Aldi for some time. While I know it has been PROVEN to save families money, it has been hard for me to depart with my local grocer. This isn't because I am snobby or think I'm too good for Aldi. I've truly come to enjoy going to the grocery store near my house. The same people are there, they are friendly and helpful, and it's less than a mile from my home. However, this week, I took the plunge and headed to Aldi for our weekly grocery trip.
Pros of Aldi
The number one perk of shopping at Aldi is obviously saving money. It has been reported that switching to Aldi can save shoppers up to 40% of their grocery bill, and maybe more in some cases. For instance, if you are willing to cut things from your diet or change up your weekly meal plan, you may be able to save even more by heading to Aldi instead of your traditional grocer.
Another Aldi perk is the fact that you're minimizing your biological footprint a little bit. Aldi requires you to purchase bags or bring your own reusable bags. Oftentimes, people just put the loose food right into their car. Getting rid of bags reduces the environmental impact a bit and it also helps Aldi offer the low prices it does.
Cons of Aldi
Not everything about Aldi is great though. In some cases, Aldi may be difficult to find. The traditional grocery store is only one mile away, while Aldi is 5+ miles away. Most people find the drive to be worth it though. And, with Aldi opening new stores every year, there are likely to be new stores popping up in your area.
Additionally, it can be a bit of a pain to shop at Aldi. There are extra things you wouldn't normally think about. Most people have a hard enough time remembering to bring their grocery shopping list, never mind your own bags and a quarter for the cart. However, if you're going to become an Aldi regular, you can always keep these things in your car for last-minute shopping or "just in case."
My One Week Aldi Meal Plan
Not everyone will be able to pull off a $50/week meal plan. The following items and meals are meant to feed two people for seven days.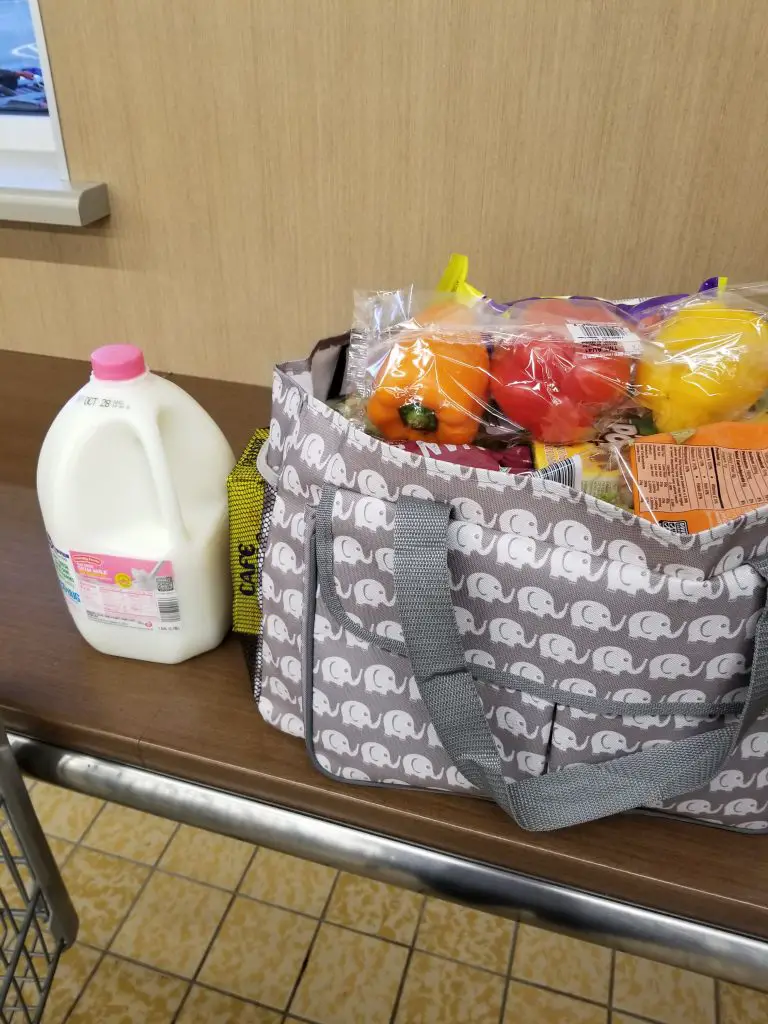 Eggs (12) $2.49

Milk (we use skim) $2.79
Bread (white loaf) $0.89
Shredded cheese (larger bags than in the traditional grocer) $1.89
Ground beef $6.42
Bacon $4.19
Fresh chicken breast $6.60
Canned chicken breast (4) $1.69 each
Stuffing Mix (2) $0.79 each
Cream of chicken soup (2) $0.49 each
Salad Mix (2) $1.99 each
Peppers (3) $1.19 for 3
BBQ sauce $2.19
Seasonings (2, based on need) $1.19 each
Sugar-Free Fudge Pops $1.49
Coffee $2.89
Total: $48.68 before tax
Some of these items get switched out, depending on need. Next week, for example, we probably won't need new seasonings but we will need butter. Thankfully, the prices are so low that little swaps like that barely make a difference and you're able to manage to keep your grocery budget low (ours is about $50 per week).
Obviously having a grocery list with no planned meals is kind of useless. So, what did we make with these ingredients?
Breakfast Options (with coffee and milk):
Eggs and bacon

Breakfast sandwiches
Omelette with cheese and peppers
Eggs and toast
Lunch Options:
Salad (we get the remade Caesar Salad kit)

Chicken salad sandwich (you'll need mayo, which is less than $1 at Aldi if you don't already have some)
Grilled cheese
Leftovers
Dinner:
Bacon cheeseburgers

Shredded BBQ chicken (crockpot)
Chicken Stuffing Casserole
Meatloaf
With this meal plan, you will have some repeat meals. For instance, we ate all of our dinners twice, except for meatloaf. However, it is something that has helped us save money ($200 a month is a ton).
The plan is to use the additional savings to put towards my student loan repayment and savings. I can't wait to see how much we are able to save!
Want one of the recipes mentioned above? Reach out to [email protected].