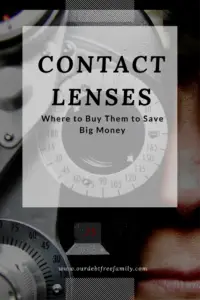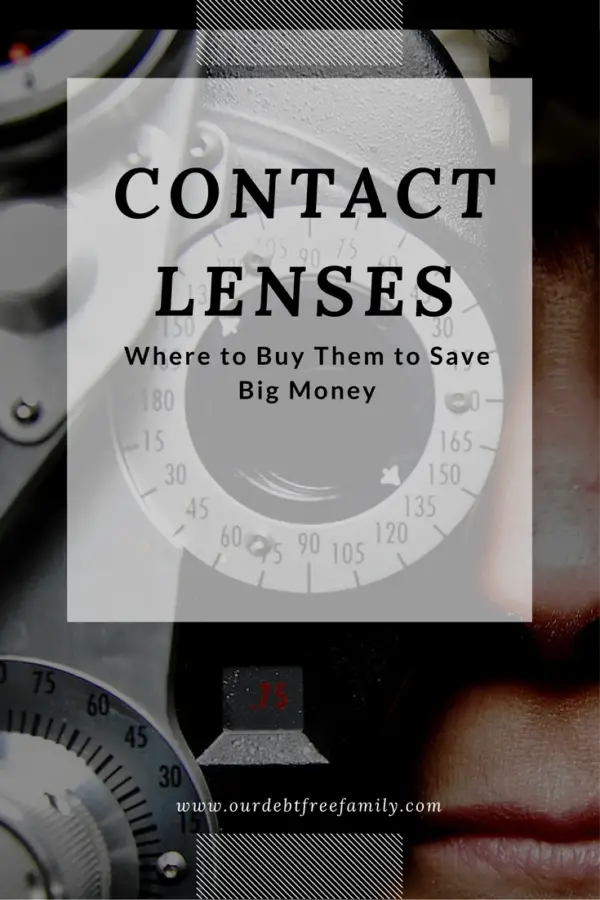 Contact lenses are those items that you need but hate to buy because of the price. Every time I buy them it hurts, especially if I can get them cheaper elsewhere! My husband and I both wear contacts and our vision insurance covers our yearly eye appointment and one of the following: up to $300 for glasses or up to $130 for contacts. Because of the better deal, we always opt in for using the insurance for glasses when our vision changes. So, that means we are paying out of pocket for contacts for the entire year.
My husband wears the 1-Day Acuvue contacts because he has a lot of allergies year around and his eyes are really sensitive. Before switching to the 1-Day Contacts from the 30-Day he would have to get prescription eye drops as well.
We normally order his contact lenses from the eye doctor and they were costing around $170 for a 3-month supply. Ouch! About 2 years ago we began ordering them through 1-800 Contacts and they normally run around $145.00 ($72.25 per eye) with free shipping.
After researching Walmart.com and Walgreens here is what I found:
Contacts Comparison

Store

$ Per Eye

Shipping

Additional Steps

Misc. Information

Local Eye Doctor

$90
Pick Up
Order on-site
N/A
$72.25
Free Shipping
Submit Prescription
Price match guarantee and you can also get a discount when you buy larger quantities. ($61 for 4+ boxes)
$66.00
Free Shipping
Submit Prescription
Can get a discount if you buy larger quantities. ($56 per box for 4+ boxes)
$49.50
Free Shipping
Submit Prescription
Currently offering 25% discount on any contact order.
Walmart.com always has very competitive prices on almost any item they carry. I also found that Walgreens.com in now selling contacts as well. Walgreens always has promo codes to add to online orders and they have been having a 25% promo code for the last 2 months on contact lenses. Their contacts were originally $66 per eye, but after 25% off it came down to $49.50 per eye!
After much research, I ordered my husband's contacts through Walgreens. I submitted his doctor's name and fax number. Walgreens was able to verify the prescription that same day! I ordered his contacts on Monday afternoon and we got his contact in the mail that Friday and saved about $45 compared to our last contact purchase from 1-800 Contacts! That means we will be saving $180 a year on my husband's contacts alone!
1-800 Contacts has a price match guarantee and you can also get your contact lenses cheaper via rebate if you buy 4 or more boxes. I normally don't purchase more than a 3 month supply for my husband's contacts because they are so pricey to begin with. Also, if I don't have to deal with rebates to get the best deal I gladly decline. The price match guarantee also seems like a lot of trouble. Especially if you are in a hurry to order more. It's always important to read the fine print with these.
When it comes to saving money I don't mind going the extra mile in getting the prescription verified as long as I order ahead of time just in case there is any delay. $180 is a lot of money to save in a year on a product you can buy somewhere else and it's the same brand. Right now ordering our contacts through Walgreens.com is a no brainer!
For more ways to save check out these great articles.
8 Ways to Save Money at Target
Save Money at the Grocery Store with this Quick Tip
52 Week Challenge: Save $1,404 By Saving No More Than $52 a Week!
What about you? Do you wear contacts? If so, where do you purchase them? do you know of any other places that have great deals?

Team Our Debt Free Family is the administrative WordPress user account for Ourdebtfreefamily.com. Our Debt Free Family is a premium classic personal finance blog. Our mission is to inform, educate and help you get out of debt.