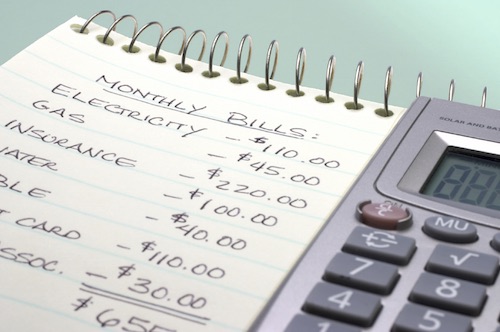 If you're are trying to stick to a budget or manage your finances, you'll need to track your expenses. Years ago, most people did this by balancing their checkbook. However, it seems that keeping track of your expenses this way went out the window with checkbooks. So, how should you keep track of what you're spending?
In the age of technology, the easiest way to track your expenses would be in a place you look regularly. For many, this is their computer but how do you go about creating an expense tracker spreadsheet?
Creating an Expense Tracker Spreadsheet
Creating your own expense tracker worksheet is fairly simple. Open Microsoft Excel (or your spreadsheet of choice). The first thing you'll want to type in is "subtotal of expenses." This is where you'll see how much you've spent through the month.
Next, you'll want to label each row below that. Labels for each column are as follows: date, payment method, payment to, description, type of expense and subtotal. It will look something like this:


(Download a FREE expense tracker spreadsheet here.)
Below that you'll begin to track your expenses. Most people start at the beginning of the month and begin a new tab or new spreadsheet at the start of the following month. You can also break it down into weeks and days if you'd really like to examine your spending habits. This gives you a good idea of how much you are spending and, more importantly, where you may be able to cut some costs.
The Importance of Tracking Your Expenses
Tracking your expenses is extremely important to remaining financially sound. If you don't know how much money you are spending and on what, you'll never be able to save. You also won't be able to identify any areas where you could potentially save money. For instance, many people don't realize they are being overcharged for services like cable or telephone until they take a look at an expense tracker. Once you see where your money is going, you can take the necessary steps to better your financial future.
Starting an expense tracker spreadsheet is also a key component in creating the perfect budget. Is there such a thing as a perfect budget? Well, probably not, but taking a close look at your spending habits and expenses you will get a better idea of what your budget should look like.
No Financial Situation is the Same
It is important to keep in mind that, while tracking your expenses is important, no one financial situation is the same. If you are trying to save money for a home, your expense tracker spreadsheet's main goal may be to cut cost. On the other hand, if you're broke all the time and can't save a dime the spreadsheet can help you figure out where your money is going.
All in all, creating a personalized expense tracker spreadsheet is a great idea for anyone trying to better their finances. If you're not already tracking your expenses, start now. Download this FREE expense tracker spreadsheet.
Photo: Hack Your Wealth