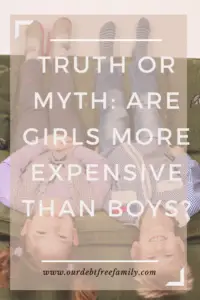 When I was pregnant with my first child people would always ask if we knew what we were having. "We are having a little girl!" I would say excitedly. "Oh gosh! Bless your heart! Good luck, she's going to break the bank." This is what people would say to us all the time. And as a new parent it's pretty scary because you don't know anything. This is something I definitely did not hear when I was pregnant with my son or the twins. But are girls really more expensive than boys?
Clothing. Many would argue that girls are more expensive to raise because they have more expensive clothing. They also have more variety to buy. A boy has the options of shirts, shorts, pants, socks, and shoes. On the other hand, girls have shirts, shorts, pants, skirts, dresses, socks, stockings, and a lot more options for shoes. Girls have more accessories from jewelry to hair bows too. Others state that boys might be more expensive in the clothing arena because they might have more growth spurts and also wear out their clothes faster.
Extra-Curricular Activities. Girls might often have more expensive hobbies like dance lessons and cheerleading. They also have many of the same sports that boys do but, the alarming statistic from the Women's Sport's Foundation shows that by age 14, girls are dropping out of sports two times the rate of boys. This might show that boys are overall more expensive in sports because they stay involved in them much longer than girls. Many of these sports go year around and require out of town lodging and additional training.
Food. A study by the American Society for Nutrition found that boys eat more than girls, especially during and after puberty. Another report provided by USDA shows that boys require more calories than girls beginning around age 6. In regards to food, boys might edge out their counterparts in this category.
Car Insurance. Adding any teenager to your insurance is expensive. But what really is the difference? Insuring a 16-year-old son will increase the insurance bill by a whopping average of 96 percent while adding a same-age daughter will result in a somewhat softer 72 percent surcharge to a married couple's auto insurance policy.
All things considered, it seems like the amount one spends on their child is really dependent on the parent's spending habits. Many parents buy boutique clothing for their daughters and spend a hefty sum of money on accessories like jewelry, shoes, purses, and bows. But you don't HAVE to spend more. It also depends on your child's interest as well. If your child does not play sports you will spend less on them compared to one that is more athletic. If you have a daughter that competes in pageants the traveling cost, hotel stays, registration, and dresses will hike up the cost as compared to a girl that is not.
In consideration of just looking at necessities, it seems the boys are more expensive than girls on food and car insurance. Yet girls might edge their counterparts in the clothing department.
What about you? Do you think it cost more to have a son or daughter?