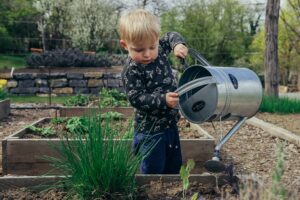 10 Ways to Make Money As a Kid
Lets face it, as kids a lot of us wished we had the resources available to kids today, and while we all love back "back in my days" stories, we should take pleasure in giving our kids the tools we never had, or took for granted while growing up.
Children have the opportunity to develop their entrepreneurial spirit and learn the fundamentals of money management at a young age in a world where invention and creativity recognize no age boundaries. There are many methods for youngsters to make money while simultaneously learning important life skills, whether they are motivated by a desire for financial independence or the excitement of seeing their ideas come to life.
This article explores the topic of young people's entrepreneurship, illuminating the various ways that young people can succeed financially, acquire valuable skills, and take control of their lives.
1. Selling Used Clothes and Toys
Sure you can donate your kids' old clothes and toys to benefit from a small tax break. But often time you could make more cash as well as instill everlasting life-long lessons by teaching your children how much value is still left in their old clothes, toys, and even videogames. Once they see the results, kids may even being to take better care of their possessions knowing that they could recoup some of the value in the form of cash which can be used towards the next "it" toy or game.
Sites like Ebay, Facebook Marketplace, Offerup, and even Craigslist and great for letting go of unwanted items and bringing in some extra cash. Like many of the suggestions on this list, some level of supervision may be required. These platforms are filled with collectors, budget gamers, and frugal parents looking for a great deal on a pair of sneakers knowing it will be covered in mud in a few days. Your child may not play his old dusty PlayStation 3 console anymore, but there may be demand form console mod enthusiasts  and videogame repair stores.
2. Yard Work and Chores
Hard work and perseverance are frequently used to pave the way to financial freedom. Kids have the chance to make money while developing a solid work ethic by performing chores and yard labor.
It takes strength and endurance to work in the yard, such as mowing lawns, raking leaves, and gardening. Kids rapidly discover the thrill of turning an unkempt yard into a neatly maintained area via their diligence. This event teaches the importance of perseverance, discipline, and the benefits of making a sincere attempt.
A strong work ethic is further developed by performing chores for neighbors and at home. The duties involved with chores are a reflection of adult expectations, where it is necessary to do daily tasks in order to maintain cleanliness and order. Kids gain valuable life skills through this experience that support their personal development and responsibility.
3. Lemonade Stand
The well-known lemonade stand is a representation of young entrepreneurship that embodies the qualities of imagination, initiative, and involvement in the community. Selling pleasant drinks at a lemonade stand in your community is more than just a way to get kids interested in business, marketing, and money management. The takeaways from this ostensibly straightforward undertaking go far beyond the tinkling of coins at the cash register.
More than merely pouring lemonade into cups is required to run a lemonade stand. It entails a complex learning process that begins with planning and preparation. By estimating the amount of lemonade to create based on the anticipated foot traffic, children may learn the fundamentals of supply and demand. As they determine the costs of the components and supplies, this process introduces children to the ideas of resource allocation and budgeting.
It takes imagination and design to produce appealing signs and banners that draw customers. Children learn about visual communication, color psychology, and the value of leaving a lasting impression through this component of the lemonade stand experience. Young business owners may get their first experience of marketing by creating appealing messaging for signs.
4. Creative Ventures
Kids with a creative streak can turn the world into a canvas on which to turn their interests into money. Whether their specialty is making personalized T-shirts, painting, or making jewelry by hand, creative endeavors give them a way to express their artistic energy while making money. These activities not only release creativity but also develop a variety of useful skills that establish the groundwork for future entrepreneurial efforts.
For instance, making jewelry by hand helps children develop their fine motor skills and artistic expression. Young businesspeople participate in a hands-on process that cultivates patience and attention to detail, from choosing materials to constructing complicated components. The fundamentals of pricing, inventory control, and customer service are introduced to them when they sell their works at craft fairs, neighborhood markets, or even internet marketplaces.
Similar to writing, painting allows children to visually express their thoughts and feelings. Students are introduced to the commercial aspect of art through the process of making their works marketable, where students learn how to assess the worth of their work, determine prices, and negotiate sales. Their communication skills and self-confidence are improved via interaction with potential customers and the process of describing the motivation for their artwork.
5. Tutoring and Academic Support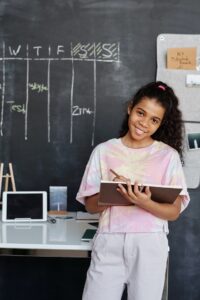 Older children who are strong in a particular area can help younger students by tutoring or providing academic support. Struggling pupils gain from this by getting better marks, and the tutor also develops personally as a result. Tutoring improves communication, patience, and teaching skills since the tutor can modify their strategy to fit the student's preferred learning method.
Due to the fact that students see the benefits of their knowledge in others' lives, tutoring cultivates a sense of responsibility and accomplishment in students. The encounter fosters empathy and a deeper comprehension of various learning requirements. Additionally, tutoring sharpens problem-solving abilities as tutors come up with creative ways to break down challenging material and explain complex ideas.
Online platforms have transformed tutoring by enabling virtual sessions that don't depend on a particular location. Children can interact with classmates who attend different schools, giving them exposure to many cultures and educational opportunities. Their influence is increased by their global presence, which also equips them with a connected world.
6. Online Ventures
Kids now have a ton of options to make money online, thanks to the digital era. The online environment provides young businesspeople with opportunities to explore, including content production on websites like YouTube, compensated online survey participation, and freelance writing for websites geared toward children.  Freecash is an easy-to-use game rewards app that lets you play games, complete surveys, all while earning rewards like gift cards and crypto.

Children can express their hobbies, demonstrate their talents, and interact with a large audience by creating material for websites like YouTube. Crafting, gaming, and making instructional videos are all activities that foster presenting abilities, creativity, and a flare for narrative. By focusing on online etiquette, cybersecurity, and the significance of responsible online behavior, parents play a critical role in assisting children as they navigate the digital world.
Kids learn about customer behavior and market research by taking paid online surveys. These surveys provide a window into the information-gathering process used by businesses to develop their goods and services. The experience teaches children about data gathering, analysis, and the significance of their thoughts, even though the revenues may be minimal.
7. Recycling and Upcycling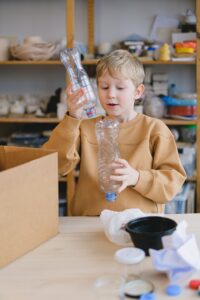 Children have the chance to become environmental entrepreneurs through recycling and upcycling projects at a time when environmental awareness is crucial. These activities not only benefit the environment but also foster responsibility and awareness in children from an early age.
Collecting recyclable items like cans, bottles, and paper goods is a necessary step in participating in recycling activities. Kids may get money by selling these goods to recycling facilities while also actively decreasing trash and conserving resources. They learn the value of responsible consumption and waste minimization as a result of this experience, which helps them make the connection between their activities and their effects on the environment.
By repurposing waste into fresh, usable products, upcycling goes beyond recycling. Children with artistic flare can recycle materials to make jewelry, home décor, and useful objects. Upcycling emphasizes the idea of giving outdated products new life while showcasing their creativity and resourcefulness. As children learn to repurpose items in creative ways, this practice fosters critical thinking and problem-solving abilities.
8. Gardening and Plant Sales
Making money off of a child's natural affinity for plants and gardening is a fulfilling endeavor. They can discover the world of horticulture while learning about responsibility, patience, and the cycles of nature via gardening and plant sales.
Growing plants, herbs, or vegetables fosters a profound respect for the natural world and the cultivation process. Through their care and attention, kids see the magic of a little seed growing into a healthy plant. Because gardening involves consistent work, it teaches children the value of dedication and the benefits of caring for living things.
Kids learn about entrepreneurship and marketing by selling the products of their gardening labor at neighborhood markets or internet marketplaces. They learn how to determine prices, showcase their goods in an appealing way, and interact with potential clients. Their ability to communicate more effectively, negotiate more effectively, and get a practical understanding of supply and demand dynamics are all improved by this experience.
9. Babysitting and Pet Sitting
As children become older, opportunities to make money rise, and additional tasks that resemble adult responsibilities are added. In addition to providing cash remuneration, babysitting, and pet sitting are two jobs that emphasize responsibility, reliability, and empathy while teaching important life skills.
Babysitting entails providing a secure and nurturing environment for young children. Children who are given this duty learn how to successfully manage their time, making sure that their needs are satisfied and that their activities are enjoyable. As they deal with unforeseen circumstances and make decisions on behalf of their charges, they also develop problem-solving skills.
In a similar vein, caring for pets necessitates a strong sense of responsibility and empathy. Children are entrusted with the care of pet owners' cherished friends, demanding proper nourishment, exercise, and company. Through pet sitting, children develop empathy and understanding for animals by learning to anticipate their needs.
10. Apply for Temporary Teen Jobs Locally
Regulations pertaining to employing kids vary by state. Check with city agencies about teen jobs in your area for availably and requirements. Search the web for ""teen job openings near me" or 'teen job hiring near me." Another option is to pay attention to concerts, events coming to your city, and holiday celebrations. Often times agencies are hiring for these events and will gladly support motivated teens looking to make some extra bucks.
Another benefit of taking on local temporary jobs is the chance to network and make connections. Get your name and work ethic out there. Like financial literacy, its never too early to start fostering traits that are essential to success as an adult.
Conclusion
The experience of working for money as a young person goes much beyond monetary gain. Every entrepreneurial endeavor offers a special chance for kids to acquire important life skills that mold their character and determine their future success. Children who participate in different business activities not only learn about their hobbies and passions but also develop a sense of empowerment and independence. Their personal development is aided by the lessons they acquire from handling money, engaging with clients, and conquering obstacles.
READ MORE: