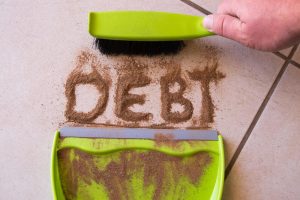 If your family is like most American families, then your savings account is looking a little lean. In fact, nearly 70 percent of Americans have less than $1,000 in their bank accounts. That means, if a financial emergency rolls around, they likely won't have money to cover those expenses.
If you want to feel financially secure, then you have to start building up your savings. Ideally, you should have three to six months worth of income in your savings account, though some experts advocate for even more.
Not sure how to start bulking up your savings account? We've got you covered. Read on to learn how to save money fast.
1. Roll the Change into Savings
Most of the time, when you make a purchase, you're not spending an even amount of money. There's always some change. But why not make each purchase an even amount by rounding up and rolling what would have been your change into savings.
Check to see if your bank has a service that allows you to roll the change into your savings account. If not, there are a variety of apps out there that will do the work for you.
2. Coupons, Coupons, Coupons
Using coupons may seem like a hassle, but it's truly one of the best ways to save big money on your grocery bill. All you need is the Sunday paper, some scissors, and a printer.
Cut out coupons from the paper and online coupons, as well. Then use the coupons in conjunction with the grocery store's weekly ad for the deepest discounts. If you're coordinated enough, you can get some items for free!
3. Get a Refund
You don't need coupons to save money. Sometimes, you just need to know the right code.
There are plenty of web apps out there today that'll search the web for the best discounts at the time you check out online and apply the discount code automatically. Check out the Honey browser plugin for Chrome to get started. There are also apps like Paribus available that get you money back on previous purchases when the price of the items you bought drops.
4. Stop Eating out
Eating out is a nice luxury, but that's what it should be — an occasional luxury. The average American spends between $2,000 and $4,000 per year on dining out. That's a huge chunk of change that would be better off in your bank account!
It's tough when you're so used to eating out all the time, to get back in the habit of eating at home. Making things easier for yourself by meal planning and meal prepping once a week so you don't have to think about food or cook when you're hungry.
5. Check for Tax Credits
Are you maximizing your income tax refund? Whether you live in the US or abroad, there are tons of tax credits that can help save your family money in the long run.
Check with a CPA or tax attorney to see what your family is eligible for so you can get the most out of your refund. In the meantime, do a little research online to learn some more about tax credits.
6. Review Your Budget
When was the last time you sat down and did an honest review of your budget? Are you meeting your goals? Or do you even have a budget set up?
Take some time to sit down and compare your bank account to your budget to see if you're meeting your spending goals. If you're going way over budget, then you need to where you're spending too much and make some cuts on things like monthly subscription services.
7. Use Cash
Having a hard time putting money in savings because you're spending a ton of money on credit card debt? You're not the only one.
Now's the time to crack down on your credit card spending and stick to only using the cash in your bank account and your wallet to make purchases. Continuing to rack up credit card debt only serves to keep you in a cycle of debt and living paycheck to paycheck.
If you're lean on cash, then it might be time to take up a side hustle like driving for Uber until you're more financially stable.
8. Don't Spring for a New Car
It's tempting to buy a brand new car, but unless you have a ton of discretionary income, a new car is a waste of money. In fact, a new car depreciates in value by as much as twenty percent in the first year of ownership.
If you absolutely need a new car, opt for one that's one or two model years older with low mileage. In many instances, you'll get a car that looks the same as a brand new one, but for significantly less money.
If you don't need a car? Save your money!
Car payments are insanely expensive, and so is car insurance for financed cars. Keep your current car for as long as possible and then roll its value into a new (used) car.
9. Do Your Grocery Shopping Online
Online grocery shopping is not only super convenient, but it can save you money too.
Ever noticed how grocery stores stack their displays with tasty snacks and sodas that are hard to resist? Well, they do that on purpose. Online shopping allows you to do your shopping from the comfort of your couch without the temptation of impulse buys.
You can have your groceries delivered to your home, usually for a fee and with a tip. It's better, however, if you opt for grocery pickup service. Many pickup services don't charge you a fee, and you just pull up to the store and wait while they load up your car.
Easy peasy!
10. Ditch the Bottled Water
We get it, tap water can taste terrible and have unhealthy sediment in it. That's why many people opt for bottled water instead. But that bottled water is not only bad for the environment, but it's also bad for your wallet.
Switch to a water filtration system and use refillable water bottles for clean tasting water without unhealthy sediment. It's a little bit of an investment at first, maybe $40-$50, but it will pay for itself over time.
Loved These Tips on How to Save Money Fast?
Now you know how to save money fast! There are so many small changes that your family can make that adds up to a lot of money in your savings account. Whether you cut monthly subscription services or opt for used cars, any change is a step toward financial security.
Interested in learning about more ways you can maintain your family's financial wellbeing? You're in the right place. Check out the rest of our blog for everything you need to know!
READ MORE: