When I introduced myself on Our Debt Free Family blog I wrote that my husband and I paid for our wedding on our own. With our 6 year anniversary coming up I wanted to share a bit more about how we did that.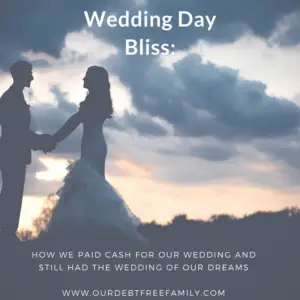 Why did we pay for our wedding? Well, I was born in Costa Rica and while I'm sure parents there may help their daughters pay for their wedding it is not like it is here in the US. So, while I moved here when I was in kindergarten I never thought that my parents would pay for my wedding.
If you are looking to pay for your own wedding or even just to keep you wedding on a budget here are 4 things you must do:
1. Sit down with your fiancé and figure out the vision of your special day.
What do you envision for your wedding? Sit down meal or buffet? Outside or inside? When getting engaged this is a great time to sit down and talk about your vision and make sure you are on the same page. When the girl's parents pay for the wedding, they do have more of a say on the budget. They might have a stronger hand on the decision making. If you and your fiancé are paying for the wedding yourselves is so important to get both opinions and compromise on the things that mean a lot to both of you.
2. Pick a couple of items to "splurge" on.
When you are on a budget it's important to still splurge on the items that are most important to you and your fiancé. While our goal was not to have the cheapest wedding possible we just wanted to be able to pay cash for everything. Some items we splurged on was our photographer, the reception hall, and food. To ensure photographs look best at your wedding, you can hire professionals for specific time at your wedding. Such as wedding photographer Charlottesville.
3. Cut out items that are not as important or get creative.
One of my friend's parents paid $5,000 for flowers alone. Flowers were defiantly not a necessity for me so we opted for large glass vases as centerpieces. We filled them with colored water and a floating candle. For our bouquets and boutonnieres, I took a gamble and ordered flowers online that were shipped 2 days before the wedding. My grandma and aunt then made them all for us. My sister is a hairstylist and was able to do all of the bridesmaids' hair as well as mine. We wanted to have alcohol for our wedding, but the full bar was out of our budget, so we opted for beer and wine only bar. This gave the guest a little more option at the bar without them having to pay for anything. Lastly, we also completely cut out limo and videographer.
4. Borrow or hand make where possible.
The jewelry I wore on my special day was my step sister's. I wasn't willing to spend a ton of money on fancy jewelry and that was also my borrowed item! Etsy was my best friend as well! I purchased my hair clip, as well as all the bridesmaid's too. We also purchased my garter and the groom cake topper as well. This allowed us to save a ton of money by purchasing through Etsy instead of buying items at a high-end store.
All in all, we spent about $22,000 on our wedding and the honeymoon. It took us a year to save everything by living on one income. My husband's parents paid for the rehearsal dinner and my parents paid for my dress and vail. A great thing about paying for your own wedding is that at the end of the day with so many opinions about all the wedding details we were able to make the final decision on what we wanted without any guilt.
What about you? Tell us one thing you splurged on at your wedding? What was one thing that you got creative with?