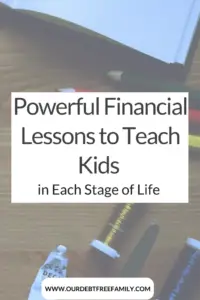 As parents, it's so important to teach our kids about money, so when they leave the nest we can feel confident that they won't learn many money mistakes the hard way like we did. Whatever age of kids you have at home, it's never too early or too late to teach them valuable lessons and skills about money. As families that are trying to cut cost and get out of debt, it's especially important that each family member plays a vital roll in the family finances.
Preschoolers (Age 3 – 5)
Preschoolers love to learn and they watch and listen to everything we do and say. When going to the store talk to them about how hard mom and dad work to buy food and clothes. That sometimes we don't always have extra money to buy toys. Speaking with them about our jobs and money in a positive way is especially crucial as well.
This is a great time to teach them how to be grateful for what we have. Buy them a piggy bank and give them some change for doing a chore. When you go to church let them tithe on behalf of the family and tell them what that money is going toward. Teach then to be grateful for what they have. How giving to others can be just as if not more fulfilling.
Grade School (Age 6 – 9)
This is a fun age to actually introduce money to them since they have a better understanding of how much each denomination of currency is worth and they are able to count it themselves. When you go to the store give them an specific amount of money and challenge them to see how much they can purchase with the given amount.
Preteen (Age 10 – 12)
This is such a great age to challenge your child to be creative and think of ways to make money. If they want to buy something make them work for it by either doing chores or find a way to make the money. This not only teaches them to get creative, it also teaches them about not feeling instant gratification every time they want something. If they really want something specific they will find a way to earn it.
Teen (Age 13 – 19)
It's important to teach our kids at this age how to manage their money as well as how hard it is to earn it. At this age, many teens might have an interest in having a part-time or a summer job.
This is a great time to teach them specific skills that you use yourself. Show them how to budget, set aside money for savings and tithing as well.
Many banks allow teens ages 15-18 to have a checking account with a guardian. This an important step to take with your teen as it allows them to learn valuable lessons in budgeting and banking basics while you have the opportunity to teach and coach them along the way.
Give then a specific amount each month specific items they must purchase with that money. It's also important to teach them how to do banking tasks like writing checks, depositing, withdrawing funds, and withdrawing out of ATMs. Choose a bank that has helpful products to let them easily access their account information and funds. With many schools not teach basic skills like the ones just stated it's important to teach our kids these skills.
It's so important to have an open dialogue about money with your kids throughout their lives. Always having an open line of communication with them about finances is crucial. This will give them an advantage when they get out in the real world and maybe not learn some tough money mistakes like the rest of us.
What about you? What money lessons do you teach your kids to better prepare them for the future?

Team Our Debt Free Family is the administrative WordPress user account for Ourdebtfreefamily.com. Our Debt Free Family is a premium classic personal finance blog. Our mission is to inform, educate and help you get out of debt.