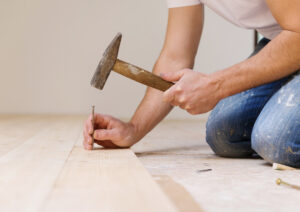 Regular maintenance and repair projects can boost your home's value and make it a more comfortable place to live. According to Comfy Living, approximately 80% of family homes were built no less than 20 years ago, making them overdue for updates! If your home could use some TLC, these repair projects will help you improve the space.
Add a Fresh Coat of Paint
Repainting is one of the simplest and most effective ways to revitalize a drab-looking home. A neutral coat of paint can revitalize any room inside your home. You can even use color to create a sense of cohesion inside your home and improve the flow from room to room. If your home lacks curb appeal, why not try repainting your home's exterior or replacing the siding?
Not sure which colors to use? When selecting paint, neutral shades, such as gray, tan, and cream, are always a solid choice. You should also pick a type of paint suitable for the part of the home being painted. Paints with high sheen value, like semi-gloss or satin paint, are more resistant to moisture, making them an excellent option for exteriors and bathrooms.
Install New Flooring
Do you have old carpeting or tile floors that are past their expiration date? Updating your floors could enhance your home's appearance and make it easier to maintain. Many flooring materials are available, ranging from traditional options like hardwood flooring to more modern choices like bamboo floors.
According to America's Floor Source, vinyl flooring is a resilient option that can last between 10 and 20 years if properly installed and maintained. Less conventional options, like porcelain tile and cork floors, are also worth considering. Look at different flooring materials so you can find the best choice for your home.
Apply a Sealcoat to Your Driveway
There's no shortage of ways to improve the interior of your home, but you may also want to consider some exterior improvements, like asphalt seal coating for your driveway. The driveway of a family home goes through a lot of wear and tear. Extreme temperatures, stormy weather, and other conditions could leave your driveway with chips or cracks.
Applying a seal coat can protect your driveway from damage and keep it looking great for longer. Once the coat is applied, it's more difficult for water to penetrate the driveway's surface. Since the seal coating leaves behind a smooth surface, it can even make your driveway easier to clean.
Improve Your Home's Insulation
A lack of insulation can make it challenging to keep your home hot or cool, leading to higher energy bills. If your home is poorly insulated, replacing your windows is one of the most effective solutions! According to the University of Massachusetts, windows are where the typical home loses around 30% of its heat. Consider finishing your attic or basement to reduce the air escaping these spaces.
Make Some Bathroom and Kitchen Updates
When evaluating future home projects, it's wise to consider how you use your home. Kitchens and bathrooms are some of the most frequently used spaces in any home, making them an ideal spot for improvements. If you don't have the budget for a full-scale renovation, you can still update these rooms and increase their utility.
Adding new hardware to your kitchen cabinets and bathroom vanity is a simple improvement that can make a big difference. A tile backsplash is something that can enhance both rooms. Think about the issues you run into when using your kitchen and bathroom, and try to make improvements to address these problems.
Whenever you make updates, repairs, or other improvements to your home, you make it a better place for your entire family. Taking on a few repair projects will improve your life in many ways. Being proactive about repairs can help you avoid future problems and give you peace of mind. Get started today on the repairs and improvements that you want to make.