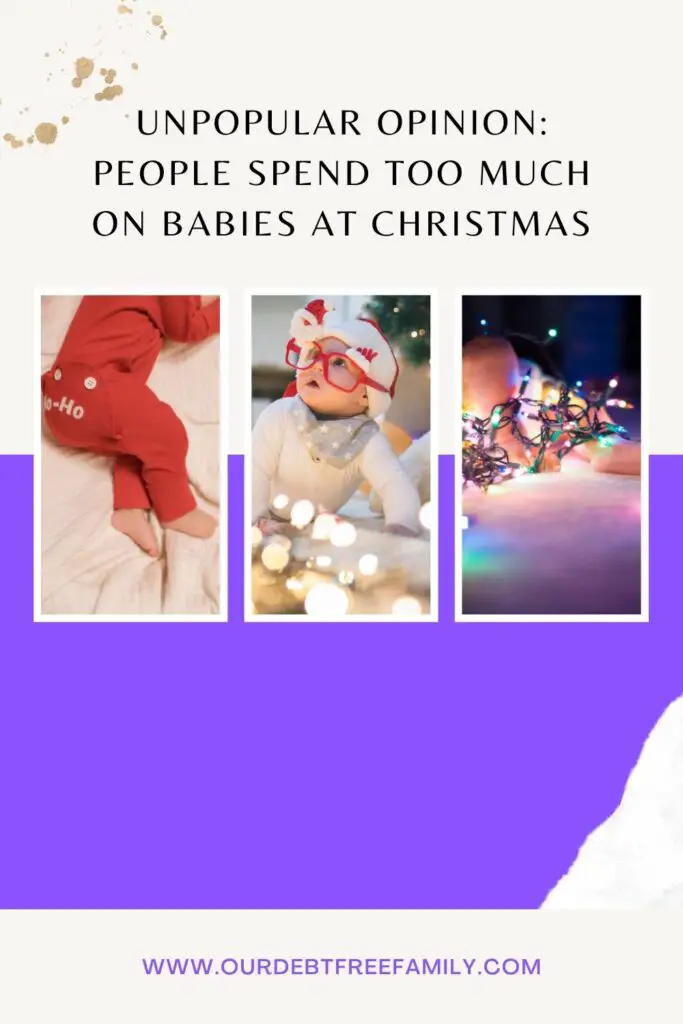 I've been sharing some of my unpopular opinions on social media more recently and one that got a lot of people upset recently was about babies at Christmas time. As you know, we will have a four-month-old for Christmas this year. It is always an exciting time to be around kids during the holiday season. At the end of the day, she won't remember a single thing. We will create plenty of memories but people spend too much on babies at Christmas. That may be an unpopular opinion but it's true.
Spending at Christmas
It is estimated that Americans will spend around $886 on Christmas presents this year. Much of that will be on gifts for kids, which is great. There is nothing better than seeing a child's face light up while they are opening a gift on Christmas morning. However, when it comes to celebrating with your newborn, pump the brakes. People are spending way too much. There are the trendy family photos, matching pajamas, big presents, fancy outfits, and the list goes on. All of it is adorable, but it is also extremely expensive and unnecessary.
Instead, spend some money on a babysitter and get some quality time in with your spouse.  The time you get one-on-one with them will make you return to your home, and your little one, more relaxed and happier. At least, that's how I'd spend the extra money.
Baby's First Christmas
Numbers vary on how much families spend on their baby's first Christmas. The average family will spend about $330 per child. This breaks down in different parts, usually many of them unnecessary. Here's a break down…
Baby portraits: This can cost $100+, depending on the package you purchase. Not to mention you'll want to buy prints, frames, etc. You'll also likely spend a pretty penny on the outfit they wear for the photos too. Instead of spending money on this for our little one we'll be posing her for some photos throughout the week before Christmas in different outfits sent by family.
Matching pajamas: It is adorable and super trendy to have matching pajamas, but spending $45 on a onesie every year at Christmas time is insane to me. If you have a bigger family, that starts to add up fast. Even a matching dog bandana was $9. We'll give our little one new pjs, a book, and a stuffed animal every Christmas Eve but there won't ever be any pressure to hold the matching pj tradition.
Toys: Many families shower their kids in various gifts every year, and that's great. As I mentioned above, many parents will spend more than $300 on each kid. Our family has chosen to have one big gift every year and lots of smaller, useful things. This year, our little one is getting a walker/activity center, which we paid for in gift cards we had from baby presents still. Typically, we will use Christmas bonuses and money to buy her big gift every year.
In the long run, we hope there is less focus placed on how much money is spent every year and more emphasis on the experiences we have together.
Readers, how much do you think you spent on your child's first Christmas? 
Read More