Mike and I spent almost $2,000 on gifts this year.
$1,979.24 to be exact.
And that was under budget.
That amount doesn't include the tithes we gave to our church and other donations.
$1,979.24 only includes how much we spent on gifts for birthdays, Christmas, Father's Day, Mother's Day, and a few weddings. Since we have been focusing on paying off our debt, we gave gifts only to close family and friends.
Once we pay off our HELOC and boost our emergency fund, we plan to be even more generous with gift-giving.

Do You Know How Much You Spend on Gifts Each Year?
Last Tuesday we started our discussion about budgeting with an overview of the most common budget busters that can derail your financial plan.
The biggest budget buster for most families is gifts.
If you're like us, it seems like there is a birthday party, baby shower, or wedding to attend every month.
Don't get me wrong, we are so grateful that our family and friends invite us to celebrate these occasions with them. We are truly blessed to have so many close friends and relatives, and we love giving generously.
So when we started budgeting back in August, we realized that we had to plan for these occasions as best we could. Back then, we weren't really sure what a reasonable estimate for gifts would be for our family so we came up with a new amount for our budget each month.
There's a funny thing about birthdays and holidays — they happen at the same time each year!
With this in mind, we realized that we could plan for most of the gifts we give each year ahead of time. (Imagine that!)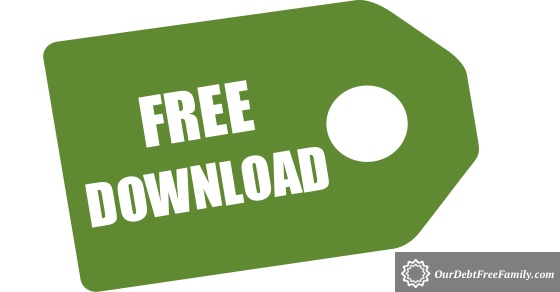 Enter… the Gifts Budget
I made a list of our friends and family members for whom we usually buy gifts and voilà — our Gifts Budget was born!
And today I am sharing it with you!
I have converted our Gifts Budget into a simple-to-use template for you so you can easily plan ahead for upcoming gifts.
Once you've created your own Gifts Budget, you will have a total amount that you have budgeted for the year. You can then break this amount down to a monthly savings amount.
When December comes, you will not be wondering where the money for Christmas gifts will come from or feel the need to put your purchases on a credit card to deal with in January.
Here's How to Create Your Own Gifts Budget
Follow these simple steps to create your Gifts Budget:
In column A, list everyone for whom you plan to buy gifts this year. Add or delete rows as necessary.

In column B, add their birthdate. (This is so you can easily see how many birthdays you will be celebrating in a given month.)
In columns C through F, enter the amounts you plan to spend for each person's birthday and the specified holidays. If something doesn't apply, then enter $0.00 or leave the field blank.
Column G is for those miscellaneous occasions that may not occur every year, such as baby showers, retirement parties, weddings, etc. If you already know that your cousin Melissa is getting married this summer, then enter the amount you plan to spend for her wedding and bridal shower gifts in her corresponding field.

I added a Miscellaneous person in column A and a Miscellaneous amount in column G for this person. This is to add some margin to your budget for those unforeseen occasions that inevitably come up throughout the year.

The spreadsheet will automatically total your budgeted amount for each person in column H. And it will automatically calculate your total gifts budget for the year at the bottom of column H. For the example I've provided, the total gift budget for the year is $3,180. This number can be plugged in to your Non-Monthly Budget Busters spreadsheet in the appropriate field.

Underneath the total, you can enter the number of months you have to save. For example, if you're starting this for the month of May, then you'll have 8 months to save for these gifts so enter 8 in this field.

Based on the number you enter in step 7, the spreadsheet will provide you with your monthly savings amount for gifts. You will use this figure in your monthly budget!

Columns I through M are where you can track what you actually spend on each person. Column N will total these amounts automatically. Column O will provide you with the difference of your budgeted amounts and your actual amounts so you can easily see where you came in over budget and where you came in under budget.
There you go! Your very own Gifts Budget!
Leave a comment and let me know what you think. And if you like this idea, please share it with your friends. 🙂
Next week we'll create your monthly spending plan!
What About You?
Participate in the conversation. How much do you usually spend on gifts each year? Do you save for them throughout the year or pay for them as the occasions come up? Share in the comments below.