Travel on a Budget: How To Explore the World Without Breaking the Bank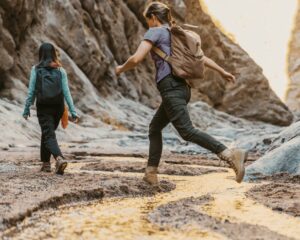 Traveling the world can be a life-changing experience, but it can also be expensive. With careful planning and a bit of creativity, it's possible to explore new places without breaking the bank. Whether you're a student on a budget, want to take a family vacation, or simply looking to save money on your next adventure, there are plenty of ways to travel on a budget.
In this guide, we'll share nine tips and tricks for saving money on travel so you can make the most of your trip without overspending.
Plan ahead
Planning ahead is crucial for traveling on a budget. If possible, planning 6 to 12 months in advance should give you plenty of time to do your research, create a travel budget, and start saving. This will also give you time to book transportation and accommodations at reasonable prices and plan out your itinerary with budget-friendly activities and attractions.
Choose an inexpensive destination
One of the easiest ways to save money on travel is to choose a destination that is less expensive to get to and stay in. For example, traveling to Southeast Asia or Central America can be much more affordable than traveling to Europe or North America. If you're staying within the States, consider a lesser known destination to save money on airfare. Or maybe there's a nearby city or town you can reach by car or train to avoid flying altogether.
Consider travel peak time
Another way to save money is to travel during the off-season or shoulder season when prices are lower. This may mean traveling during the winter months or in the spring or fall when there are fewer tourists. However, keep in mind local school holiday breaks — when many families hit the road — to avoid crowds and the prices that come with them.
Stay in budget-friendly accommodations
Accommodations can be a major expense when traveling, but staying in budget-friendly accommodations such as hostels or Airbnbs can help you save money. If you're traveling solo or with other adults, hostels are often much cheaper than hotels and can be a great way to meet other travelers. Airbnb can also be a great option if you want to stay in a local neighborhood and have access to a kitchen — especially if you'll be traveling with kids.
Cook your own meals
Eating out at restaurants can be expensive, especially if you're traveling for an extended period of time. To save money, consider cooking your own meals instead. This can be done in hostels or Airbnbs with a kitchen, or you can opt for street food or local markets. If cooking every single meal isn't feasible, try to cook just one meal a day (breakfast is generally easy).
Use public transportation
Transportation is another major expense when traveling, but using public transportation or walking instead of taking taxis or renting a car can help you save money. Public transportation is often much cheaper than taxis and can give you a chance to see more of the area and interact with locals.
Look for free activities and attractions
There are likely plenty of free activities and attractions to enjoy in your destination. Look for free walking tours, museums with free admission days, or local parks, beaches, and gardens to explore. Go on a hike, enjoy some free live music, peruse a local street fair, or play a game of cards while you people-watch. Free activities are often the best way to immerse yourself in the local culture.
Use travel rewards points or credit card rewards
If you have a travel rewards credit card, you may be able to use your points to cover some of your expenses, such as flights or hotels. This can be a great way to save money on travel — so long as you manage your credit card responsibly, of course.
Be flexible
Finally, staying open to different travel dates, destinations, and modes of transportation can help you find the best deals and save money on your trip. Keep an eye out for last-minute deals or flash sales on flights or hotels, and be willing to adjust your itinerary to take advantage of these deals. This includes staying flexible even while you're on your trip. For example, if a certain attraction or activity is too expensive, you might look for a cheaper alternative or skip it altogether.
Conclusion
With these tips and tricks for traveling on a budget in mind, it's time to start planning your next adventure. Remember, you don't have to break the bank to see the world and create unforgettable memories. With a little bit of creativity and some careful planning, you can explore new places and have an amazing time without overspending. So, what are you waiting for? Start packing your bags and get ready for an adventure of a lifetime!
READ MORE: