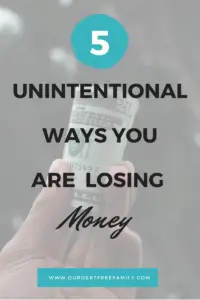 When you are trying to pay off debt and save toward financial freedom you can get pretty creative in trying to save money. But sometimes taking shortcuts or attempting DIY projects might really be costing you more money than saving.
Here are some unintentional ways you might be losing money:
1. DIY Car and Home Repairs
Some of us are blessed with handy spouses and/or family members. Some..not so much. But hey, that is ok. Some people realize that repairs aren't their strong point and hire someone and some just think they can do it all. If you aren't super handy sometimes it best to leave those jobs to the professionals.
2. Hair Color
We've all seen those horror stories and/or pictures of hair color gone wrong. Even if you're experienced with at home hair color things can still go wrong and you will need to make an emergency hair appointment. You might even have to go multiple times to correct your hair and you can also do a lot of damage as well. If coloring your hair is an absolute must, try extending your appointments from 4 weeks to 6 weeks or 6 weeks to 8. If you are looking for products to use between hair appointments try Root Concealer. This product will help keep your roots covered until your next appointment.
3. Pinterest Inspiration
We all ABSOLUTELY want to be that Pinterest mom. The one that can cook, decorate, and craft like no other. But hey you know what? I'm not super crafty. I don't really enjoy it and it takes a lot of time. I've realized this since my daughter's first birthday almost 5 years ago. Many times we get an idea from Pinterest and actually end up spending more money because there "craft project" didn't turn out the way we wanted and now we have to purchase one.
4. Purchasing Warranty Plans
Do you ever wonder why all large and expensive items have extended warranty plans? The companies have to be making big bucks on these plans. And if you think about it, you are buying a brand new item and spending an additional $20-$50 for a warranty plan that won't do you much good. Now honestly, if you really thought that brand new TV was going to give out in a year would you really buy that brand? I definitely wouldn't. Instead you can put that money in a savings account and let it add up and you can have that as a back up if anything were to break or your emergency fund could be used for it as well.
5. Buying Low-Quality Items
Since having kids I'm much more mindful of the products and brands I purchase. And I've been able to try and purchase more of these products from Amazon Prime, Amazon Subscribe and Save, and Amazon Mom. A great example of this is I always bought Sparkle brand paper towels, then after having kids I tried Bounty Select-a-Size paper towels and I loved them! Then my inner money saving self came out and I purchased Sparkle again. I've learned my lesson!! I really do have a lot of hands and mouths to clean and Bounty really works better for our family and I find they also last longer – meaning I spend less per paper towel.
Ultimately some people are naturally handy and others can replicate things on Pinterest. But it's important that we really look at ourselves and our habits this year and see if we can save more by outsourcing some jobs out to the professionals.
For more ways to improve your personal finances check out these great articles.
Is Being a Penny Pincher Losing You Money?
How to Get Started Paying Off Debt When You're Behind on Your Bills
How Alice and Scott Paid Off $200,000 of Student Loans in Less Than 7 Years
Yes, You Can Save Money With Paribus
What about you? Have you ever lost money, when your goal was to save money? If so, please comment below!

Team Our Debt Free Family is the administrative WordPress user account for Ourdebtfreefamily.com. Our Debt Free Family is a premium classic personal finance blog. Our mission is to inform, educate and help you get out of debt.