How important is mindset when getting out of debt?
That's the question I received last week from Michael (not my husband).

So I did a scope (as the cool kids call it) where I shared the following two-minute trick to change your thinking about debt.

Of course mindset is EXTREMELY important!
When you're trying to achieve any goal, you've gotta be in the right frame of mind.
First, you have to be ready to make a change.
Next, you have to BELIEVE that it is possible to reach your goal and have HOPE.
Without those, then what's the point? Why waste your time trying, right?
Let me ask you a question
Do you believe there is good debt and bad debt?
Usually student loans and mortgages are considered good debt, right?
I can understand that sometimes they can be necessary, but that doesn't mean we should pay the minimum payments and let them hang over our heads for 10, 20, or 30 years.
Paying interest is an OPTION.
[bctt tweet="Paying interest is an OPTION."]
Interest is the price you pay for taking out the loan or charging your purchases on your credit card.
Pretty elementary, I know. But we get so used to paying the interest that we forget what it represents.
I've got a challenge for you —
Pull out your last debt statement — credit card, loan, mortgage, whatever it may be.
When was the last time you actually studied your statement?
In our world of paperless statements, it's great for the environment and reducing clutter, but it means that most people rarely ever LOOK at their statements.
Start with looking at your interest rate.
Is it fixed or variable?
If it's variable, find out when it changed last. Did it increase or decrease? Do you think it will increase, decrease, or stay the same as time goes on?
Next, determine if there are any fees associated with the loan or credit card. Are there monthly or annual fees that the bank or institution are charging you just for keeping the account open?
Now, look at how much you paid last month. Compare how much you paid toward the principal balance and how much you paid toward interest. If you're looking at a credit card statement, the finance charge is how much they charged you in interest.
Subtract the interest from your total payment to determine how much actually was applied toward the principal balance.
Now divide the interest amount by the total payment amount and multiply it by 100. That is the percentage of your payment that is going toward interest only.
Here's the formula: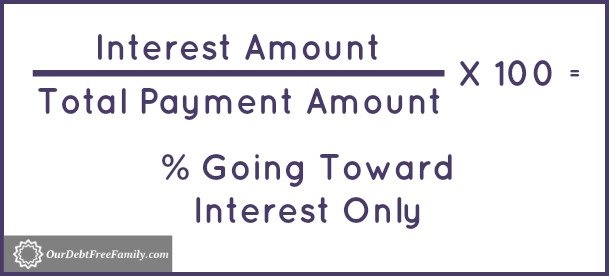 That is the price you pay each month for maintaining the debt.
Here are our numbers
I took my own challenge and pulled our last mortgage statement.
Our interest rate is 3.625% fixed, and we don't have any additional fees for our loan.
We're doing well so far.
Here's the breakdown for our payment that is due November 1st:

I crossed off the row that showed the amount going toward escrow because we can't avoid the taxes and insurance payment.
With our new total, we'll pay $1,442.07 toward our loan in November.
But look at that interest amount!
Even though we have a low interest rate and a 15-year loan, more than $600 is going toward interest only!
I don't know about you, but I can think of a lot of things I'd rather do with that $600!
I plugged the numbers into the formula, and this is what I came up with: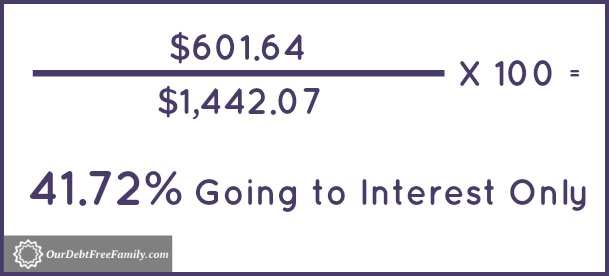 More than 40% of our payment is going toward interest! Yikes!
Imagine what that percentage might be if we had a higher interest rate or a 30-year loan!
Of course, the amounts will change over time as the principal balance decreases, but think about how many thousands of dollars we'd be paying in interest over the life of the loan if we didn't pay it off early.
THAT is why we are in a hurry to pay off our debt as quickly as possible, even though a mortgage is considered "good debt" by some.
We would rather be focused and intentional for a short amount of time to pay the debt off early than allow so much of our money to go toward interest.
Again, INTEREST IS AN OPTION.
What are you going to choose?
How Do You Actually Believe That It's Possible?
We were inspired to begin our debt free journey two years ago because we heard the story of a young family, similar to ours, who had just finished paying off all of their debt, including their mortgage.
We believed that if they could do it, then so could we.
That's exactly why I share our journey on the blog — including our struggles and our wins.
And that's why I share stories of others who have gotten out of debt or are currently working their way out of debt. (If you need some inspiration, check out my interviews with Deacon and Kim, Laura and Dontae, and Miriam.)
It is possible to pay off the debt early and be done with it once and for all.
Debt does not have to be a way of life.
[bctt tweet="Debt does not have to be a way of life."]
Now I'd love to hear about you!
Did you take my challenge? What percentage of your payments are going toward interest? How do you feel about the interest that you're paying? Share in the comments below.

Team Our Debt Free Family is the administrative WordPress user account for Ourdebtfreefamily.com. Our Debt Free Family is a premium classic personal finance blog. Our mission is to inform, educate and help you get out of debt.