If you're needing some motivation on your own journey, this interview is sure to deliver.
Alicia and Ralston Vaz have cut their debt by $255,000 in five years!

They live in Washington, DC, with their two kids, and they have used their faith in God to keep going on their journey.
And as you'll find out, they have generous hearts and are raising their kids to be savers and givers, too.
Here is the interview:
ME: Thank you for sharing your story with Our Debt Free Family! Please tell us a little about yourself so we can get to know you.
I'm happily married to my husband, Ralston — fifteen years this June. We've been blessed with two kids, Cadence, 12 years old, and Caleb, 6 years old.
I am originally from Trinidad but came to the U.S. when I was 18. My husband is from New York, which is where we met, fell in love, and got married in 2000.
We moved to Rhode Island soon after and lived there for three years. Then onward to Georgia for 10 years. Now, we live and work in the DC Metro area and are excited about what God has in store for us here (whatever that might be).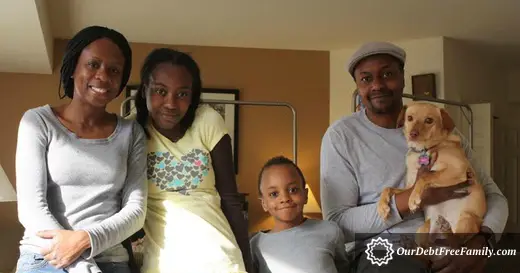 ME: It's so great to meet you, Alicia! What made you decide to focus on becoming debt free?
We decided to work to become debt-free for a few reasons.  
We wanted to honor God with our finances and part of that is honoring our dumb debts. We also fell in love with the idea of being financially wealthy, which for us is what you have after you've subtracted what you owe.
We also wanted more guilt-free freedom to live and give — and to model that example of living for our kids.
ME: Those are wonderful reasons! How much debt did you pay off, and how long did it take you?
We were roughly $305,000 in debt, which consisted of a $210,000 mortgage, a $25,000 car loan, and a $35,000 school loan. We also had about $35,000 worth of credit card debt.
It was five years ago when we decided that we had to make a change. We were introduced to Dave Ramsey's Financial Peace University during one of our church services. It was timely, and without hesitation, we signed up for the classes. It was funny and eye-opening.
Dave gave us the clarity and direction we needed to reframe our current lifestyle. Credit cards became a bad word around our house. And as hard is it was, we began to learn to resist the urge to accept credit offers and use credit cards to obtain things we couldn't afford to buy for cash. Undoubtedly, it was a decision to take the hard road that would lead us out of the mess we made.
[bctt tweet="It was a decision to take the hard road that would lead us out of the mess we made. @socialicia"]
We haven't been as disciplined as we could be over the years, but we've managed to knock debt down to about $50,000. The finish line is near.
ME: Wow! You have knocked off a huge part of your debt. How did you do it?
We no longer have mortgage debt. It would be nice if that meant we paid off and truly own the house we lived in, but it doesn't.
Ralston and I found ourselves upside down on our mortgage and behind on making regular monthly payments. We didn't live lavishly; we just couldn't keep up with the financial responsibility of the house.
We found ourselves facing three options:
Refinance our home and be left with a higher principal and the same high monthly payment,
Not refinance and face foreclosure, or
Do a short sale and say goodbye to our home of 10 years.
While we loved our home, we opted to do a short sale and move on — something we were pondering anyway (thought with much fear and trembling).
Home ownership for us at this time had long begun to feel like a season passed that we were holding on to. It was time to see what else God had waiting for us and venture forward.
We got the process going, and in less than thirty days, an offer was made on our house. Closing happened not too long after. It was a crazy, life-changing blur, but we regret none of it.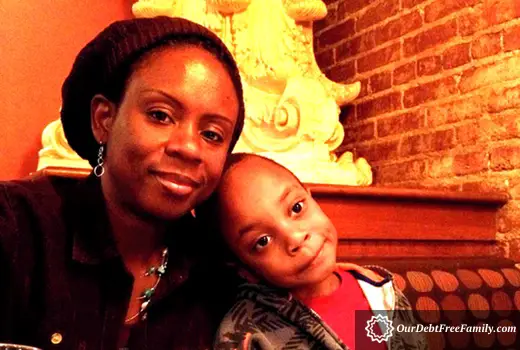 ME: That must have been a difficult decision, but I'm glad your faith pulled you through. Thank you for sharing that with us.
What did you do for work while you were paying off your debt?
When we started working through our debt Ralston worked as a web designer of sorts at AT&T and YP.com.
He's now a brand identity designer raising his own brand consultancy, Thinkory.
I am building to the point of earning an income with my salon business consultancy, Socialicia.
It's rough at times, not having a traditional job with a traditional salary, but God has always provided. Always.
ME: What has your annual income been during this time?
Our annual income has fluctuated in recent years, but it was $63,000 throughout much of our debt reduction work.
Our annual income may be about $78,000 now with freelance design work. We're believing God to increase that to $100,000 by the end of this year.
ME: Have you done anything to increase your income during this time?
We got pretty creative. We sold used business books we had (or found).  
We also sold stuff around the house like furniture, toys, electronics, clothing – pretty much anything that wasn't nailed down or needed to sustain life.
We participated in our neighborhood's garage sales and relied on online Facebook groups and Craigslist to find buyers.
We were determined to drastically reduce our debt — and our collection of "stuff."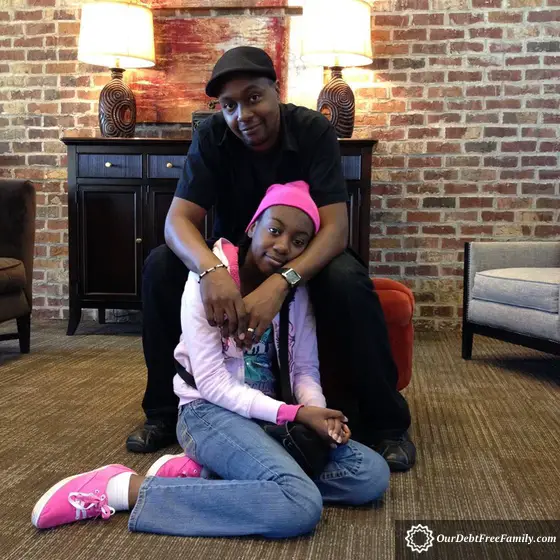 ME: Nice! Selling stuff has been part of our strategy too. What sacrifices have you made for your goal?
Plenty. We ate out less. We skipped vacations. We didn't buy a bunch of Christmas gifts.
We just got smart overall. We also had two vehicles at one time and decided that one would have to do if this debt free journey was ever going to see some traction.
One vehicle was sold, and the note was paid in full. It was a silver 2006 PT Cruiser Limited. Ralston loved that car, but he loved being free of the debt that car was dragging around even more.
Fortunately, the second vehicle we had was one we bought for cash. It was truly ours.
Oh, we also realized no one was watching traditional TV in our house anymore. So we got rid of our DirecTV service and opted to keep our modest Netflix account. 
ME: Sounds like you got your priorities in order. What money-saving tips do you have to share?
I've got a few: 
Give your tithe to the Lord, regardless of your financial circumstances. Is it hard? Yes. Is it necessary? Absolutely. Build that muscle and strengthen that trust. It will be honored, I promise.
Set clear goals. Know what you're working toward. Put it up on a wall somewhere so you can see it every day. And filter the temptation to spend money through those goals. Ask yourself "Does this opportunity to spend money take me toward that goal or away from it?"
Know your "so that…" for every decision. Examine your rationale for every purchase. If it is not God-honoring, goal-reaching, or in service to others, reconsider. Spend nothing arbitrarily. That's likely how you got into the mess you're in.
ME: Those are great tips! What advice would you give to someone considering starting their own debt free journey?
Ralston wrote this and put it up on one of our walls: "Ponder less. Produce more!"
[bctt tweet="Ponder less. Produce more! @RalstonVaz @socialicia"]
Pondering is awesome, but this was his reminder to stop procrastinating and get something — anything — done.
You've been thinking about starting your journey to becoming debt free. It's why you're reading my story now. Just jump in.  
Follow the advice of this blog, or just figure it out as you go. Do what works for you to dump the weight of debt in your life and freely live!
Quit pondering. Start producing.
ME: That is great advice! Have you made any big purchases with cash?
We've enjoyed a few Good Year Celebrations (what we call our one family vacation, positioning it as a reward earned through our kids' good and hard work throughout the school year).
Our favorite so far was a weeklong stay at an all-inclusive resort in Panama City Beach, Florida.
We've purchased a few high-end computers for design work, bought a good used car or two, took trips to Jamaica and Trinidad for family events (wedding, funeral), and more. All for cash.  
Can't remember the last time either of us used a credit card or took out a loan. It's been several years for sure.
The biggest thing we've done with cash is probably what we're in the midst of now, having moved our family more than 600 miles from Atlanta, Georgia to the DC Metro Area.
Sometimes it's taken about a year's worth of savings (or really tight spending) to make these big purchases and events possible. But they were that much sweeter to enjoy.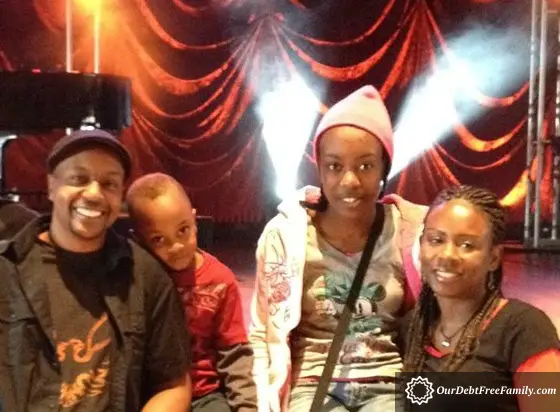 ME: What has been the best part about your debt free journey?
No doubt, legacy.
If you ask our 12-year-old daughter, she'll tell you, "Credit cards are dumb." We love that!
We're setting our kids up to buck the trend and traditions and exercise self-control. We've instituted "jobs" for them around the house to give them opportunities to work, earn money, save, and purchase the things they want. No allowances here. 
It's been a few years that we've done this with them, and they've purchased cool things (toys, video games, art supplies, and even a new Nintendo DS) with well-earned wages and time.
They've also given countless dollars to others in need and have saved up hundreds of dollars for future interests — whatever they might be.
Our 6-year-old says, "Patience is the waiting 'till later for what you want now." That he knows that and they practice that is priceless to Ralston and me.
Our hope is that all we have been through — the smart and the dumb — will serve to inspire and encourage our kids to be and do better. 
We pray they will not only not be slaves to debt, but that they will develop hearts for giving and serving others.
We pray they will be better stewards of their money, but also know full well that there is more purpose to life than the feverish accumulation of "stuff."
ME: That is so inspiring! Sounds like your kids are on the right path because of the example that you have set. 
Is there anything else you would like to share with our readers?
In all our wanting, learning, growing, and hurting, one thing we learned is the proper order of priorities in life: God first, then family, then career. Everything else comes after.
In fact, if you're going to make it out of what seems like an impossibly deep pit of hurt, you've got to make Christ the center of everything you do. Big, small — EVERYTHING!
It wasn't until Ralston and I decided to let God into every area of our life that we experienced inexplicable peace and undeserved prosperity. And God's not through with us yet.
Nor is He through with you! So hand your heavy debt load over to God. Creating it was your fault, but eliminating it is His pleasure.
[bctt tweet="Hand your heavy debt load over to God. #faith @socialicia"]
Such inspiring words!
I want to thank Alicia and Ralston for sharing their story with us. They have had quite a journey with many wins and hard times, but they have persevered with God by their side.
Once they got their priorities in order, making the tough decisions got a little easier.
And I love that they are also teaching their children how to spend, save, and give.
If you would like to learn more about Alicia and Ralston, please visit their websites at socialicia.com and thinkory.com.
What About You?
Participate in the conversation. What parts of Alicia and Ralston's story did you find most inspiring? What advice from Alicia can you apply to your life? Share in the comments below.

Team Our Debt Free Family is the administrative WordPress user account for Ourdebtfreefamily.com. Our Debt Free Family is a premium classic personal finance blog. Our mission is to inform, educate and help you get out of debt.