It's that time of year again!
The weather's getting warmer, the kids will be out of school soon (if they're not already), and garage sales are popping up in every neighborhood.

Last week, I encouraged you to start brainstorming ways to boost your income so that you can pay off your debt and reach your financial goals quicker.
I mentioned that one of the ways my husband and I have boosted our income to pay off more than $87,000 of debt in 20 months is by hosting some successful garage sales.
In fact, when we started our plan to become debt free in August 2013, we held a garage sale that brought in almost $1,600 for two days of work!
This prompted the following comment from one of my readers:
"Great tips! I'd be interested in how you had successful garage sales. We've had a couple of garage sales and they've all been busts."

– Melinda
So in this installment of Monica's Two Cents, I'll give you 21 of my best tips for hosting a successful garage sale.
If you have a question for me, we would love to hear it. You can fill out the form on the Contact page.
Now, let's dive in.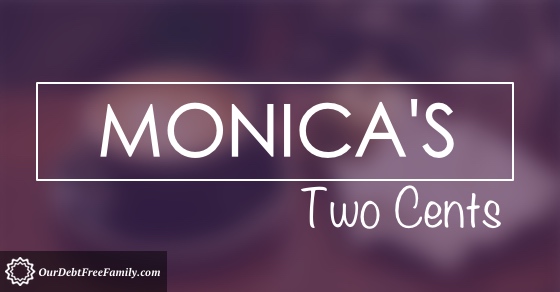 Here are 20 of my best tips for hosting a successful garage sale:
Check with your city or county regarding rules for hosting a garage sale. My county website has set standards regarding the frequency and length of garage sales in order to avoid needing a special permit. There are also guidelines regarding where signs can be posted and what type of information is required to be on them.

Search every room, closet, and storage bin in your house to find items to sell. Check your garage and outside your house, too. If you wouldn't mind parting with something, then add it to your inventory for your sale.

Keep in mind that not everything will sell so you're not automatically getting rid of every item you include in the sale. You can decide later what to do with the items that don't sell, but the more you have to offer in your sale, the more likely someone will be to stop by to check out what you have.

Ask your neighbor, a friend, or a family member if they want to do the sale with you. This will increase your inventory for your sale and create more variety for your customers. Plus, it will make it more fun!

Have at least two adults "on duty" at all times. There may be times when one of you will have to help carry a purchase to a customer's car, and you don't want to leave your sale unattended for obvious reasons.

Join your neighborhood's garage sale if that's an option. Neighborhood garage sales will usually be well advertised and attract more shoppers from outside your neighborhood.

The best days for garage sales are Thursdays, Fridays, and Saturdays. Hard core bargain shoppers are out and about early and hunt for deals BEFORE the weekend.

Start your sale no later than 9am and expect a few early bird shoppers to arrive before you have everything ready.

Borrow tables from friends and family if you don't have enough so that you can display your items neatly.

Save yourself a lot of time and forget about pricing each piece of clothing. Instead, make a sign stating the price for each type of clothing, i.e. "Sweaters $X, Pants $X, Shirts $X."

Make signs that clearly state the gender and size of clothes. For example, "Girls 0-12M" and "Men's M-L."

Group like items together. For example, have separate tables or sections for baby stuff, gadgets, and kitchenware.

The better quality of items you have to offer, the more money you'll make from your sale.

Place some key items in the front that will catch the eyes of those driving by, but put your bigger ticket items in the back to entice people to walk through your sale.

Have a well-labeled "free" pile of stuff in the front corner of your sale by the street. This will help to draw people in who are just driving by.

Price items to sell, but still expect that people will negotiate with you most of the time. Be willing to accept a lower offer if it is reasonable. Just think, would you rather sell this item now for a dollar or two less than your asking price or wait and hope that someone else will come along who is willing to pay your full price for it? Depending on the item, it might be better to give in to the lower offer.

Advertise on Craigslist a day or two in advance so that shoppers can include your sale when planning their routes of sales to hit up. Be sure to include your address and a list of what you'll have available. Often times people will be searching for a specific item that you'll have at your sale, and you can make a few sales before your garage sale officially starts!

Post clearly labeled signs on main roads with arrows, your address, and the days and hours of your sale.

Offer snacks and/or drinks for sale if you can. We've never done this ourselves, but at one neighborhood garage sale we attended, there was one house selling pulled pork sandwiches, another selling homemade cinnamon rolls, and another selling cupcakes and cookies. These treats made extra money for the sellers and made our outing that day much more enjoyable!

If you do nothing else on this list, do this one thing! Be friendly! Greet people when they walk up. Have a smile on your face, and act happy to see your potential customers. 🙂
My last tip is this — don't get caught up in the planning so that it takes you weeks to get ready or you put it off because the whole process sounds too time-consuming. Our last few garage sales were pulled off with minimal planning, and we still made several hundred dollars!
Next week we'll discuss what to do with the items that don't sell at your garage sale.
What About You?
Participate in the conversation. Have you hosted any successful garage sales? If so, what are your best tips? Share in the comments below.