It's time for another installment of Monica's Two Cents where I answer YOUR questions!
If you have a question for me, I would love to hear it. You can fill out the form on the Contact page or send me a message via Facebook.
Now, let's dive in to today's question.

When I posted my March Debt Freedom Progress Report, I received this question in the comments:
"Great job in meeting or exceeding almost all your goals! Also, I'd love a post about groceries. How do you spend only half of what you did a few months ago?"

– Catherine
Catherine is referring to how we spent more than $1,000 on groceries during the month of January. While in March, we spent only $586.73 on groceries.
This was still more than our $500 budget so reducing our grocery spending is still a work in progress. But we have improved in this area, and as I stated in our April Debt Freedom Progress Report, we are determined to keep our grocery spending under $500 for the month of May.
To answer the question, I first want to explain how we used to buy groceries, and then I'll dive into the strategies we're using now to keep our spending below $500.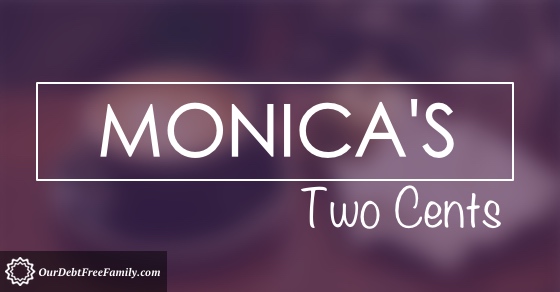 Here's how we used to buy groceries:
I've traditionally had the "just in case" mentality.

As in, "Let's buy this ____ just in case we need it later," or "Let's keep this ____ just in case it comes in handy later," or "I'll pack this ____ for our trip just in case we need it."
As you can imagine, that kind of thinking leads to stuffed pantries, stuffed closets, and stuffed luggage.
When it came to groceries, I would stock up on all of our staples just in case we ran out of our current supply. We used to stock up on whatever we thought we were running low on or would potentially run out of in the next few weeks.
My thinking was that using this approach would save us another trip to the store later. But as it turns out, there is always something more to buy. So we would make another trip to the store anyway and find more things that we should buy just in case.
The cycle never ends.
We used to buy as much organic food as possible.
Since hearing more and more about the benefits of consuming organic foods over conventionally grown foods the past few years, we've switched to buying as much organic food as possible.
As parents, we want to make sure that we're feeding our kids high quality food without unnecessary pesticides, hormones, and antibiotics. And we don't want those in our bodies either.
But choosing organic foods can be costly. While I believe that choosing organic foods can be better for our longterm health, it sure can put a strain on our monthly grocery budget.
We would go through 3 or 4 gallons of organic milk each week.
Ever since our son started drinking cow's milk, we've purchased organic milk for him.
The current price for a gallon of organic milk in our city starts at $5.49 – $5.99.
Our son LOVES milk. So much so that he would drink an average of 4 cups each day, and we would go through 3 or 4 gallons each week!
He would live on milk if we let him!
Buying that much organic milk each month definitely added a nice big chunk to our grocery spending.
All of these factors definitely contributed to the insane amount we spent on groceries during the month of January, and we've been working toward getting closer to our budget amount of $500.
Here's what we do now:
In order to ensure that we stick with our $500 grocery budget for the month of May, we've established some guidelines.
1. We've adopted the "just in time" approach instead of the "just in case" mentality.
Now, we only purchase items we need for upcoming recipes. This allows our cash to remain as cash and not have money tied up in grocery items that sit in our pantry unopened for weeks or even months.
The only exception to this rule leads into the next one.
2. If an item is on sale that we know we will need in the near future and we know we have enough room left in our grocery budget for the month, we'll stock up to take advantage of the bargain price.
3. We don't buy as much organic food.
While we would like to purchase all of our food as organic, we have realized that that approach doesn't fit with our budget right now.
So we try to follow the "Clean 15" and "Dirty Dozen" produce recommendations from the Environmental Working Group to save money. For the most part, we follow the rule that if a piece of produce has a peel that you don't eat (i.e. bananas, oranges, watermelons) it is safe to buy conventionally grown, as the peel serves as protection from the harmful chemicals.
4. We've been limiting our son's milk consumption. Our son doesn't drink quite as much milk as he used to, but we've also implemented a new rule in our house — he has to drink a cup of water in between each cup of milk. This approach has gotten him down to drinking two cups of milk on most days. Now, we go through milk at a much slower pace and two gallons will last us a little more than a week.
We plan to stop buying more food when our grocery spending reaches $450 for the month and get creative.We haven't implemented this rule yet, but we are going to this month. Putting a halt to normal grocery spending at $450 leaves room for buying more staples (like milk or eggs) if we need them before we get to our maximum budget amount of $500.
And it forces us to eat the food that we've already purchased rather than letting it sit in our freezer or pantry for another month or two. What a concept, right?
More considerations:
Finally, I'm assumign that you are reading this article because you want to save money due to your debt load.  If this is the case, consider refinancing.  A company I really like is SoFi.  They have a low cost model, good management and a good reputation.  You can access their website here or click on the banner below.

Here are of our best articles that feature debt payoff resources and success stories
Alice and Scott Paid Off $200,000 In Debt In Just 7 Years
Yes, You Can Pay Off Debt When You're Behind On Your Bills
Ron and Thu Paid Off $137,000 in Only 4 Years
Get Free Cash Back With Paribus
What About You?
Participate in the conversation. How have you saved money on groceries? Do you have any rules or spending guidelines that you follow? Share in the comments below.

Team Our Debt Free Family is the administrative WordPress user account for Ourdebtfreefamily.com. Our Debt Free Family is a premium classic personal finance blog. Our mission is to inform, educate and help you get out of debt.