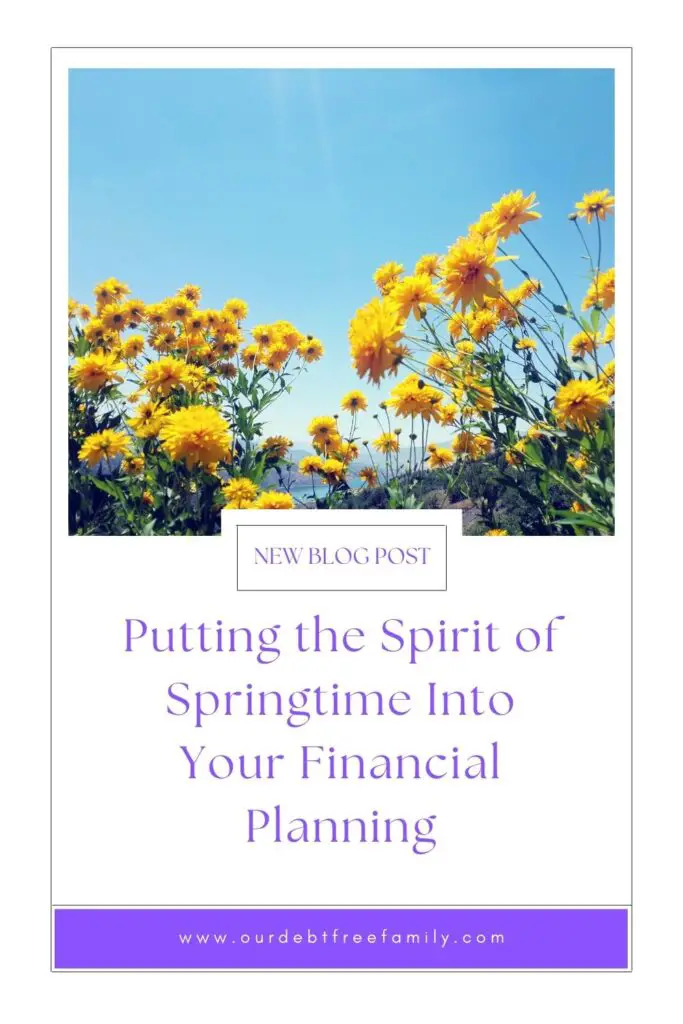 Springtime is such an amazing time of year. It is one of my favorites. I love to find ways to improve my life around this time of year. Many people focus on spring cleaning or specific tasks, but I like to take a big-picture view of things at this time to improve our finances and more. How can you put the spirit of spring into your financial planning? Here's how we are doing it.
Why We Focus on Springtime
I suffer from a bit of seasonal depression, which a large number of people do. This makes springtime a great time to start doing anything. I usually lose focus throughout the winter and I'm really just trying to survive that time. When spring hits, it feels like I can breathe again and, more importantly, give attention to the areas of my life that need it.
This might be different for other people. However, chances are there is a season when you're more productive, more enthusiastic, and more positive. That should be the season you take to focus on improving your life – whether it is your finances or otherwise.
How to Put Spirit Into Your Financial Planning
When I think of spring I think of rejuvenation and growth. These are two important things when it comes to financial planning for your family. You have to think about ways to change your budget and your financial approach to match the growth you want.
Additionally, rejuvenating your approach to money can help you better align your lifestyle with your long-term money goals. Here are some ways we are doing this…
Plan out a monthly review of our finances. We often neglect to sit down and talk about our financial habits, review our money management, and really look at how our financial plan is working for us. Moving forward, we will have a monthly "money date."
Keep a long-term mindset. In general, it's easy to get caught up in the here and now. However, your money will work for you more if you keep your eyes on the future.
Maintain our emergency fund. We've had issues maintaining our emergency fund in the past and it creates big issues in our debt freedom plan.
Invest in ourselves first. When we don't set aside money to invest in ourselves we don't feel positive about our finances. That's just a fact!
Place any contributions to savings, retirement, etc. on automatic. Another thing that could use some rejuvenation is the way we "do" savings. We usually transfer things manually and it doesn't always get done. Putting these things on auto-pilot will help a ton.
Readers, do you ever get inspired to rejuvenate your financial plan? Does it happen around the same time every year? I'd love to hear from you in the comments.
Read More