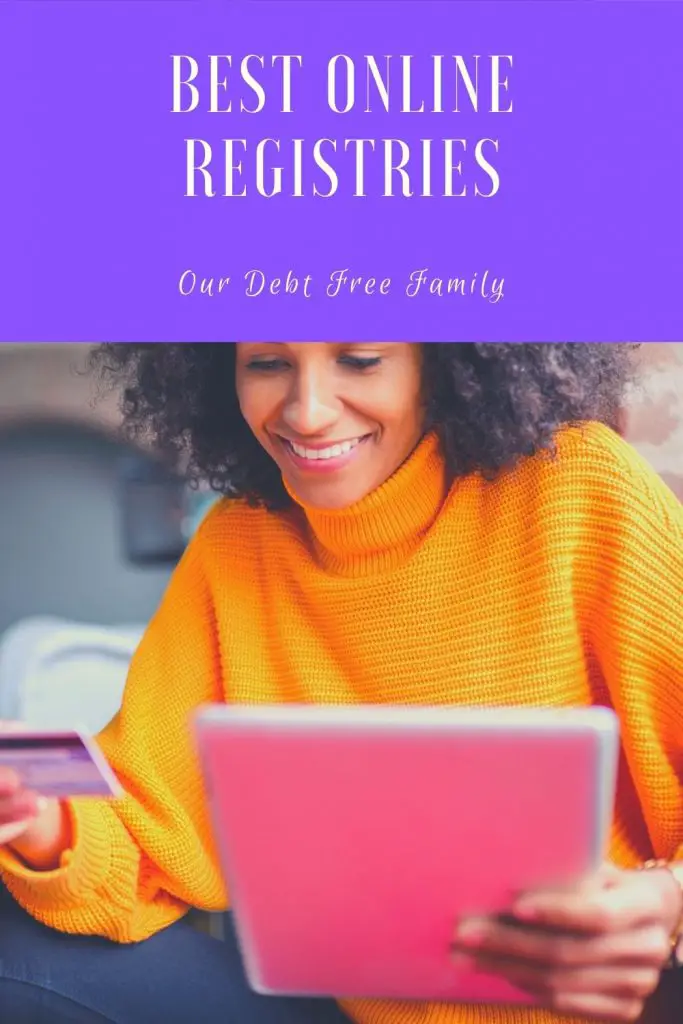 Last week we talked a bit about virtual baby showers and some of the awesome ideas people have come up with to celebrate a new arrival virtually. In addition to there being a number of ways to celebrate from afar, there are also a plethora of ways to register for and receive gifts from loved ones (no matter where they are). Here are some of the best online registries I've found so far (plus the perks they offer).
Best Online Registries for Weddings
There are a number of online registries out there. Depending on what you are celebrating, there may be different options out there for you. Here are some of the best places to register online if you are getting married.
Amazon
Amazon will be listed here a few times because, among all of the online registry options out there, it is the best. You can register for a wide range of items, track what has been purchased, and send virtual thank you notes to each of the people who purchased something from your registry. It makes things really easy. For weddings, you can even add things like Southwest Airlines gift cards, Airbnb gift cards, and other monetary gifts to help you celebrate your big day.
Bed Bath and Beyond
If you and your spouse are moving in together or buying a new home after your big day, a Bed Bath and Beyond registry is also a good option. There are a number of coupons available for the retailer, so your guests can save some money. Plus, you have a full year after the gift is purchased to make a return. This way, you don't have to go rushing around after your wedding.
Blueprint
Blueprint is an awesome online registry option because you have access to 50+ retailers through the site. They also just have a cash gift option, which is nice.
Honeyfund
Honeyfund is another registry option rising in popularity for newlyweds. This allows your guests to contribute to experiences or honeymoon costs instead of physical gifts. They can give money towards airfare, hotel stay, or experiences during your honeymoon.
Target
Target is always a good place to register, no matter what the occasion is. Like Bed Bath and Beyond, you'll have a full year to return any gifts from your registry.
Zola
If you are planning your wedding through Zola, you may also want to do your registry through them as well. This website is truly a one-stop-shop for everything to do with your big day. The site also gives you access to more than 450 brands, making it pretty user-friendly no matter what you want to add to your registry.
Best Registries for Baby
After your big day, you may be planning a family, so you'll need to create a new registry for your baby. Here are the best registries online for baby showers.
Amazon
As mentioned above, Amazon has a plethora of options when it comes to what you can add to your registry. Some of the perks to your baby registry include a diaper fund people can contribute to, group gifting options, and item suggestions. Amazon also provides you with a checklist of everything you need for your baby (things you may not have considered). Once you (or someone you've shared your registry with) purchase $10 worth of items from your registry, you'll also get a free registry box from Amazon with some samples and things like baby socks. On top of that, Amazon also gives you a completion discount. So, after you've reached a certain point in your pregnancy, things on your list will be marked down.
Buy Buy Baby
Buy Buy Baby is a sister company of Bed Bath and Beyond. One of the biggest perks of registering here is that any coupons for Bed Bath and Beyond can also be used at Buy Buy Baby. You can receive a completion discount on your registry (between 10% and 15%). The store also does price matching. On top of all that, they also offer a free box of goodies with coupons and samples that you can pick up in-store.
IKEA
IKEA is a great place to register while you are putting together the perfect nursery for your little one. They carry cribs, changing tables, high chairs, and even a few baby toys. You'll also be able to register for closet storage items, which is always a plus when it comes to putting together a nursery. Gift-givers who are buying things off the registry will also receive a family discount at checkout.
MyRegistry.com
If you just can't decide which retailer you favor or want to condense your lists from each, MyRegistry.com is a great place to start a registry online. You can add gifts and items from literally any online retailer to your registry. As if the added convenience wasn't enough, you'll also be able to reap the benefits of any completion discount the retailers offer. For instance, Buy Buy Baby items on your list will be eligible for up to 15% completion discount.
Pottery Barn Kids
Pottery Barn Kids is another great place to register when you are piecing together your nursery. Like many of the others listed here, they offer a completion discount (20%). The discount is valid for up to six months after you've given birth.
Target
Target is another retailer that has a great online registry for your new arrival. One of the biggest perks of registering with Target is that you'll get 15% off of whatever you don't receive after your baby has been born. You can also stop by guest services at a Target location and ask for your baby registry gift. Their box is packed full of coupons and samples ($50 value).
Walmart
There are Walmart locations all around the United States, making it an accessible place for anyone to purchase items from your registry. The retailer also offers a price-match guarantee on items from most other stores including Amazon, Target, and Kohl's. Similarly, they also offer a welcome box with coupons and samples.
Registries for Other Occasions
Even if you aren't getting married or having a baby, there are plenty of things you may want to celebrate. For instance, you may be moving into a new home. Consider registering at one or more of these places.
Amazon
Once again, Amazon is a great place to start. They have literally everything you could think of when it comes to putting together a housewarming registry or list for another type of celebration. In my opinion, it is one of the best online registries out there simply because of its convenience.
MyRegistry.com
Besides Amazon, MyRegistry.com is another great pick for creating your online registry. You can add items from literally any retailer that has a website. This makes it much easier to find and receive exactly what you are looking for.
When it comes to celebrating other occasions, many of the options listed above are great too. Walmart, Target, Bed Bath and Beyond, Pottery Barn, IKEA, and other retailers all offer online registries to make your gift-giving and receiving easy.
Read More