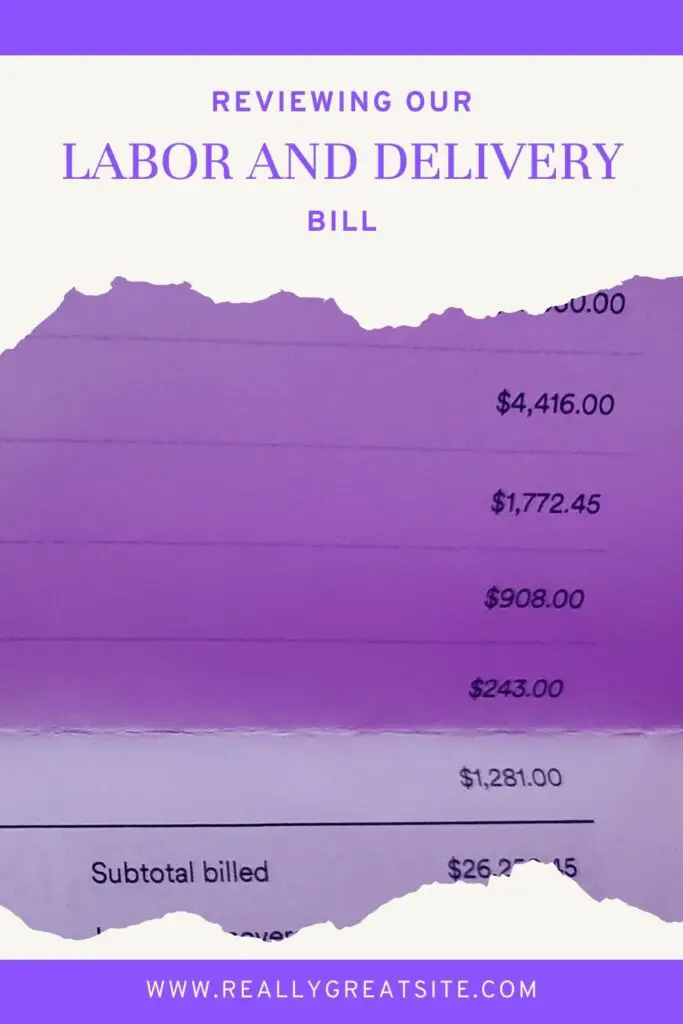 Bills are still trickling in from when I gave birth last August. Our little one entered the world on August 31 and, surprisingly, I wasn't hit with a mound of medical bills immediately. In fact, nothing started coming in the mail until late November regarding my labor and delivery bill. Here's a look at what the out-of-pocket cost will be for our family.
The Cost of Having a Baby
While I was pregnant, I researched the cost of having a baby and posted about it here on the blog. For a lot of people, it is shocking when the labor and delivery bill arrives and it is five figures. The average amount most women pay to give birth in a hospital is around $40,000. That's if everything goes perfectly. Additional drugs or other medical intervention will cost more. For instance, I was induced and required medication for induction. This meant my pharmacy cost while in the hospital was higher than average, but we will look at a break down of the bill below.
There are plenty of other costs to giving birth in a hospital. Many people don't consider what they'll eat while they are there (and trust me, hospital food isn't it). In fact, during COVID, some of the hospital's services, such as food delivery, aren't completely available. On top of that, you may be in the hospital longer than you think. My stay started Monday afternoon and we didn't leave until Thursday morning. Some hospitals may charge parking during that period of time. Be sure you are prepared for that.
Some of these unexpected costs may throw people for a loop, but what really shocks most couples is when the labor and delivery bill arrives.
The Labor and Delivery Bill
The dates I was in the hospital were August 30 through September 2. When the bill came from the medical center where I gave birth the total came to $26,250.40. Thankfully, my insurance is covering $23,548.85 of that. However, that still leaves me footing $2,701.60 of the bill. Here's a break down…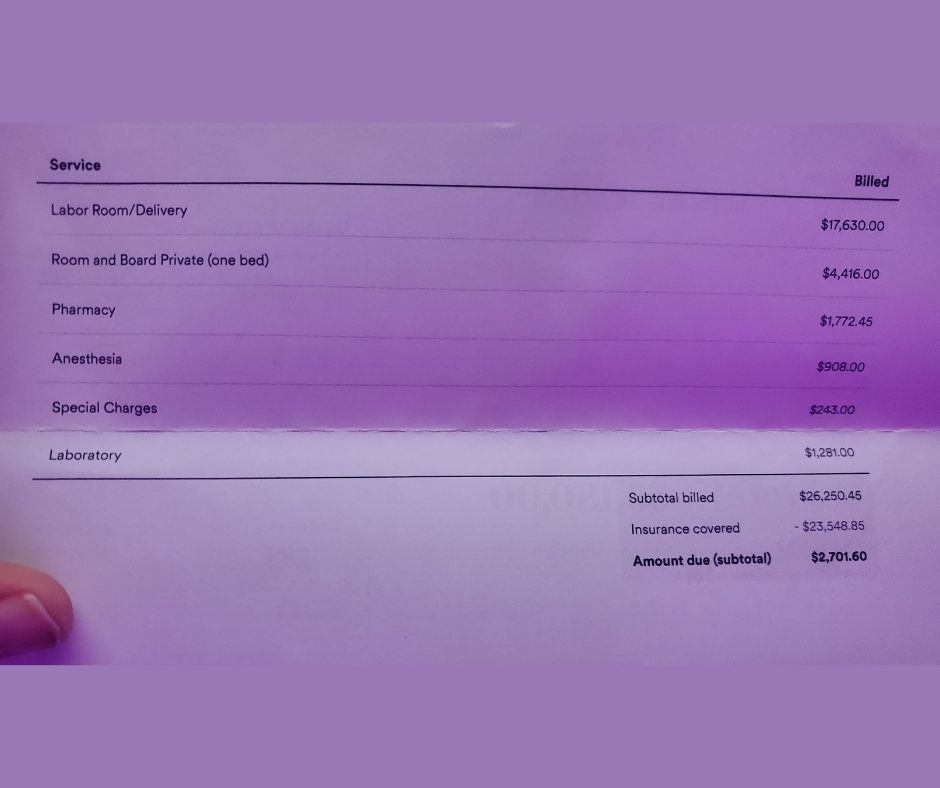 Labor Room/Delivery: $17,630
Room and Board Private (one bed): $4,416
Pharmacy: $1,772.45
Anesthesia: $908
Special Charges: $243
Laboratory: $1,281
As mentioned above, I had to stay in the hospital a little longer than most mothers when they give labor. So, my room and board and paying for the labor room is a little higher than average. My pharmacy and laboratory costs are a little more expensive too. I went into the hospital because I was having trouble regulating my blood pressure. So, some additional medication was needed. Many people may pipe up and say we could've saved money by sharing a room too. During COVID that simply isn't an option though, and you still have to pay the private room fees.
I honestly chuckled when I saw the bill. The most important part of labor/delivery was the anesthesiologist (that epidural saved me), but it is one of the cheapest item lines on the bill. The room, which is the most expensive part of the entire ordeal, was uncomfortable and the food was poor. At the end of it all though, we got our sweet little Chicken Nugget (her official nickname). She makes the labor and delivery bill irrelevant.
Read More