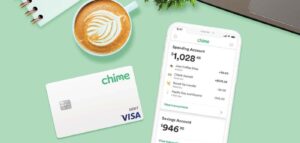 What is Chime.com?
Chime is a financial technology company founded on the premise that basic banking services should be helpful, easy and free. The company states that its intent is, "to profit with their members, and not from them." Unlike many financial institutions, Chime.com's model doesn't rely on overdraft fees, monthly service fees, service fees, minimum balance requirements to make a profit.
Chime.com offers its users easy, fee-free banking services. Chime has a huge user base of over 20 million thanks to its user-centered design for mobile devices and cutting-edge functionality. To be clear, Chime not a bank. Chime.com is a financial technology company who's banking services and debit cards are provided by Bancorp Bank, N.A. or Stride Bank, N.A.
What are the requirements to use Chime?
✅ U.S. Citizens 18 years and older
✅ Possess a valid Social Security Number (SSN)
✅ Living in the United States and District of Columbia.
What Services are Offered by Chime?
✅ Checking Account and Debit Card services
✅ Credit Builder Account
✅ High-Yield Savings Account
✅ Peer-to-Peer Payment (Send money instantly)
How Does Chime Make Money?
You may be wondering how does chime turn a profit from a business model that does not bombard customers with fess and penalties. Chime's profitability is centered around card fees charged to merchants whenever users make a purchase. Whenever a Chime Visa® Debit Card or Credit Builder Secured Credit Card is used purchases and paying bills, Visa processes the transaction and Chime receives a portion of the interchange fee charged to merchants by Visa.
What is Chime SpotMe?
Chime SpotMe is an overdraft program aimed at reducing and in some cases, remove overdraft fees completely. It's a totally free service in which Chime will cover the cost of your overdraft fees up to $200.
To acquire SpotMe eligibility, members must receive $200 or more in qualifying direct deposits over the preceding 34 days, and have activated their Chime debit card.
Be reminded that SpotMe courtesy payment to cover your overdraft fees is not free. The next time money is deposited into your Checking Account, Chime will automatically apply it to your negative balance and bring your account into good standings.
What is the Chime SpotMe Overdraft Limit?
Initially, your Chime SpotMe limit starts will start at $20. Depending on your account activity, history, and other risk factors, it may go up to $200. You may also increase your SpotMe overdraft limit temporarily by receiving bonuses and Boosts from friends.
High-Yield Chime Savings Account
Its 2023 and interest rates are historically high. More financial institutions and Neobanks like Chime are offering saving account interest rates above the national average. Right now, you can get a 2% APY on all cash in a Chime high-yield savings account, and with no monthly fees.
For higher rates, check out Raisin for FDIC insured institutions offering high-yield interest rates above 5%. I like Raisin.com for its easy to use interface and access to multiple institutions to diversify your funds without creating multiple accounts across different banks. Click here and enter my referral code earlm014354 to earn up to $125 in bonus cash when you sign up and meet the deposit requirements.
5 Advantages of Using Chime
Fee-Free Banking
Chime takes great pleasure in having a financial platform that "almost" does not charge any fees. Essentially there will be no dreaded monthly maintenance costs, inactivity, or foreign transactions fees. However, overdraft fees are activated only after a negative balance of over $200 if you enroll in the Chime App Spot-Me program. Users who are fed up with the ambiguous fees levied by traditional banks may find this to be an enormous benefit.
Early Direct Deposit
Chime's ability to provide early direct deposits is a characteristic that really stands out. Users of Chime are able to receive the monies from their direct deposits up to two days sooner than customers of traditional banks. This might be of particular assistance to people who live from paycheck to paycheck and have an urgent requirement to get their hands on their money as soon as feasible.
Automatic Savings Features
Chime facilitates the smooth accumulation of money for its users by providing a number of automatic savings capabilities. The "Round-Up" feature automatically adjusts the total of each transaction to the nearest dollar and then deposits any remaining change into a savings account. In addition, Chime's "Save When You Get Paid" feature will automatically transfer a portion of your direct deposits into a savings account on the day they are received.
User-Friendly Mobile App
The mobile application for Chime was developed with the user experience in mind. Users are able to manage their accounts, keep track of their transactions, deposit checks through mobile capture, and even temporarily disable their debit card if it has been misplaced, thanks to the Chime app's user-friendly layout.
Chime Credit Builder
Chime offers a Credit Builder Visa Credit Card to establish or rebuild users' credit. This is a valuable tool for individuals looking to improve their credit scores. Consistent use of Credit Builder can help you build on-time payment history, increase the length of your credit history over time, and more. Payment history is reported to the three major credit bureaus – Experian, TransUnion, and Equifax.
5 Disadvantages of Chime.com
Limited Branch Access
Chime doesn't have any physical locations because it primarily functions as an internet bank. This is consistent with its mobile-centric approach, but users who prefer in-person banking services may find it to be a disadvantage.
Customer Service Limitations
Chime's customer care has reportedly been difficult for some users to contact. When attempting to address problems, having few contact options, such as not having a direct customer service phone line, can be frustrating.
Dependence on Technology
Chime's digital strategy is practical, but it also makes people dependent on technology. Access to cash and transactions might be hampered by errors or outages, like the famed "Chime glitch." Concerns regarding the platform's technical dependability have been raised by reports of a "Chime glitch today" or "Chime glitch 2023."
Limited Product Offerings
Chime offers a more constrained selection of financial goods than traditional banks. Although it provides credit cards, checking, and savings accounts, it does not provide the full range of services that larger banks can.
ATM Limitations
An extensive network of over 38,000 fee-free ATMs is available to Chime customers. However, some users have noted that it can be difficult to locate these ATMs in some places, which could result in ATM surcharges.
Pricing
Chime provides banking services without minimum balance requirements, monthly fees, or fees for foreign transactions. They offer over 60,000 fee-free ATMs available at various stores, and their online checking account has tools for managing money. Through their platform, Chime's users can send money to anyone, and they emphasize a fee-free banking experience.
To open a Chime Credit Builder Account, users must have an open Chime Checking Account and enabled direct deposit of $200 or more.
Privacy and Security
When it comes to online banking, privacy and security are paramount. Chime employs various measures to ensure the safety of users' financial information. The platform uses encryption to protect data transmission, and it monitors accounts for suspicious activity. Chime also offers features like instant transaction alerts and the ability to block transactions through the mobile app, enhancing users' control over their accounts.
However, it's important to note that no online platform is immune to security risks. Users should exercise and follow best practices, like using strong passwords, enabling two-factor authentication, and keeping their devices updated.
Customer Reviews
Customer testimonials offer insightful information on the actual Chime.com customer experience. As a result of both pleasant and negative experiences, opinions differ.
Chime's user-friendly app, early direct deposit option, and fee-free setup are frequently highlighted in favorable reviews. Users value mobile banking's convenience and the lack of any additional costs. The automatic savings options are lauded for promoting strict saving practices.
However, unfavorable reviews frequently refer to issues with customer service. Some users have complained about difficulties contacting a representative and delays in problem resolution. There have also been concerns about errors, such as the "Chime glitch," highlighting the significance of dependable technical infrastructure.
Is Chime Legit?
Chime offered by Chime Financial Inc., is a legitimate and well-known mobile banking platform. Since it is FDIC-insured, deposits are covered up to $250,000 per depositor. Reviews on the Google Play as of August 29, 2023 are sitting at 4.5 stars from over 491,000 reviews. However, users still must take caution, periodically check their accounts, and report any suspicious activity, just as with any brick and mortar financial institution offering online services.
How to Contact Chime?
If you come across a situation where the Chime App is not working, need to activate your debit card, or you may need to contact Chime for other account issues, rest assured that Chime's transparency allow for customer service representatives to be standing by 24/7 and can be reached at 1-844-244-6363.  You can also try the live chat feature that is available through Chime's mobile app. Once you log in, tap the chat icon at the top of your screen (the speech bubble with the question mark) to access the chat.
If you prefer the more traditional route and no issue waiting a while for a response, the support team is also available at all hours via email at [email protected].
Conclusion
Chime.com offers a contemporary method of banking that is geared toward customers who value simplicity and openness. Strong benefits include the fee-free setup, early direct transfer, and automatic savings options. Before deciding to use the platform, it is important to take into account the limited customer care alternatives and potential technological issues. Chime's mobile-first strategy is in line with the rapidly changing environment of online banking, but customers should consider their personal needs and preferences to see if Chime is the best option for their financial journey.
READ MORE: