I know, I know.
This is a little late since we're already into October, but I wanted to catch you up on our numbers for the summer.
Since I took a little break from blogging over the summer due to our move, last week I brought you our June and July 2015 Debt Freedom Progress Report. And this week, I'm catching you up on how much debt we paid off in August when we downsized and moved into our dream house!

If you haven't seen my debt freedom progress reports before, each month I bring you a recap of the previous month's progress on paying off our debt.
This serves two purposes — to keep my husband Mike and me accountable to our financial goals and to give you a look behind the scenes of our strategy for paying off our debt.
My hope is that giving you this open and honest review will inspire you to keep going on your own debt free journey. Or if you haven't started yet, I am hoping this information will help fuel your fire to get going on reaching your financial goals.
Don't worry, I don't go line by line through our budget. Instead, I give a rundown of things that happened during the month that affected our budget and point out some areas that worked and some that need improvement.
While we have already paid off a lot of debt in a short amount of time, you will find that our journey is not perfect in any way. When Mike and I review each month, we often discover opportunities we missed where we could have put more money toward our debt.
We definitely make mistakes, and in retrospect, many times we will find situations where we have spent more money than necessary.
But we don't let these findings discourage us. We try to learn from our mistakes and use them to propel us forward into the next month.
Let's take a look at how August went…
Our Financial Goals for August 2015
If you've been reading the blog for a while, then you know that our ultimate financial goal is to pay off all of our debt, including our mortgage, by the time we turn 40 — in about six years.
In order to stay on track, we set our main financial goals for 2015 in our January 2015 Debt Freedom Progress Report as follows:
To pay off the remaining balance of our home equity line of credit (HELOC) by June 1, 2015. (The balance as of January 1st was $21,469.33.)

And, to pump up our emergency fund to $25,000.00 by December 31, 2015. (We were keeping it at $5,000.00 until our HELOC is paid off.)
We didn't meet our first goal of paying off the HELOC by June 1st, but we did make a huge decision that would help us meet both goals in a matter of months.
In May, we put our house on the market.
In June, we found our dream house, and in July, we found buyers for our old house!
That means that the focus for August was on moving.
We expected that we would be eating out a lot and grabbing convenience foods while packing and moving so we decided to reduce our grocery budget and increase our restaurant budget.
So our goals for the the month of August were:

Stick to a $400 budget for groceries,

A $300 budget for restaurants,

Survive the move, and enjoy our new home!
Here's how we did on our August goals
We almost stuck to our grocery budget!
For the first half of the month before we moved in, we only spent $62.81 on groceries.
But once we moved in and our focus was on unpacking and getting settled, I put updating our budget spreadsheet on hold.
So we kind of had an idea that we hadn't spent very much on groceries and just bought what we felt we needed to make it through the rest of the month.
Here's how our grocery and restaurant budgets looked for the month of August:

It turns out we went over our budget by only $7.01. If we had bought one less pack of butter, we would have come in under budget.
And we went over our restaurant budget again
You'll see from the picture above that we exceeded our restaurant budget by $127.48. Not good!
Seeing that we had been eating out a lot over the summer and expecting that we'd be picking up a lot of food during the move, we increased our restaurant budget to $300.
But it wasn't enough, and again, I had put updating the budgeting spreadsheet on hold to focus on moving, unpacking, and getting settled.
That's what happens when you stop paying attention to where your money is going!
The weekend after we moved in, we went up to Vancouver, B.C. to attend our new niece's baptism and spent $123.94 on food for that trip. Without the trip, we would have come in just over budget by a couple of dollars, but it was worth it to meet our new niece for the first time.
The kids loved meeting their new cousin, too! Here they are with their Uncle Chris and baby Adremia: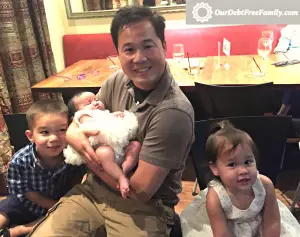 We survived the move!
In part 2 of our major update, I laid out the timeline of events in August regarding the move, including, but not limited to:
packing,

loading the U-Haul,

moving in with Mike's parents,

getting the floors refinished,

closing on our old house,

being 100% debt-free for about two days,

closing on our new house, and

unloading the U-Haul.
It was a busy month, especially with the quick trip up north to Canada, but it was such a great feeling to begin settling in to our new home.
Every night, we would watch the sun go down from our front windows and appreciate all that had come together so that we could meet both of our financial goals for 2015 in just seven-and-a-half months!
Moving ain't cheap, even when you try to be!
In the June and July 2015 Debt Freedom Progress Report, I shared how there were some expenses involved with selling our house that came as a surprise.
While July was more expensive than we anticipated, August only had expenses that we actually expected when we decided to downsize.
We didn't know how much to plan for moving costs when we put our house on the market so once we got an acceptable offer, I started researching storage options since we knew we'd be staying with Mike's parents for a while.
I compared the prices of PODS and U-Box containers (U-Haul's version of a POD) with the price of renting a U-Haul for a week, and the U-Haul won.
Here's the breakdown of what we paid for in August:
$483.67 for the U-Haul

$236 to take the cats to the vet to get their shots so they could be boarded for a week

$204 to board the cats for a week

$2,016 to refinish the floors

Plus the cost of food to feed our helpers (and us!)

Plus the cost of furniture items we needed (pantry cupboard and nightstands) and other necessities (curtains and shower curtains)
That's a total of $923.67 for moving, plus the cost of feeding our moving helpers who worked for food.
We did save money on pet boarding, though. Mike's brother and our sister-in-law kept our dog Rajah for us when we moved in with Mike's parents. She had fun playing with her doggy cousins. 🙂
We paid off $30,788.89 of debt in August!
THIS is what made all of the stress, hard work, uncertainty, and chaos of the last few months worth it!
With the sale of our house, we were able to pay off our home equity line of credit (HELOC) and our old 30-year mortgage. For our new house, we took out a 15-year mortgage for only $200,000!
That means that when our first mortgage payment posted on October 1st, our mortgage balance started with a "1" instead of a "2" for the first time ever! Seeing "1" as the first digit in the balance is super motivating for us to keep going on paying off our debt.
Remember, when we started our debt free journey just two years ago, our total debt balance was $319,689.13! Now our total debt is at $200,000!
We have been dreaming of the day when we would pay down our mortgage to under $200,000, and now that day has come!
Here's how our debt snowball changed from August 1 to September 1 and since we started our plan in August 2013:

As of September 1st, we paid off more than $119,689.13 of debt!
In just over two years, we paid off $37,569.04 in student loans, $51,878.20 in a home equity line of credit, and $30,241.89 in our mortgage!
In the month of August, we reduced our non-mortgage debt by 100%, while our total debt was reduced by 13.34%! Since we started our plan back in August 2013, however, we have reduced our non-mortgage debt by 100% and our total debt by 37.44%!
With this great leap in progress, we are ahead of schedule to meet our long-term goal of paying off all of our debt, including our mortgage, by the time we turn 40. If we continue to reduce our debt at this rate (37.44% reduction in 25 months), we will pay off our debt by March 2019 when Mike is 38 and I am 37!
Yee-haw!
We put $40,826.38 in savings!
Not only did we pay off a bunch of debt with the sale of our house, but when all was said and done, we had $40,826.38 deposited into our bank account!
Our second goal for the year was to boost our emergency fund from $5,000 to $25,000 so we accomplished that in only seven-and-a-half months!
So what's the other $20,000 for?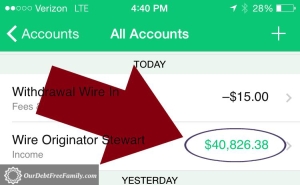 When we were house shopping, we were looking for a 3-bedroom plus an office. Right now, this house is only a 3-bedroom. BUT it has an unfinished basement that we can use to put in an office and another bathroom.
Plus, we wanted to paint the interior of the house and do some other minor projects to make it our true dream home.
While we are putting some projects on hold until the house is completely paid off, the projects mentioned above will be next, and we plan to have them finished before the end of the year!
Technically, we could have put another $20,000 toward the mortgage and taken it down to $180,000, but we wouldn't have the home that best suits our family right now.
We did consider putting the $20,000 toward the mortgage and working really hard to pay it off in four or five years, but that would mean four or five years without an office, which was one of the main features we were looking for in our new house.
So we're treating it as though we paid a little more for a house that already came with an office. But this way, we get to design it and build it exactly the way we want.
Goals for September
When September began, we were looking forward to getting back on a normal schedule with Jayden back in preschool and focusing on continuing to get settled in our new house.
We planned to get back to eating at home and not going out as much, and we planned to do some projects on our new house.
The big remodel will likely be done in October or November so until that is done, we plan to make only the minimum payment on our mortgage.
We decided our goals for September would be:

Stick to a $400 budget for groceries,

A $100 budget for restaurants, and

Paint the interior of the house and install a central vacuum system!
Final Thoughts
Selling our old house and buying our new one has been such a wild ride. We've had highs and we've had lows, but now we're on the steady path of making this house our home.
We really appreciate all of your support, and we hope that you're encouraged to meet your financial goals for the rest of the year.
It seems like summer is a crazy time for everyone. So many people have told me now that summer is over, they're getting back on track with their finances.
Now I'd love to hear about you!
What fun and exciting things did you do over the summer? What are you doing to move forward with your financial goals for the rest of the year? Share in the comments below.

Team Our Debt Free Family is the administrative WordPress user account for Ourdebtfreefamily.com. Our Debt Free Family is a premium classic personal finance blog. Our mission is to inform, educate and help you get out of debt.