Each month I bring you a recap of the previous month's progress on paying off our debt.
This serves two purposes — to keep my husband Mike and me accountable to our financial goals and to give you a look behind the scenes of our strategy for paying off our debt.

My hope is that giving you this open and honest review will inspire you to keep going on your own debt free journey. Or if you haven't started yet, I am hoping this information will help fuel your fire to get going on reaching your financial goals.
Don't worry, I won't go line by line through our budget. But I will give a rundown of things that happened during the month that affected our budget and point out some areas that worked and some that need improvement.
While we have already paid off a lot of debt in a short amount of time, you will find that our journey is not perfect in any way. When my husband and I review each month, we often discover opportunities we missed where we could have put more money toward our debt.
We definitely make mistakes, and in retrospect, many times we will find situations where we have spent more money than necessary. But we don't let these findings discourage us. We try to learn from our mistakes and use them to propel us forward into the next month.
Let's take a look at how May 2015 went…
Our Financial Goals for May 2015
If you've been following our journey out of debt for the past few months, then you remember from our March 2015 Debt Freedom Progress Report that we paid off more than $10,000 of debt. But in our April 2015 Debt Freedom Progress Report, we didn't pay any extra toward our debt.
As stated in our January 2015 Debt Freedom Progress Report, our two big financial goals for the year are:
To pay off the remaining balance of our home equity line of credit (HELOC) by June 1, 2015. (The balance as of January 1st was $21,469.33.)

To pump up our emergency fund to $25,000.00 by December 31, 2015. (We are keeping it at $5,000.00 until our HELOC is paid off.)
Aside from making great strides to pay off our HELOC, another area of focus for us has been to stick with our food budgets. We have yet to do so in 2015, but we were determined to meet our goals in this area for the month of May.
Therefore, our goals for the month of May were:
Pay off our HELOC! The balance as of May 1st was $9,383.01,

Stick to $500 budget for groceries,

Stick to $50 budget for restaurants, and

Bring in extra income of $500.
What Went Well
We Actually Stuck to Our Grocery and Restaurant Budgets!!!
We finally did it!
Here's how our grocery and restaurant budgets looked for the month of May:

As you can see, we were thisclose to going over our budget for groceries, but we stuck to our guns and drew inspiration from my recent post about how we cut our grocery spending in half.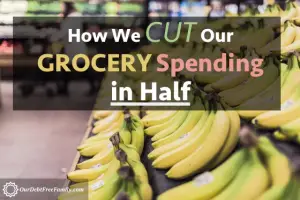 We definitely had to be careful with our spending and stuck to our rule of only buying necessities once we reached $450. We ended up spending 95% of our grocery budget by the 16th of the month — quite literally. We only spent $25.67 from the 17th through the 31st.
As far as the restaurant budget went, we just didn't eat out much. On May 2nd we grabbed some food while we were out running errands. The following weekend, we grabbed some lunch at our friends' daughter's birthday party. Other than that, we splurged once on coffee for Mike and me and ate at home the rest of the month.
We're so proud of ourselves for sticking to our food budgets! We definitely had to get a little creative, but it feels so good to accomplish these goals that have been a continuous struggle for us in the past!
We Made a Huge Decision That Will Help Us Achieve Our Financial Goals for the Year Much Faster!
If you haven't seen my recent post about the most drastic financial decision we'll make this decade, I'll fill you in.
On Mother's Day, we decided to sell our house.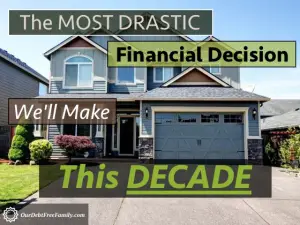 You can read the post for all the details of how we came to that decision and why we think it makes sense, but to summarize, we are planning on downsizing. We'll use part of the profits from the sale of our house to pay off our HELOC and boost our emergency fund to $25,000 in one fell swoop.
That means that we'll hit both of our big financial goals for 2015 with one transaction, AND there's a good chance that we can lower our mortgage balance in the process.
I'll keep you posted on how things shake out, but keep your fingers crossed that we get a good offer on our house and that all goes smoothly with the sale, purchase, and move.
We Met Our Goal of Bringing in $500 of Additional Income!
When discussing our goals for May, we knew that if we were going to pay off the HELOC by June 1st then we were going to have to boost our income.
Once we made the decision to sell our house, we knew we had to get going on selling the items in our home that we didn't want to move to our new house.
Mike started posting items on Craigslist to sell, and we decided to have a garage sale the following weekend.
We held the garage sale on Friday and Sunday. Saturday, we had a landscaper come to clean up our front and back yards for us, and we had appointments to look at houses that afternoon.
On Friday we made $444.50, and on Sunday we made $167.25. So for last-minute planning and two days of work, we made $611.75! I'd call that a successful garage sale!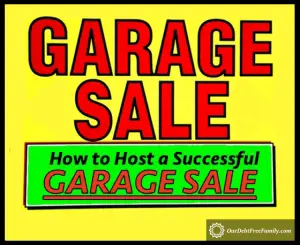 In those two days, we met our goal of bringing in an extra $500 of income!
But we didn't stop there.
Mike continued to post items that didn't sell at the garage sale and made a few more sales that totaled $241.00. Also, each month we earn a small amount of interest on our checking account balance. For May, our earned interest was $11.90.
Our total extra income for the month of May was $863.65!
What Didn't Go Well
We Did Not Pay Off the HELOC
With our focus for the month switching to selling our house and looking for a new one, we have decided to put our plan to pay off the HELOC on hold.
We're expecting that we'll have more expenses than usual over the next couple of months due to some minor repairs that are needed on our house and costs associated with moving. With this in mind, we're going to focus on saving as much money as possible right now to accommodate these additional costs.
And we expect that once the sale of our house is complete, we'll then be able to pay off the HELOC and boost our emergency fund. This will more than make up for our need to "press pause" on our debt snowball for a couple of months.
So for the month of May, we only paid the minimum amounts due on our mortgage and HELOC.
Here's how our Debt Snowball changed from May 1 to June 1 and since we started our plan in August 2013:

We've now paid off more than $88,000 of debt!
In the month of May, we reduced our non-mortgage debt by only 0.05% and our total debt by 0.17%. Since we started our plan back in August 2013, however, we have reduced our non-mortgage debt by 89.5% and our total debt by 27.6%!
Even though we didn't make much progress in the month of May, we are still on track to meet our long-term goal of paying off all of our debt, including our mortgage, by the time we turn 40. If we continue to reduce our debt at this rate (27.6% reduction in 22 months), we will pay off our debt by April 2020 when Mike is 39 and I am 38!
We Skipped Date Night
As I discussed in our March report, one of our family goals for 2015 is for Mike and me to enjoy a date without the kids at least once each month.
We missed January and February for various reasons, but we were successful in March and April.
With the chaos of getting our house ready to be put on the market during May, we decided we would skip date night for the month.
Mike's parents were gracious to watch our kids for us for most of the weekend of the garage sale so that we could clean and organize to prep our house for pictures for the RMLS listing. Since we had a lot of time just the two of us over that weekend, we considered that our "date."
I know it doesn't really count as a date, but we did enjoy ourselves, and the fact that we stayed home helped us stick to our restaurant budget for the month.
We do plan to get back on track with a budget-friendly date night (or day) in June though.
Goals for June
The month of June is full of unknowns for us so it's hard to create a realistic budget for the month, but I did my best and Mike agrees with the numbers I came up with.
We don't know if we'll get an offer on our house and need to start packing. If we do, then there's the potential that the inspection on our home may uncover some repairs that we aren't expecting.
Also, our quarter of a cow from Basket Flat Ranch is expected to be ready for pickup by the end of the month, but we don't have a clear estimate of how much that will cost because it is determined by weight, which varies.
We have a couple fun things planned this month that we know will affect our budget.
We've got a little mini-vacation planned for this weekend so we've decided to increase our restaurant budget for the month to accommodate. Our sister-in-law's baby shower is Saturday in Vancouver, B.C., so we'll be heading up north to celebrate the upcoming arrival of our new niece!
And next weekend is our neighborhood's garage sale so we're going to join in and hope to take advantage of the increase in traffic to our neighborhood to sell some more items that we didn't sell in our garage sale last month.
Considering all of this, here are our goals for the the month of June:
Stick to $500 budget for groceries, aside from what we spend on our 1/4 cow from Basket Flat Ranch,

Stick to a $150 budget for restaurants, and

Bring in extra income of $500.
Final Thoughts
May was certainly a busy month for us, but we're so happy to have met almost all of our goals.
We've taken a leap of faith and jumped to a new path in our debt free journey.
We're still moving toward the same destination (becoming completely debt free, including our mortgage, by the time we're 40), but we're hoping this path will lead us there a little quicker.
Mike and I really appreciate your support these past few months as we've been sharing our journey with you. We hope that our successes and challenges encourage you on your road to achieving true financial freedom.
What About You?
Participate in the conversation. How did you do on your May goals? What are your goals for June? Share in the comments below.

Team Our Debt Free Family is the administrative WordPress user account for Ourdebtfreefamily.com. Our Debt Free Family is a premium classic personal finance blog. Our mission is to inform, educate and help you get out of debt.