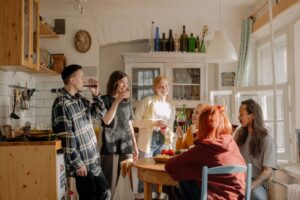 What is House Sharing?
For people who want to strike a balance between a sense of community and financial stability, sharing a home has emerged as an advantageous and sociable choice. The idea of house sharing also referred to as professional house shares, has become extremely popular as people look for methods to divide costs, take advantage of the company, and create comfortable living spaces. The complexities of house-sharing are examined in this article, along with its advantages, the growth of house-sharing websites, and the forces at play when cohabitation becomes a significant relationship.
House sharing refers to a living arrangement where individuals or families share a single house, splitting the rent and expenses. House sharing offers cost savings, companionship, and shared responsibilities. It is a popular option for students, young professionals, and older adults looking for affordable and sociable living arrangements.
The Rise of House Sharing
The housing market has taken an unexpected and disheartening turn for prospective homebuyers and current homeowners alike. Mortgage rates, which have been on an uptrend for the past year , are now delivering a harsh blow to anyone seeking to purchase or refinance their home in the current market where 7% APR is the average.
Finding inexpensive housing can frequently be difficult because of the high cost of living, particularly in urban regions. In response, many people have turned to house sharing as a practical way to control costs. Rent, utilities, and other expenses are divided among a number of housemates in order to greatly lessen the financial load on each person. House sharing is especially tempting to young professionals, students, and those seeking to save money without sacrificing comfort because of this financial advantage.
Benefits of House-Sharing
Sharing a home is a lifestyle decision that offers numerous benefits that go far beyond simple cohabitation; it's not just about dividing the expenditures. Let's explore these advantages in greater detail and see how house-sharing changes what it means to live in a single household:
1. Cost Sharing
A significant financial benefit of house sharing is expense sharing. Housemates share the cost of living, including rent, utilities, and maintenance. In the current economic climate, where growing living costs can stretch even the most carefully constructed budgets, this financial respite is especially helpful. Housemates who share financial duties are not only better able to manage their money but also have more money available for other activities like personal development, travel, or investments.
2. Social Connections
More than just a utilitarian arrangement, house sharing serves as a springboard for developing deep interpersonal relationships. People get exposed to a wide range of personalities, histories, and viewpoints when they live with housemates. These encounters encourage the formation of solid ties over time, which may result in true friendships. A sense of community that goes beyond the practical requirements of cohabitation is created by shared experiences, late-night chats, and the camaraderie of daily life. Housemates frequently transform into a chosen family, supporting and encouraging one another through life's ups and downs, from preparing meals together to celebrating milestones.
3. Shared Responsibilities
In a shared home, the task wheel has a whole new meaning. Sharing duties, such as cleaning, grocery shopping, and home maintenance, promotes a cooperative living situation. By splitting up the labor, each housemate feels more responsible and accountable while simultaneously having a lighter workload. This teamwork-based approach to household management promotes good communication, compromise, and a greater respect for the contributions made by all parties. In response, this culture of cooperation raises the standard of living generally and fosters a peaceful environment.
4. Comfort and Space
House sharing often makes it possible to afford a more luxurious and roomy living situation. Many people discover they may rent larger homes that are out of their price range. Greater personal comfort and flexibility are made possible by the additional space, which improves quality of life. Ample living space, a peaceful study corner, or a backyard garden are just a few examples of how having more space improves well-being and leaves room for leisure and personal hobbies.
5. Shared Experiences and Lifelong Memories
Shared housing memories frequently play a significant role in one's life story. Housemates will remember these shared events, which range from movie nights to themed parties to unplanned get-togethers, for years to come. These memories hold a special place in the heart and add to the tapestry of life by fostering a sense of nostalgia. That empty spare room could be space that built a lifelong connection.
The Digital Landscape of Professional House-Sharing Platforms
The prevalence of internet platforms designed to match possible housemates and facilitate easy transitions into shared housing has increased along with the popularity of house sharing. House sharing websites have become virtual gathering places where people may connect with others looking for similar living situations. These websites include a variety of services that make it easier to find and book compatible roommates and lodging.
1. SpareRoom: Navigating the House Sharing Universe
In terms of housing-sharing websites, SpareRoom is a shining example. It acts as a virtual hub where people can submit ads for available rooms or search for accommodations that suit their needs, thanks to its user-friendly layout and extensive features. It is simple to filter results depending on location, budget, and desired amenities, thanks to the platform's user-friendly design.
The emphasis on establishing thorough profiles for both potential housemates and available rooms is one of SpareRoom's distinctive features. Through this method, people can learn more about one other's interests, expectations, and way of life, which promotes openness and compatibility. Users can find the appropriate house-sharing arrangement on SpareRoom using its comprehensive search parameters, whether they are looking for a professional house share, a student flat, or a cozy home with other like-minded people.
2. Craigslist: A Diverse Marketplace for House Sharing
The popular classifieds website Craigslist has established a specialized market for house sharing. The platform's housing segment offers a range of house-sharing alternatives despite covering many different categories.
People can advertise and search for postings for available rooms, establishing direct contact with potential roommates. While dedicated house-sharing services may have a more complex style and organization, Craigslist is still a good alternative for anyone looking for shared housing.
3. Roomster: A Global Approach to House Sharing
Roomster caters to both local and international house-sharing needs, taking house-sharing to a new level. The platform sets itself apart from other house sharing sites by providing thorough profiles with background checks and compatibility scores. These tools improve the safety and standard of house sharing while giving potential housemates' lifestyles and preferences greater transparency.
The philosophy behind Roomster's house sharing goes beyond simple postings; it aspires to provide an environment where people may find not just housemates but also friends and other social connections. This more comprehensive viewpoint is consistent with the notion that house sharing is not just about sharing expenditures but also about building a sense of community and companionship.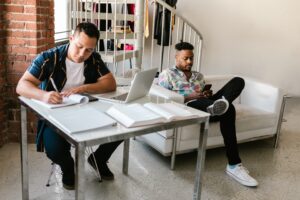 The Art of Connection and Compatibility
The potential of these digital platforms to link people with similar ideals, lifestyles, and preferences is what makes them unique. Compatibility becomes important as house sharing moves beyond simple cohabitation. People are empowered to make knowledgeable selections regarding potential roommates and accommodations because of the comprehensive profiles and sophisticated search filters supplied by these platforms. These portals enable customized searches that meet specific demands, whether someone is seeking a professional house share, a peaceful study space, or a buzzing social scene.
Navigating the Digital Landscape: Tips for Success
Although house-sharing websites make it easier to find compatible housemates, it's still vital to take your time and be thoughtful as you travel. Following are some pointers for navigating the online world of house-sharing platforms:
Create Comprehensive Profiles
Be truthful and detailed when describing your lifestyle, routines, and preferences while building a profile. This openness will draw roommates with similar values.
Utilize Filters
Utilize search filters to narrow down choices based on region, price range, and particular needs. Unless you're in a desperate situation, be as strict as you can with our requirements.
Engage in Conversations
Once you've located suitable roommates or lodging, strike up a chat to learn more about each another. This process is essential for determining compatibility and building rapport. Find out as much as you can about their background and reasoning behind taking the house sharing route.
Set Expectations
Potential roommates should be made aware of your expectations and boundaries. This will assist in avoiding misunderstandings and provide a peaceful living situation.
Conclusion
Sharing a home has become a realistic and affordable solution in a world where housing costs can be prohibitive. Finding matching housemates and accommodations is now more straightforward than ever, thanks to the growth of house-sharing services. What starts out as a financial choice typically turns into a journey of making friends, sharing experiences, and establishing a sense of belonging. The art of house sharing continues to alter lives, homes, and how we view the idea of cohabiting as people try to achieve a balance between financial security and a sense of community.
READ MORE: