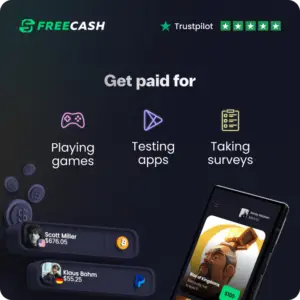 What is FreeCash.com?
GPT stands for "Get-Paid-To," and as the term suggests, with these platforms whether it be an app, a website, or a combination of both, users are paid to complete tasks as outlined on the platform.  Freecash is an easy-to-use game rewards app that lets you play games, complete surveys, all while earning rewards like gift cards and crypto. They partners with offerwall and market research companies out there to provide you with attractive offers and surveys that can be done in your spare time to earn coins. These coins can be used towards gift cards, CS:GO skins, cryptocurrencies, and much more.
How to Get Started
Signing up is easy. You have the choice of logging in using your Steam and Google accounts. Alternatively, you can just sign up for Freecash.com using your email. As soon as you've signed up, head over to the Earn page, where you can find a wide variety of offerwalls to complete offers from.
Advantages of FreeCash.com
1. Diverse Earning Methods
FreeCash.com is unique in that it offers a variety of ways to make money. The platform offers ways to earn money, from completing surveys and viewing movies to checking out new apps and taking part in deals. Because it appeals to a wider audience with a variety of tastes and skill sets, this diversity is desirable. FreeCash.com supports a variety of earning methods, whether users feel comfortable sharing their ideas, interacting with adverts, or testing out new applications.
2. User-Friendly Interface
FreeCash.com's user-friendly interface, which makes it usable by anyone with different degrees of technological skill, is one of its distinguishing features. The platform is simple, and users can find numerous earning options and follow their progress with ease. The platform's functionalities can be used more quickly and easily because of the intuitive design, which also improves the user experience. Those who are new to using online money-making platforms may find this ease of use particularly tempting.
3. Mobile App Accessibility
In the era of mobile technology, having a specialized mobile app available can significantly improve the usability and accessibility of an online platform. FreeCash.com is aware of this trend and provides customers with a mobile app that enables them to make money while on the go. By users participating in earning possibilities from their smartphones or tablets, the app expands the platform's accessibility beyond regular PC access. The flexibility and multitasking preferences of contemporary users are catered for by this mobile app feature.
4. Lucrative Referral Program
A referral scheme on FreeCash.com can dramatically increase users' profits. Users can profit from the revenue of their referrals by utilizing a special referral link to invite friends, relatives, or other contacts to utilize the site. This strategy takes advantage of network effects, as users with a large social network may be able to provide a larger income stream. The referral program encourages current users and promotes the expansion of the FreeCash.com user base.
5. No Upfront Costs
The no-cost technique used by FreeCash.com is a noteworthy aspect. FreeCash.com allows users to register and start earning without any upfront charges, in contrast to certain online platforms that demand users to pay a subscription fee in order to access earning opportunities. Because of this functionality, a larger audience can use the platform because the entrance barrier is lower. Before investing any money, users can examine the features of the site to see if they match their objectives and tastes.
Disadvantages of FreeCash.com
1. Skepticism Surrounding Legitimacy
The mistrust regarding FreeCash.com's validity is one of the main issues. Given the ubiquity of internet fraud and fraudulent platforms, the promise of "free cash" can cause concern for many people. Users should proceed cautiously while considering such claims because there have been occasions where platforms that advertise quick money have turned out to be fraudulent scams. This suspicion may be influenced by the lack of clarity regarding how FreeCash.com makes money and maintains its operations. Before spending time and energy on the platform, users should exercise caution and conduct in-depth investigations.
2. Limited Earning Potential
Although there are many ways to earn money on FreeCash.com, the actual revenue potential could be rather little. Users may not be able to earn enough money from surveys, viewing movies, and taking advantage of offers to substitute regular work or make it their main source of income. Users should be realistic about their expectations and realize that the platform's earning potential is better suited for side income than for substantial financial gains.
3. Privacy and Data Concerns
Sharing personal information and taking part in surveys or offers that ask for sensitive information are frequent requirements of FreeCash.com's earning strategies. This may raise valid worries about data security and privacy. Users can be concerned about how the platform handles their data, the potential for data breaches, or even the risk that their personal information will be sold to third parties. Users should carefully consider the dangers involved with disclosing their information on FreeCash.com, given the prevalence of data breaches and privacy violations in the digital age.
4. Quality of Earning Methods
Although FreeCash.com offers a variety of ways to earn money, the reliability and validity of these ways can vary. Some users claim to have come across offers that take them to misleading or spammy websites, which might waste their time and expose them to internet dangers. Users may interact with subpar information or potentially dangerous links as a result of the platform's lax verification of offers and assignments. In addition to impacting users' experiences, this raises questions about the platform's dedication to user safety.
5. Delayed Payments and Qualification Issues
Negative customer evaluations have drawn attention to problems with sluggish payouts and challenges getting approved for particular surveys or offers. Users had mentioned situations when they finished work or met payment thresholds but then had to wait before getting paid. The qualification process for surveys can also be aggravating because users may spend time answering pre-screening questions just to be rejected from the survey itself. Experiences like these might make people unhappy and make them less likely to have faith in the platform.
Pricing
Freecash.com offers a number of opportunities to make money by doing jobs. These obligations include opening a bank account, participating in games, achieving particular levels, and more. For various tasks, pay can range from about $0.10 to $100. Multiple payment methods are on the website, including PayPal, cryptocurrencies, prepaid Visa, gift cards, and digital goods. Payments are usually given after attaining a minimum of $0.10 (100 coins) in 5 to 10 minutes. It's crucial to remember that Freecash serves as a middleman, matching users with outside jobs and receiving payment for successful completions.
FreeCash.com Hacks
You may come across claims of Freecaash.com hacks or ways to glitch the bonus system to gain free spins or coins. Unfortunately there are no proven method to achieve the claims being made. Do not waste your time with TikTok videos, reddit, or websites promising Freecash.com hack tutorials. They may claim to have a legit  glitch to hack the freecash.com app to create bonuses out of thin air but these outlets are often seeking to collect your personal information, market themselves, and in some cases look for vulnerabilities which may lead to them hacking your system. The claims are simply too good to be true.
As a consolation, in some cases you may be able to find promotions offering freecash.com promo codes as well as bonus codes to increase your coin earning potential. Another option is to sign up using a current user's referral code such as this one, and earn a sign on bonus.

Is FreeCash.com Legit?
Yes, Freecash.com is regarded as a trustworthy resource for finding online employment. The site reportedly rewards users for performing tasks like completing surveys, testing apps, and participating in various online activities, according to user experiences and evaluations. Numerous evaluations praise Freecash.com's credibility and dependability, applauding its quick cashouts, variety of earning options, and even pleasant experiences with participating in and winning competitions on the website.
The platform's stellar ratings on Trustpilot and other review websites further support its reliability and happy users. Freecash.com does provide opportunities to earn extra money, but it's vital to remember that these opportunities might not be a full-time employment replacement, and users should take caution when disclosing personal information while completing jobs.
Is Freecash.com safe?
Freecash.com states that all data you provide is anonymized. The survey providers also take many measures to ensure that all surveys are secure. Furthermore, Freecash are also not able to see anything you write on the surveys you complete, so only the people administering the survey can view this info and treat it with the utmost level or security. While Freecash made these claims, it is up to you to safeguard your private sensitive data.
Customer Reviews
Customer testimonials offer insightful analysis of the FreeCash.com user experience. FreeCash.com has had 316 reviews on Sitejabber, with an average rating of 4.15 stars. The success of the platform in offering gift cards, GPT sites, and offer walls is widely praised by users. A further indication of FreeCash.com's popularity and dependability is that it is one of the best alternatives in the "Free Stuff" area.
How to Contact Freecash.com
The most effective way to contact Freecash.com is via the online chat available to users that are logged into their account. Their contact page provides an email address for business inquiries but not one for general support questions. You may join their discord here or reach out to their support team on twitter.
Conclusion
FreeCash.com advertises itself as a reliable resource for people looking to make money online by performing quick jobs. Its validity, range of earning opportunities, and adaptability in terms of rewards are its benefits. However, users should use caution when disclosing personal information and be aware of task availability and privacy issues. Positive customer feedback and an open payout method help the platform's reputation, which makes it a good choice for people looking for side income online.
READ MORE: