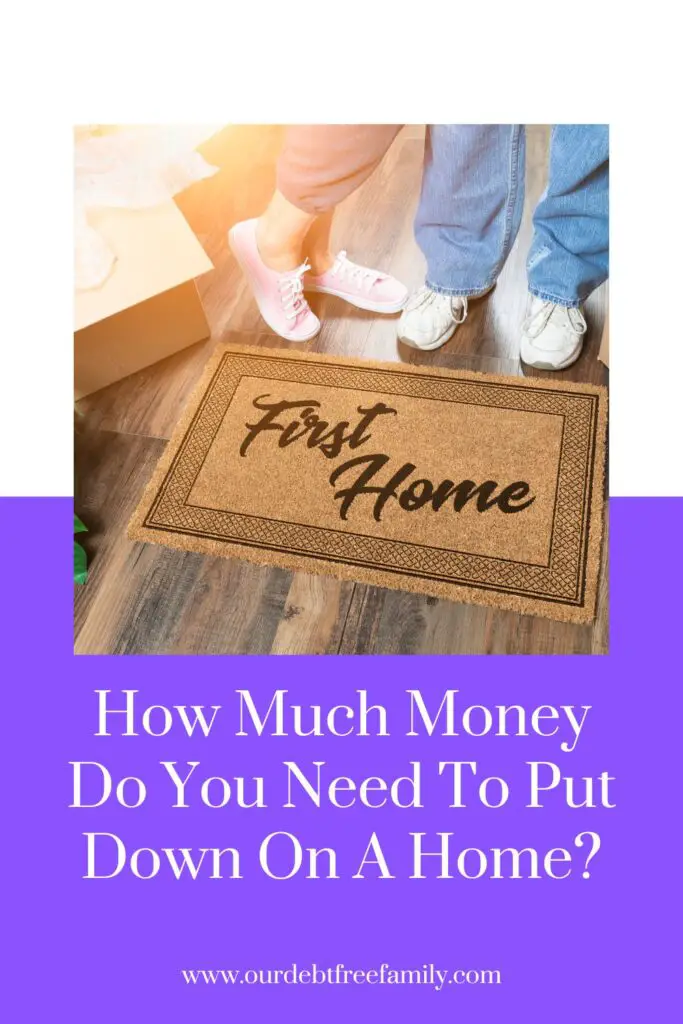 Our family has started talking about potentially buying a home in the near future. Rent prices have gone through the roof, along with everything else, and we are tired of the anxiety that comes along with living in someone else's home. That being said, we've had to do some digging into what it will take to make a huge move like this for our family unit. So, that has me wanting to answer a popular question: How much money do you need to put down on a home?
What is a Down Payment?
Before diving into how much you need for a down payment, you should know what a down payment is and why you need one to begin with. Simply put, your down payment is cash that you put out upfront to make a large purchase. Generally, these purchases include homes and cars, maybe even boats (but I wouldn't recommend that). Other larger purchases, like appliances, etc. are usually bought on credit if the cash isn't available.
Typically, a down payment is a percentage of the purchase. For example, if you are buying a $500,000 home you may be asked for a 10% down payment. That means you would need $50K down. The mortgage lender then provides you with the remaining $450K to make the purchase and you pay them back, with interest.
Most lenders will require some kind of down payment when you are buying a home. However, not all lenders are the same. So, it will depend on who you are working with when it comes to how much you'll have to put down.
Is 20% Down on a Home Necessary?
During my research on mortgage and homebuying, I saw many people suggesting that you put 20% down. That isn't the requirement in many cases though. Most traditional mortgage lenders will require you to have 20% if you want to avoid paying for private mortgage insurance (PMI). You don't need that amount to put down to buy a home though.
Actually, when you take a look at the most recent data, most first-time homebuyers like us are only putting down an average of 7% on their houses. Repeat homebuyers are more likely to have more to put down on their next home, thanks to the sale of the first (or other factors). On average, these individuals put down about 17%.
How Much Money Do You Need To Put Down On A Home?
So, what is the minimum down payment you can have to buy a home? Really, how much money do you need to put down on a home? Well, it will depend on where your mortgage loan is coming from. Here's a breakdown:
VA loans that are guaranteed through the U.S. Department of Veterans Affairs typically have a 0% down payment.
Some conventional mortgage loans will require as little as 3%, but this is based on your household income. These are not backed by the government but they follow many of the same guidelines as those that do.
Loans backed by the Federal Housing Administration (FHA) may require as little as 3.5% down with a credit score of 580+. People with scores between 500 and 579 must pay 10% down.
Jumbo loans, or loans made by lenders that do not conform to FHA guidelines, will allow for a down payment as low as 10%. This can be great for people who do not qualify for the other types of loans listed here. Keep in mind, they may require a higher percentage down.
A larger down payment can garner you a few perks, including not having to pay PMI as mentioned above. You'll have more equity in your home right away and the lender may even give you a better interest rate too. Not to mention, you'll have lower fees and lower monthly payments overall.
However, at the end of the day, it is about choosing what is best for you and your family. If you qualify, get into a home by putting 7% down and get in there! Rent prices are crazy and paying rent isn't doing anything for you financially.
Readers, how much money did you put down on your home?
Read More