How To Plan a Party in 2023 Without Breaking the Bank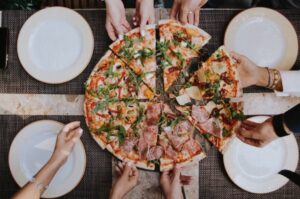 Planning a party can be a lot of fun, but it can also be expensive. Between the food, decorations, and entertainment, costs can quickly add up and break the bank. However, throwing a memorable party doesn't have to come at a high price tag. With some creativity, resourcefulness, and strategic planning, it's possible to plan a fun and festive party that won't leave you in debt. In this blog post, we'll share some tips and tricks on planning a party on a budget.
Be thoughtful when making the guestlist
When planning a party, it's crucial to carefully consider who to invite, especially if you're working with a tight budget. Firstly, keep in mind the size of your venue, as it may limit how many guests you can invite. Secondly, think about the purpose of your party and invite specific groups of people accordingly. If it's a birthday party for your child, invite their classmates and close family members. 
If it's a casual get-together, you can be more flexible with your guest list. Thirdly, consider your budget and don't feel pressured to invite everyone. The more guests you invite, the more food, drinks, and supplies you'll need, which can add up quickly. Lastly, prioritize your closest friends and family members, as they are the ones who mean the most to you. By being thoughtful when making your guest list, you can ensure that your party is enjoyable, memorable, and within your budget.
Cut corners with decorations (literally)
Print-outs are a cost-effective and customizable way to add a personal touch to your party decorations. From banners to signs to table decorations, there are print-outs available for every occasion. You can find a variety of printables online for free or at a low cost and customize them to fit your party theme by using different colors and fonts. Print-outs are also reusable, unlike store-bought decorations that are often one-time use. They eliminate the need for disposable decorations that end up in landfills and contribute to a more sustainable environment. 
You can create beautiful and unique decorations without spending too much money. So, next time you're planning a party, try printouts and see how they can transform your space into a festive and personalized celebration.
Take invitations into your own hands
Making your own party decorations is a cost-effective and fun way to add a personal touch to your celebration. You can use various materials like paper, fabric, or ribbon to create unique decorations that reflect your personality and taste. Making your own decorations is often more affordable than buying pre-made decorations and reduces the need for disposable decorations that end up in landfills. 
It also allows you to involve your family and friends in the party planning process and make it a fun DIY project. So why not give it a try at your next party and see how your creativity and imagination can transform your space into a festive and unique celebration?
Recycle past party themes
Recycling past party themes and decorations can help you create an affordable and sustainable celebration. To do this, you can mix and match decorations from different parties, repurpose old decorations, and get crafty with materials you already have at home. First, choose a theme for your party and gather decorations from past parties that fit the theme. By mixing and matching these decorations, you can create a unique and personalized look that doesn't cost much. 
You can also repurpose old decorations, such as using Christmas lights to create a romantic ambiance for a Valentine's Day dinner or using party hats as centerpieces for a baby shower. If you're feeling creative, consider making your own decorations using materials you already have at home. You could create a DIY photo booth backdrop using old bed sheets or make your own party favors using leftover ribbon and wrapping paper. 
Recycling past party themes and decorations helps you reduce waste and saves you money. So, the next time you plan a party, consider recycling decorations from past celebrations and getting creative with what you have.
Choose the time wisely
Choosing the right time for a party is crucial to ensure that your guests are satisfied with the food and drinks you serve. Consider scheduling an afternoon party between 2 pm and 5 pm to serve light finger foods and drinks. Hosting an evening party after 7 pm allows you to serve light dinner options and drinks. Brunch is another option between 10 am and 1 pm to serve breakfast and lunch options. By scheduling your party outside of traditional meal times, you can offer light and delicious options without needing a heavy dinner. Choose a time that will allow you to serve food and drinks that your guests will love, and remember, timing is key to hosting a successful party.
DO THE MEAL MATH
Planning a party on a budget requires figuring out the least amount you can spend to feed the entire party. This involves making a list of the types of food you want to serve and the number of guests you'll be feeding. Research prices at different grocery stores and online retailers to find the best deals on the items you need. 
Calculate the cost per serving for each item by dividing the total cost by the number of servings it provides. Add up the cost per serving for each item to determine the total cost of the food. If the total cost exceeds your budget, consider adjusting the menu or looking for ways to spend less, like buying in bulk or purchasing generic brands. Don't forget to factor in the cost of drinks, snacks, and any other items you'll be serving. Plan for leftovers to get the most out of your food budget. 
When planning a party on a budget, pizza is one of the most cost-efficient food options as you can purchase it in large quantities, customized to fit different tastes, and you can calculate exactly how many to make or buy.
READ MORE: