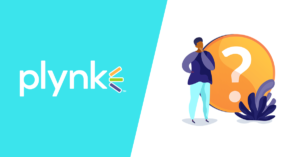 Plynk Invest Review: A New Way to Grow Wealth
Plynk is an app that allows users to invest in a wide range of stocks, ETFs, mutual funds, and cryptocurrencies with no minimum account requirement. It also offers commission-free investing in stocks, although there are small fees for individual crypto trades. The Plynk app makes it easy for users to learn about and trade crypto, with the lowest fees in the industry. Additionally, Plynk offers a matching program for new accounts where deposited funds are matched up to $75. Overall, Plynk is a user-friendly platform that simplifies the investment process for beginners.
We'll take you through all the features and benefits of Plynk Invest, including how it works, its investment options, fees and charges, security measures, and customer support. We'll also compare Plynk Invest to traditional investing methods so you can decide if it's right for you. Whether you're a seasoned investor or just starting out, Plynk Invest is the perfect way to achieve your financial goals.
Is There A Minimum Deposit Requirement To Open A Plynk Brokerage Account?
One of the most common questions people have about brokerage platforms is whether there is a minimum deposit requirement to open an account. The good news is that the minimum requirement to get started is only $1. To sweeten the deal, they are now offering a $10 sign up bonus. This makes it an excellent option for new investors or those who want to start small and grow their investments over time. With Plynk, you can easily create an account and begin investing in your favorite stocks.
Earn a High Yield on Your Uninvested Cash
Have some cash sitting on the sidelines waiting for the perfect trading opportunity? With Plynkinvest.com, you uninvested cash held in the Fidelity Government Money Market Fund ("Core Fund"). As of 7/31/23, the fund has a 7-day yield rate of 4.91%. That is well above the national average savings rate of 0.54% APY. This is an attractive option for those looking to have funds readily available to make trades while still reaping the benefits of a high yield savings account.
Is Your Money Deposit in Plynk is SIPC-protected up to $500K.
What's great about Plynk.com is that the money you deposit into your account is SIPC-protected up to $500K. The Securities Investor Protection Corporation (SIPC) provides insurance protection for customers of member broker-dealers up to $500,000 (including up to $250,000 for cash claims). This means that in the unlikely event of a brokerage firm failure, your funds are protected. This is not to be confused with being FDIC-insured which covers a bank failure. So you can use Plynk with peace of mind knowing your money is safe and secure.
Plynk vs. Robinhood
Plynk and Robinhood are two popular investment platforms that have gained a lot of attention in recent years. While both offer unique features, they differ in their target audience, investment options and fees. For example. Robinhood charges $5 a month for customers to earn 4.9% APY on cash balances. Plynk is geared towards beginner investors who want to start small with low-cost mutual funds. Today, Robinhood is designed for more experienced investors who want to trade with greater flexibility. Ultimately, choosing between Plynk and Robinhood depends on your investment goals and level of expertise.
Plynk Invest vs Traditional Investing: Which is Better?
With Plynk Invest, you can start investing with minimal capital, enjoy a tidy user-friendly platform, and access a diverse range of investment options. It's perfect for newcomers and those seeking simplicity. On the other hand, traditional investing may suit those who prefer hands-on control and in-depth research. Traditional investing involves established avenues like bonds, options, futures contracts, and often times requiring substantial capital and expertise.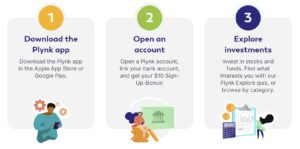 Setting Up and Funding Your Investment Portfolio with Plynk Invest
You can download the Plynk app from the Google Play or Apple App store. During the sign up process, you have the option to create a brokerage or crypto account.
Adding funds to your Plynk Invest account is quick and easy. After your account has been created, you can link your bank account by clicking the Link Bank Account option in the app.
Investment Options with Plynk Invest
Explore the world of cryptocurrencies as Plynkinvest.com offers Bitcoin (BTC), Litecoin (LTC), Bitcoin Cash (BCH), and Ethereum (ETH) trading 24 hours a day, 7 days a week, 365 days a year, except for monthly scheduled maintenance periods. In addition to crypto provided through their partnership with Paxos Trust Co. ("Paxos" for short), users have the option to invest in a wide selection of stocks, exchange-traded funds (ETFs), and mutual funds.
Plynk Invest's Automated Investing Feature
With this hands-off approach, you can grow your wealth over time without the need for constant monitoring. By taking advantage of automated investing, you can invest in stocks, mutual funds, and exchange-traded funds (ETF) automatically at a frequency that works with your budget.
Fees and Charges with Plynk Invest
Understanding the fees and charges associated with Plynk Invest is made easy. With transparent pricing for account management and investment fees, there are no hidden fees or surprise charges to worry about. Plynk Invest provides a clear breakdown of costs, helping you make informed decisions. You'll know exactly what you're paying for with Plynk Invest.
Is Plynk Invest Legit? Security and Safety Features
Plynk invest implemented robust security measures to protect your assets. Rest assured that Plynk is legit and your account information is transferred and stored using secure data encryption. They utilize multi-factor authentication, third-party verification and deploy around the clock monitoring of suspicious or fraudulent activity. With these comprehensive security features in place, you can invest with confidence, knowing that your assets are protected.
Customer Support and Assistance with Plynk Invest
Accessing customer support and assistance with Plynk Invest is a breeze. You can rely on our dedicated team of experts who are ready to assist you every step of the way. Whether you have inquiries about navigating the platform or need help in making informed investment decisions, our prompt and helpful responses will ensure you get the support you need. Reach out to us through various channels such as email and social media for a seamless investing experience. We are here to make your journey with Plynk Invest smooth and rewarding.
How to Decide if Plynk Invest is Right for You
When considering whether Plynk Invest is the right choice for you, it's important to align the platform with your investment goals and preferences. Take into account your risk tolerance and investment objectives to determine if Plynk Invest is suitable for your needs. Evaluate the features and benefits of Plynk Invest in comparison to other options available, such as Fidelity or Robinhood. Assess how Plynk Invest can help you grow your wealth and make an informed decision based on your unique financial circumstances.
Who Should Consider Using Plynk Invest?
It's perfect for beginner investors seeking a user-friendly platform whether accessing from the Plynk app or plynkinvest.com. You can start investing with low costs and benefit from diversified investment options like ETFs and cryptocurrencies all on one platform. It is also a great option for those thinking about investing but isn't quite ready to make the first trade as uninvested cash earns a sizable 4.91% APY while you use their educational tools to sharpen your skills. Enjoy transparency, competitive fees, and grow your wealth securely with a reliable platform.
Plynk Invest Reviews
With over 100,000 downloads, the Plynk: Investing Refreshed app has a 4.4/5 star rating from 2800 reviews on the Google Play store. On the Apple App store, it has a score of 4.6/5 from 1800 reviews.  Fool.com also gives the app a 4/5 star rating for its ease of use and offerings.
Conclusion
Plynk Invest offers a new and innovative way to grow your wealth and remain debt free. With its user-friendly platform and step-by-step guide, it makes investing accessible to everyone. Whether you're a beginner or an experienced investor, the app has features and benefits that cater to your needs. From automated investing to a seamless trading platform, it provides the tools necessary for success in today's market. Additionally, Plynk Invest prioritizes security and safety, ensuring that your investments are protected. With a $10 sign on bonus and matching up to $75 of your deposit, you have a lot to gain from simply giving them a try.
READ MORE: