If you are active on social media, are a foodie, or just love convenience, you may have heard of Blue Apron. It is classified as a meal delivery service that allows you to make gourmet meals from home. It's even supposed to be great for families! Well, my family tried Blue Apron for a few meals, and here is our full Blue Apron family plan review.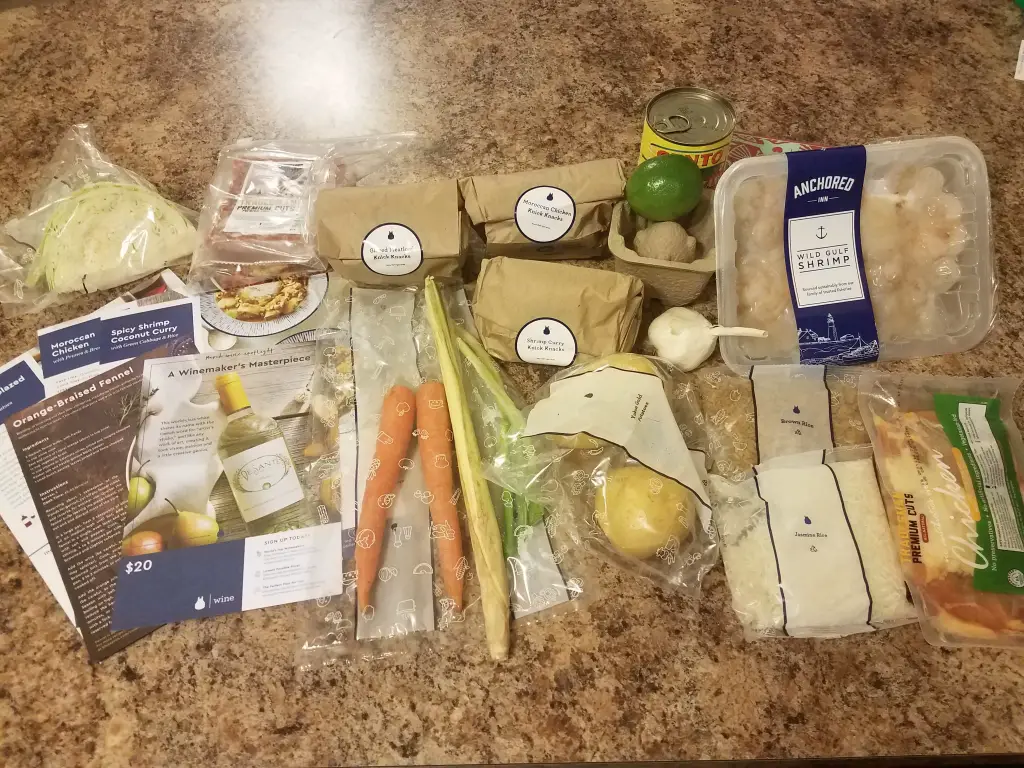 So is it worth it?
First things first, we need to go through the pros and cons. Now, it's important to remember that this is a Blue Apron family plan review. If you plan on ordering the two-person or four-person menu, your view may differ. With that being said, let's get into it!
Pros:
Convenient
As an introvert, I love convenience whenever I can get it. Blue Apron was delivered right to my doorstep, and everything was already measured and ready for me to use it when I was ready. Plus, I didn't have to worry about my food overheating because it was packed with two ice packs to keep it nice and cool. I loved that I didn't have to go out to be able to prepare meals for me and the hubby. 
Relatively Easy To Cook
If you aren't much of a cook, my Blue Apron family plan review may not be a big help for you. I love cooking, so the meals from Blue Apron were fairly easy to make for me. However, if you can easily burn water, you may need to order Blue Apron a few times before you get the hang of things.
They do offer recipe cards, but mistakes can still happen, so keep that in mind. Overall, I think Blue Apron does a great job and showing you the process of making the meals they send you.
Options For Meat Eaters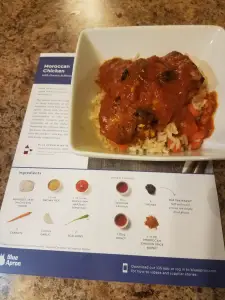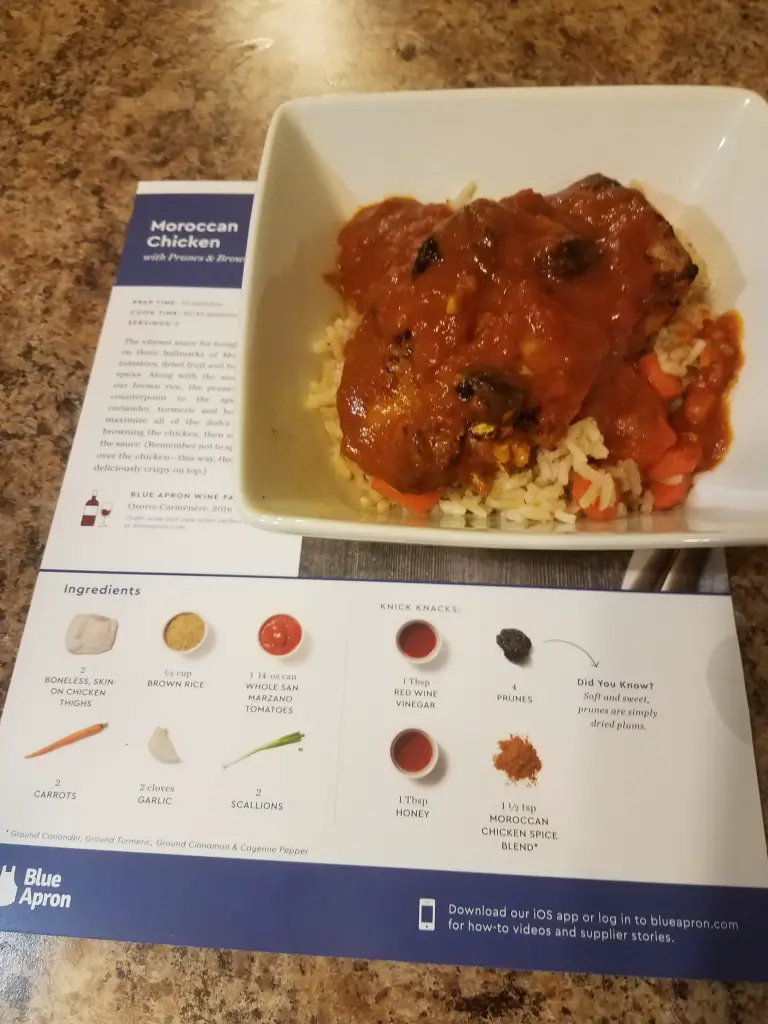 Are you or your family meat eaters? Then you will love Blue Apron.
In our box we received recipes for Chipotle-Glazed Meatloaf with Crispy Potatoes, Moroccan Chicken with Prunes & Brown Rice, and Spicy Shrimp Coconut Curry with Green Cabbage & Rice. All three dishes had different meats, so it was hard to get bored, like you get when you eat chicken three or four days in a row.
Gourmet Food Without Going Out
Grabbing a fancy dinner sounds less appealing when you can get a fancy dinner delivered to your door. This is something my family, especially my husband, enjoyed. Not only did it get us all into the kitchen, but we were able to create what we felt were beautiful masterpieces. So if you are looking to have a special dinner with your family, the Blue Apron family plan could be a good choice. 
Customer Service
My Blue Apron family plan review wouldn't be complete if I didn't add this pro. The customer service at Blue Apron is amazing! Our order was late when FedEx couldn't find our home. Instead of saying "Not our problem." Blue Apron apologized and guaranteed our food and satisfaction or they would make it up to us!
I didn't even really mind if the order was a little late, but it was nice to know that Blue Apron cared enough to reach out to me and take responsibility for something that wasn't their fault.
Cons:
Now that I've given you the pros for my Blue Apron family plan review, let's take a look at the cons:
Too Much Packaging
This may not be a con for some, but I didn't like how much packaging came with all of the food. Although I understand that Blue Apron has to keep items like eggs safe, it was a disappointment to see so much plastic. I tend to buy almost all of my grocery items using reusable bags and jars, so of course my opinion may differ from yours.
Food Can Be Bland
My family loves spice. We love our food well seasoned, so we choose our meals based on what sounded spicy or super flavorful. To our surprise, two of our three dishes were bland. Even I had to add quite a bit of salt to up the flavor of my dishes, which I normally don't salt my food at all. For food that looked so tasty, I definitely expected more flavor.
Portions Are Too Small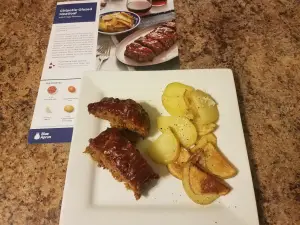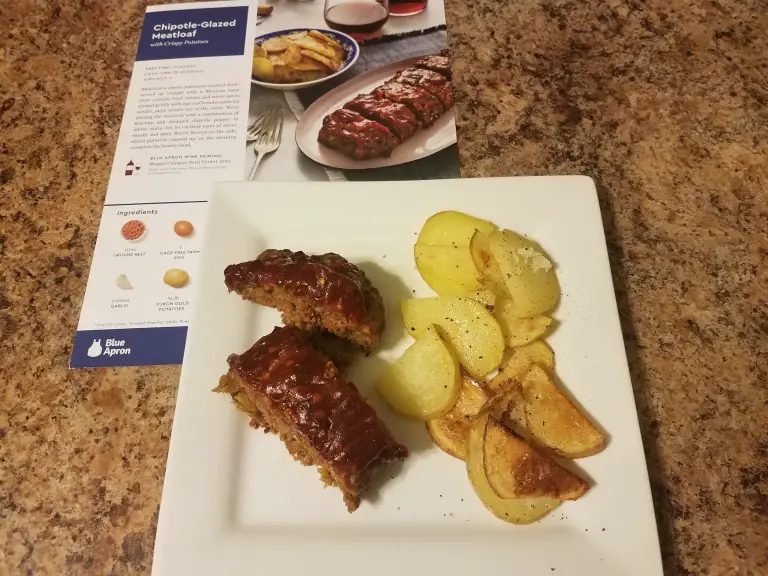 As with the other pros and cons for my Blue Apron family plan review, your opinion may differ from mine. For my family, I thought the portions were incredibly small for what Blue Apron was charging per meal ($10/person). When I first started unboxing our items, I thought the portions wouldn't be enough, and I was right. My husband was usually hungry after each meal. Even I found myself grazing on food from the fridge after eating our dinner.
Expensive
This brings me to my next con for my Blue Apron family plan review. While I love the convenience of delivery, I don't like that for $10/person I only get a small serving of food that I have to make myself. If your family normally spends an exorbitant amount on groceries every week, Blue Apron may save you money, but for us, it would cost more in the long run.
I am normally able to buy all of our food (for a family of two) for about $80 or less a week. With Blue Apron, I only got a few meals for about the same price. Because I love saving money, and don't want to spend a small fortune on food, this is one of the biggest cons that I had about Blue Apron. 
No Options For Non-Meat Eaters (Family Plan)
Blue Apron has a lot of catching up to do if they want to appeal to vegetarians or vegans. I typically eat vegan when cooking for myself, and my family is mainly vegetarian. We understood that Blue Apron didn't offer a family plan for vegetarians, but it was still disappointing. There are also not many options for the non-veggie eater, like my husband. Almost every meal has veggies along with it.
There are so many people jumping on the vegan and vegetarian bandwagon, and Blue Apron is losing out on potential loyal customers because they don't offer meatless options. But of course, I understand this may not be an issue for everyone. If you are a meat eater, or don't mind eating meat, you are good to go. If you are a vegetarian or vegan, you may want to look elsewhere for your meal delivery service (at least for now).
So there you have it, my Blue Apron family plan review. Overall, I don't think I would use Blue Apron again, but I do think they have quite a few perks that may appeal to others. If you want to invite me over for dinner though, I won't object!
Try out the Blue Apron family plan for yourself. You can use our link and get $30 off your first order!
Read More
Photos courtesy of Kim Studdard.

Team Our Debt Free Family is the administrative WordPress user account for Ourdebtfreefamily.com. Our Debt Free Family is a premium classic personal finance blog. Our mission is to inform, educate and help you get out of debt.