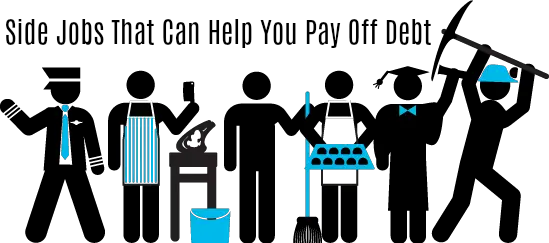 Paying off debt is no small task, especially if you have a substantial amount to be paid. Everyone should have the goal of being debt free one day but it sounds a lot easier than it is. In my case (and the case of many others), you need to generate more income to be able to pay off your debt. What side jobs are best for generating income to pay off your debt though?
Side Jobs to Pay Off Debt
Taking on a side job or part-time job is no small task. Many people who choose to take on a side job to pay off their debt don't have kids or any family responsibilities. If they do have a family, the other half of the marriage is generally caring for the kids and home. That being said, taking on a side job is a great way to pay down and pay off your debt. You'll want to be able to generate a decent amount of income if you're putting in the effort though. Here's five of the best side hustles to use to pay off your debt.
Freelance Writer
If you've got a knack for writing apply for a freelance position or post your resume on a freelance website. Most companies pay per article or per word so you'll be able to rack in a bit of money. Depending on your experience and the place you're writing for, pay can be anywhere from $25 up to the thousands.
Become a Social Media Assistant
Social media assistants can make pretty decent money and the work isn't all that demanding (if you're tech savvy). For the most part you just man the company/website's social media pages, do promotional work and sometimes run a Facebook advertisement. Social media assistants get paid per post sometimes. If you get hired on as a social media assistant (part time) you'll be looking at an average hourly wage of $15 per hour.
Part-Time Work
If writing and social media aren't your thing, you can always get a traditional part-time job. Most fast food places and retail stores need part-time help. These positions won't likely pay much (minimum wage to $10 for most) but the extra cash can help you work your way to becoming debt free. Check around or search online for part time jobs in your specific area to see if there are any available part-time positions.
---
Other readers also enjoyed: 
---
Nannying/Babysitting
Being a nanny or babysitting is another great way to earn extra cash. If you're good with kids and able to get good referrals babysitting can pay anywhere from $10 to $25 per hour. The greatest part about becoming a babysitter, also, is that you can pick up/turn down babysitting opportunities as your schedule allows. Care.com is a great place to start looking for babysitting positions near you.
Salesperson
Becoming a salesperson may seem like a full-time gig but many people have become rather successful selling items part time. You may have seen the "ITWorks" girls on Facebook or even had friends that sell LuLaRoe. Either way, these sales opportunities can help you pay off your debt over time. Just remember to check for the signs of a scam before jumping into a business venture.
These are just a few side jobs that you can take on to help you pay down and pay off your debt. Do you have any other side jobs that could contribute to someone's savings or "debt fund?"