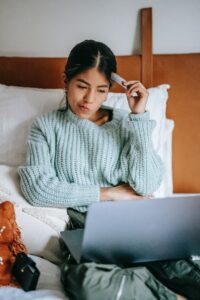 In 2022, Cash App experienced a data breach which affected more than 8 million users. It is nearly impossible to completely remove risk when conducting electronic funds transfers regardless of the use of cutting-edge encryption and fraud detection technology that Cash App implements to keep users' funds safe from scams and other fraudulent activity.
From data breaches to glitches, here are 6 steps to take to reduce the likelihood of being a victim of fraud or any kind of unauthorized access:
Regularly monitor your Cash App account. Stay vigilant by regularly checking your Cash App account for any suspicious activity or unauthorized transactions. Report any discrepancies or concerns to Cash App's customer support immediately.
Use two-factor (2FA) or multi-factor (MFA) authentication to add an extra layer of security to your account. This will require you to verify your identity using another email, a phone number, or another form of verification method you agreed to.
Create strong passwords. Do not use weak passwords that can be easily guessed using your public personal information.  Avoid using the same password for multiple apps and email accounts.
Keep the app updated. Turn on auto updates if you do rather not check for updates on a regular basis.  Missing updates containing security and bug fixes may leave you vulnerable to security breaches.
Don't fall for phishing scams. Look out for attempts to trick you into disclosing your personal information. Avoid clicking on suspicious links or providing even basic contact details to unverified sources.
Do not install apps from unknown sources. We often go down a rabbit hole looking for an app to execute a unique task or add a feature to our smart devices. You can use Google Play Protect to checks your apps for unusual behavior.
How to Report a Cash App Glitch or Unusual Activity 
If you encounter unusual activity or suspect that your account may have been compromised due to a scam, report the issue to Cash App's customer support immediately.
To report a glitch, visit  the Cash App support center within the app or visit their official website. Provide a detailed description of the issue, including any error messages or unusual behaviors you experienced. Attach relevant screenshots or transactions to support your claim.
Is your Cash App Balance FDIC Insured?
For your Cash App balance to be FDIC insured up to $250,000, you must have a Cash Card, or are a sponsor of any active sponsored account. Cash App also states that Bitcoin and investment balances are not insured by the FDIC.
Keep in mind that being FDIC insurance does not mean your account is protected from fraud on individual transactions. FDIC insurance covers your funds up to $250,000 in an event where Wells Fargo, the bank holding your Cash App balance, goes out of business.
There are other avenues for holding individual cases of fraudulent activity or scams.
Self Inc also offers a FDIC insured Credit Builder Account which allows you to build your savings and credit score at the same time by reporting your monthly deposits to the 3 big credit bureaus; Equifax, Experian, and TransUnion.
Is Cash App Safe?
You may be wondering whether or not Cash App is safe considering the large number of scams out there as well as the possibility of a security breach. Rest assured that Cash App is relatively safe and there is a very low chance of you being a victim of a Cash App exploit if you take the 7 steps above.
Block Inc, formerly Square Inc., and owners of Cash App, meets the international standard for managing information security as indicated by their ISO 27001 certification. They also utilize industry-standard cryptographic protocols and message formats such as SSL/TLS and PGP to transfer data.
However, safeguarding your Cash App account data as if it was your very own bank account add an extra layer of protection.
Read More: