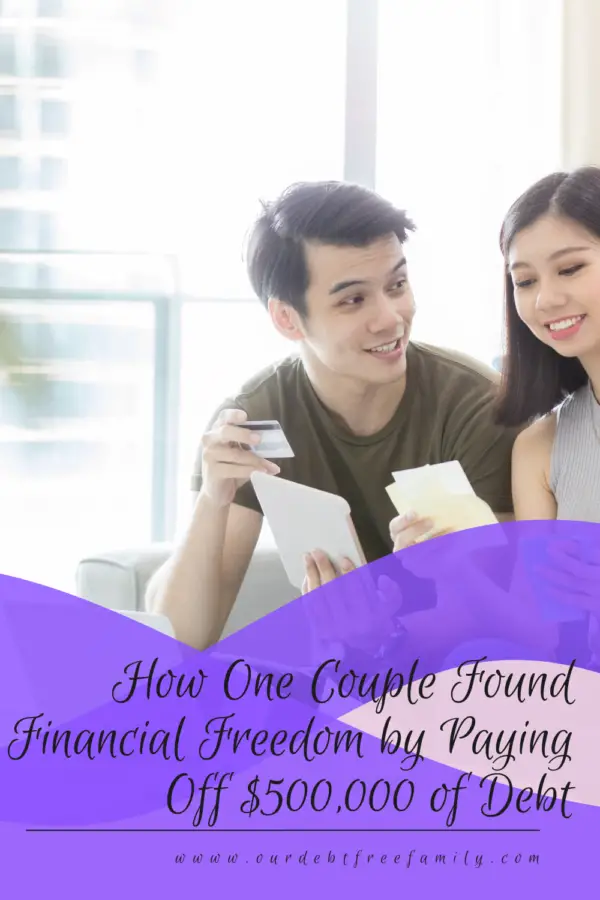 Can you imagine what it would be like to pay off $500,000 of debt?
Well, our guest today did just that!
Christine and her husband, John, paid off more than $500,000 of debt and are now enjoying true financial freedom!
In this video interview with Christine Odle, you'll learn:
How

hiring a financial coach

helped Christine and John get started on their debt-free journey and led to a new career for Christine

The one simple change that allowed them to easily cut their monthly spending by 20 – 40%

Christine's strategy for buying a brand new $32,000 car for only $24,000! (That's a 25% discount!)

Why they did nothing to celebrate becoming debt-free

Christine's advice for others who are wanting to get out of debt


The best part of her debt-free journey. (It may surprise you!)
I want to thank Christine once again for sharing her story with us!
I love how they have achieved financial freedom and make it a point to enjoy their money while being generous with others and continuing to save at the same time.
It is truly inspiring to hear stories from others who have completed their own debt-free journey. It keeps us looking forward to what life will be like when we're completely debt-free, as well.
Other Huge Debt Payoff Stories
If you want stories about people who have paid off huge amounts of debt, read these articles:
In Just 7 Years Alice and Scott Paid Off $200,000 In Debt
Learn About How Ron and Thu Paid Off $137,000 in 7 Years
Marian and Dave Paid off $120,000 in 3 Years
Easily Save Money With Paribus (Not a debt payoff story, but a sweet way to make passive income).
Now I'd love to hear about you!
What was your favorite part of Christine and John's story? Which strategies can you use to help you achieve financial freedom faster? Please share in the comments below.
Have you joined our free private community on Facebook yet?
I invite you to join me in our private Facebook group called Your Debt Freedom Family, where we share more tips like this. We've got a fantastic community of people who are kicking debt to the curb so they can break free and live life on their terms.
I'd love to see you there!
Keep moving forward toward your goals. You really can live the life you dream about!