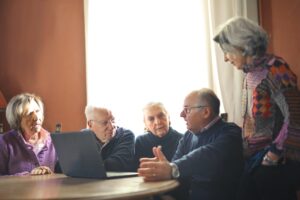 Retired Homesharing: Discover the Benefits of Senior Roommates and Shared Living
Senior home-sharing is a living option that attracts more and more elders looking for shared expenditures and a sense of community. This novel idea entails retired people or older citizens opening their homes to others in the same age range. Senior homeshare have become crucial in navigating this alternate housing option as this trend gets popularity. The goal of this page is to provide a thorough examination of senior home-sharing by providing information on the advantages, factors, and actual experiences of retired roommates.
The Rise of Senior Homesharing: An Inclusive Housing Solution
Senior home-sharing is a way of life that caters to the demands of senior citizens who are looking for company, cost-sharing, and a welcoming living space. People's housing preferences frequently shift as they enter retirement, with the importance of having deep social connections and financial security rising to the top. These demands are met by senior home-sharing, which presents a special chance for retired roommates to share a house while also establishing friendships and saving money.
Benefits of Senior Homesharing
The idea of senior home-sharing has emerged as a beacon of companionship, financial relief, and enhanced well-being as the silver generation finds new ways to navigate their retirement years. This unusual form of housing provides a number of benefits that are tailored to the requirements and goals of older people. Let's explore the many advantages of senior home-sharing in more detail, seeing how this ground-breaking method of housing transcends necessity and changes people's lives.
Companionship and Community
The camaraderie that senior home-sharing offers retirees is among its most significant benefits. The feelings of loneliness and isolation can worsen as people get older. Many elderly people end up living alone, which can cause loneliness and a sense of alienation. Senior home-sharing successfully overcomes this difficulty by fostering a setting where companionship is not just a possibility but also necessary addition to life. Some younger adults actually prefer renting a room to an elderly person due to their stability compared to younger roommates.
Building real friendships and a sense of community while living in a house with like-minded people your own age is possible. The friendship that develops from regular meetings, mutual interests, and sincere conversations can lessen feelings of loneliness and lift the spirit. The joy of friendship, support through difficult times, and shared laughter all help to establish an emotional safety net that improves mental health and leads to a more fulfilled living.
Cost Savings
A recent survey suggest that most people don't think they will even be able to retire. Retirement's financial environment can be confusing and unpredictable. Fixed retirement earnings may experience severe strain as a result of growing housing, utility, and everyday expense costs. Cost reductions are one of the most practical advantages of senior home-sharing.
Retired roommates can live more sustainably as a group by splitting the costs of rent, utilities, and other household expenses. The financial relief from sharing expenditures frees up funds that can be used for other activities, such as engaging in hobbies, traveling, or making investments in one's own development. In addition to improving financial security, being able to manage spending more skillfully helps retirees feel more in control and at peace.
Safety and Support
Seniors' safety and well-being are of utmost importance, particularly those who could have health issues or mobility issues. The presence of housemates in the senior home-sharing community generates a built-in support structure that provides security.
Living together naturally encourages a community where safety concerns are addressed cooperatively among the residents. The presence of dependable companions adds an extra degree of security, from small actions like making sure the front door is fastened securely to more significant aid during emergencies. Seniors who want to age in place while retaining a sense of independence may find this built-in safety net to be very helpful.
Independent Living
Many senior citizens hold dear their desire to maintain their independence. Senior home-sharing achieves a careful balance between promoting a sense of community and enjoying individual freedoms. Senior home-sharing, in contrast to typical care facilities, enables people to maintain their independence while reaping the benefits of communal living.
Seniors keep their daily habits and personal preferences in the solitude of their own space. In addition, they have access to a network of friends, common interests, and companionship that enhances their lives. Seniors can have the best of both worlds thanks to this special balance: personal autonomy combined with the pleasures of community and fellowship.
Mutual Assistance
Successful senior home-sharing agreements are characterized by a spirit of cooperation. In many circumstances, retired roommates offer one another support and practical assistance, fostering a sense of dependency and shared accountability.
The willingness to help one another develops a sense of purpose and belonging. This assistance can take the form of running errands, accompanying one another to appointments, or helping with home chores. By fostering a culture of care and cooperation, this collaborative approach improves life in general. The regular acts of generosity and assistance foster a culture where everyone's contributions are recognized and the relationships among housemates are strengthened.
Considerations for Senior Homesharing
Even though senior home-sharing has many advantages, it's important to take some things into account before starting this type of living situation:
Compatibility
The compatibility of the housemates will determine how well the senior home-sharing arrangement goes. Beyond common interests, compatibility also takes into account values, lifestyles, daily routines, and expectations. To determine whether prospective roommates are a good fit for one another, candid conversations about personal preferences and behaviors are vital.
Spend some time getting to know your possible housemates before agreeing to a home-sharing arrangement. Have discussions about things like leisure pursuits, sleeping patterns, standards of hygiene, and social preferences. These conversations can give you insightful information about how well your living styles complement one another and whether you can co-create a peaceful living space.
Legal and Financial Agreements
A successful senior home-sharing arrangement must include detailed and thorough legal and financial arrangements. These agreements spell out the conditions and obligations of each party, ensuring that expectations are clear and potential problems are kept to a minimum.
Discuss and formalize important matters like rent, utilities, shared costs, and household obligations before moving in. Writing down these agreements might act as a point of reference and avoid misunderstandings later on. To make sure that the agreements are legitimate and offer security to all parties, it is important to obtain legal counsel or consult pertinent resources.
Privacy and Boundaries
Senior home-sharing is motivated by companionship, but it's equally crucial to respect each individual's privacy and boundaries. A pleasant cohabitation experience depends on fostering both social engagement and individual isolation in the home.
Establish clear guidelines for personal space, quiet times, and private time. Agreements on shared common areas, acceptable noise levels, and guidelines for inviting visitors are a few examples of this. You can find a balance between community life and the requirement for occasional solitude by outlining these rules in advance.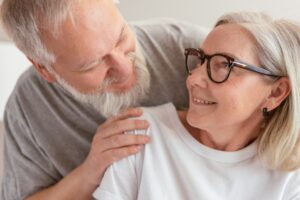 Health and Support
Health considerations in shared housing situations become more important as people age. It's critical to openly communicate your health needs, concerns, and requirements while looking for new roommates. To make sure that the living environment can accommodate everyone's well-being, transparency about chronic diseases, medication schedules, and mobility constraints is essential.
Take into account whether there are any nearby medical resources and services at the home-sharing site. Discuss emergency procedures as well as whether a strategy is in place to take care of medical requirements as they occur. Making health and support issues a priority helps create a welcoming and secure living space for all roommates.
Exit Strategy
Although a good and long-lasting senior home-sharing experience is desired, it is advisable to have a backup plan in case things don't work out as planned. Being prepared for the end of the relationship might provide everyone involved peace of mind because life is fundamentally unpredictable.
Talk about the conditions under which, if necessary, the agreement could be terminated. This might cover things like a notice term, budgetary concerns, and plans for moving if required. Even in the event that unforeseen circumstances emerge, having an exit strategy guarantees a polite and easy transfer.
Real-Life Experiences: Insights from Senior Homesharing Reviews
Senior home-sharing experiences in real life offer priceless insights into the advantages and problems of this unusual living arrangement. People share their ideas, difficulties, and triumphs in senior home-share reviews, illuminating the realities of living with retired housemates on a daily basis.
Reviews frequently emphasize how senior home-sharing provides a strong sense of camaraderie and emotional support. Seniors frequently talk about how having roommates their own age encourages real connections, shared interests, and a feeling of community. Many reviews point out that after joining a home-sharing arrangement, their mental and emotional well-being has considerably improved.
Reviews of senior home-sharing programs frequently mention the financial advantages as well. Retirement roommates regularly comment on how dividing housing bills has reduced their financial stress, allowing them to enjoy their golden years without being concerned about prices. They are now able to engage in hobbies, travel, and other pursuits that they might not have been able to afford without this financial reprieve.
Senior home-sharing reviews also emphasize the useful assistance that housemates offer to one another. The spirit of reciprocal care and support is a tenet of these living arrangements, from helping with domestic tasks to running errands and offering emotional support through trying times.
Conclusion
Innovative housing options like senior home-sharing provide a tempting substitute for conventional living arrangements as the older population keeps expanding. Reviews of senior home shares and first-hand accounts show that this housing choice goes beyond mere utility; it improves seniors' quality of life by developing connections, easing financial responsibilities, and fostering a feeling of community. Senior home-sharing has the ability to revolutionize how seniors view retirement and companionship, opening up a new chapter that is full of shared memories, significant connections, and a sense of belonging as more people investigate this niche of living.
READ MORE: