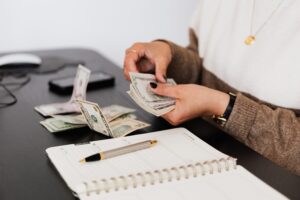 Looking to have more control over your finances and put away more money? The Biweekly 26 Weeks Money Challenge, or the 26 Week Savings Challenge as it is sometimes called, is an excellent way to reach your saving ambitions. In this thorough guide, we will show you how to accomplish this challenge step-by-step and monitor your savings grow. this guide is suitable for all levels of saving, from novice to experienced, and is designed to keep you on track, motivated, and make the most of investing your earned money.

How does the Biweekly 26 Week Money Challenge Work?
A year's worth of savings can be achieved with the 26 Weeks Money Challenge, a straightforward but powerful savings method. The idea is simple: for 52 weeks, you save a certain amount of money each two-week period. You can build up your savings in a manageable and sustainable way by starting small and gradually increasing it each week.
First, you will decide on an initial savings amount. This could be as low as $1 or as high as you like, but be realistic. The key is to pick an amount that is suitable for your financial circumstances . After determining your initial savings amount, you'll follow a predetermined schedule that outlines how much you need to save each week.  Here's an article on how to save 10,000 using the biweekly 26 week money challenge. 
The schedule typically follows a pattern during which you increase the savings amount incrementally every two weeks over a one year period. You may begin by saving $2 for the first two weeks, add $4 for the next two weeks, add another $6 for the third two weeks, and so on. In this case, you are incrementally adding $2 on your previously added savings amount per two-week period.
While not a Money Challenge, Self Inc offers a Credit Builder Account which allows you to build your savings and credit score at the same time by reporting your monthly deposits to the 3 big credit bureaus; Equifax, Experian, and TransUnion. The average user who make on-time payments can expect to see a credit score increase of 49 points. 

Benefits of the 26 Week Money Challenge
There are many benefits to the biweekly 26 week savings challenge that will improve your financial situation and achieve your savings goals. Here are some advantages:
Builds discipline and consistency: The challenge requires you to save money consistently over a long period of time. By sticking to the schedule and saving each week, you'll develop discipline and create a habit of saving. This can help you make smarter money decisions and keep your overall financial goals at the forefront of your mind when making purchases.
Help boost your savings by a large amount: Over the course of the challenge, the savings amount gradually increases, allowing you to accumulate a substantial sum of money if you're consistent. By the end of the 26 week period, you'll have boosted your emergency fund, savings account, or any other financial goal you have in mind.
Encourages financial awareness: The Biweekly 26 Weeks Savings Challenge requires you to track your progress and stay engaged with your finances. This increased awareness can help you identify areas where you can cut back on expenses, find opportunities to save more, and make better financial decisions overall.
Variations of the 26 Week Savings Challenge
The beauty of the 26 Week Money Challenge is that it can be customized to suit your preferences and financial situation. If you cannot adhere to the rules of the basic 26-week challenge method doesn't resonate with your personality or budgeting goals at the time, there are other variations you can try. Here some of the more popular ones:
Simple 26 Week Money Challenge: This method uses 26 weeks or 6 months rather than a full year. Good for working towards a short-term goal or for individuals who are paid on a weekly basis and able to contribute more often.
Reverse 26 Week Money Challenge: In this variation, you start with the highest savings amount and gradually decrease it each week. This can be a great option if you want to front-load your savings or if you anticipate having more financial flexibility in the earlier weeks.
Double-Up Challenge: If you're up for a more aggressive savings approach, you can double the savings amount each week. While this requires a higher level of commitment, it can result in significant savings by the end of the challenge.
Customized Challenge: Feel free to create your own version of the challenge that aligns with your specific goals and financial capabilities. You can modify the savings amounts, duration, or even add personal milestones along the way. The key is to make it work for you.
Tracking your progress during the 26 Week Money Challenge
Keeping track of your progress is essential to stay motivated and accountable throughout the 26 Weeks Money Challenge. Here are some effective ways to track your savings journey:
Use a savings tracker: Create a visual representation of your progress by using a savings tracker. This can be as simple as a spreadsheet or a dedicated savings tracking app. Update it each week to see how much you've saved and how close you are to reaching your goal. A clean copy of the free printable 26 Week Money Challenge PDF worksheet  can be downloaded here.
Celebrate milestones: Break down the challenge into smaller milestones and celebrate each one. For example, after saving for 10 weeks, treat yourself to a small reward or indulge in a favorite activity. Celebrating milestones can help maintain motivation and make the challenge more enjoyable.
Share your progress: Consider sharing your progress with friends, family, or even on social media. This can create a sense of accountability and support. You might even inspire others to take on their own savings challenges.

Ways to stay motivated during the 26 Week Money Challenge
Staying motivated throughout the 26 Weeks Money Challenge is crucial for success. Here are some strategies to help you stay on track:
Visualize your goals: Create a visual representation of your savings goals. This could be a vision board, a picture of something you want to save for, or simply a written statement of what you hope to achieve. Keep it somewhere visible as a constant reminder of why you're taking on the challenge.
Track your progress visually: As mentioned earlier, use a savings tracker to visually track your progress. Seeing your savings grow week by week can be incredibly motivating and reinforce your commitment to the challenge.
Find someone to keep you accountable: Share your goals and progress with a trusted friend or family member. Having someone to hold you accountable and provide support can make a significant difference in staying motivated. You can check in with each other regularly to share updates and offer encouragement.
Reward yourself: Set up rewards for reaching milestones or achieving specific savings targets. Treat yourself to something you enjoy or have been wanting as a way to celebrate your progress. Just make sure the rewards align with your overall financial goals and don't derail your savings efforts.

Conclusion
Remember, the key to success in setting realistic goals, staying disciplined and consistent, and finding ways to stay motivated throughout the journey. With the right mindset and the tips, strategies, and resources provided, you'll be well-equipped to make the most of the 26 Weeks Money Challenge and transform your financial future. The challenge is just one tool in your financial arsenal. Continue to build upon this success by setting new goals, exploring other savings strategies, and making smart financial decisions that align with your long-term objectives.
Read More: