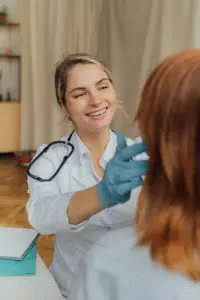 Let's face facts — Americans face some of the highest healthcare costs in the world. The average American spends over $10,000 per year on healthcare. That's no small number, and many people struggle to make ends meet because of these expenses.
For many people, the high cost of healthcare means you either need to take on new debt, pull from savings, or just hope you get better. Financial stress like these can make things worse by impacting your physical health. The good news is that there are steps that you can take right now to reduce the impact of healthcare on your wallet.
Read on for some effective strategies to reduce healthcare costs!
1. Reconsider Your Current Health Insurance Plan
Many people look for the lowest premium when selecting their health insurance plan. But low premiums do not necessarily translate to reduced spending on healthcare expenses. In fact, plans with low premiums often cause you to spend more on your healthcare than if you had selected a plan with a higher premium.
Why is this?
Plans with lower premiums generally have higher deductibles, co-pays, and co-insurance, and they may cover less than you anticipate. For example, a plan with a $100 premium may have a $3,000 deductible, which means you'll have to pay $3,000 out of pocket before your coverage even kicks in.
2. Know Your Plan Inside and Out
No, we don't mean you need to spend hours poring over the fine print in your policy. But you should have a general knowledge of what your plan covers and what it does not.
Your doctor isn't necessarily going to prescribe a course of treatment or medication that costs you the least amount of money. They're going to do what they feel is in your best interest to keep you as healthy as possible. If what they're suggesting isn't covered, and you can't afford it otherwise, ask them for alternatives that best work with your health insurance.
3. Look into a Flexible Spending Account
A flexible spending account allows you to funnel pretax dollars into an account that you can use to pay for your healthcare expenses. You can contribute up to $2,650 per year to an FSA, which reduces your tax liability and gives you a pool of money to use when you have a medical emergency.
How does it work? You tell your employer how much you want to put in your FSA at the beginning of the year, and you'll either receive a debit card to pay for those expenses, or you will submit a claim for them after paying out of pocket. You can use a flexible spending account on things like doctor's visits, medicine, prescription glasses or contacts, and even travel to and from medical facilities.
Make sure to only fund it with the money that you'll really use for healthcare expenses because that money does not roll over to the next year.
4. Do Not Abuse The  Emergency Room
We know it can be very tempting when you or a loved one is in pain or sick in the middle of the night to rush to the emergency room. But unless it's a legit life-threatening emergency, you should steer clear of the emergency rooms.
Why? Even with health insurance, receiving treatment at the ER is exponentially more expensive than that you would receive at the doctor's office or even an urgent care facility. If you think you can tough it out until morning, then you could save a whole lot of money.
Reach out to your doctor or nurse early when there is a sign that something is not right.
5. Look for Assistance Programs
Even with health insurance, many prescription drugs can cost you well over $400 per month. That's a car payment!
If you can't afford what you're currently paying for prescription drugs, there may be other options available for you. Many prescription drug manufacturers offer patient assistance programs that cover most, if not all, of the cost of the drug. Most of these programs have income requirements to prove that you legitimately cannot afford the cost of the drug.
Interested? Spend some time looking around your drug manufacturer's website to see what they offer.
6. Go Generic
This is a very simple thing you can do that can save you tons of money.
Doctors often write prescriptions using the brand name of the medication, but did you know that many medications have a generic form that can save you a ton of money? It's true! Once the patent has expired on a medication, other manufacturers are free to produce the exact same medication in generic form for a fraction of the price.
Ask your doctor to write your prescriptions using the generic form of the medication, if it is available. Don't fret if you forget, just ask the pharmacist to fill it using the generic form.
7. Buy in Bulk When You Can
Do you have a medication you take every single day? For most people, this means that you have to go to the pharmacy once a month or more if all your medication isn't synced up.
Check with your doctor or pharmacist to see if you can get your medication in 90-day intervals. Not only will you save time and gas money, but you may also save a few dollars by buying in bulk.
8. Eat Right and Get Moving
An ounce of prevention is worth a pound of cure. The simplest way to save money on healthcare costs is to take preventative measures to reduce doctor's visits and your reliance on prescription medication.
If you aren't already eating a healthy diet full of whole grains, fruits, and veggies, then you should talk to your doctor about changing things up. You can also improve your health by incorporating exercise into your daily routine. This doesn't mean you have to be Instagram influencer healthy, just make some small changes, and those will add up to less frequent doctor's visits.
Did You Love These Strategies to Reduce Healthcare Costs?
By following these strategies to reduce healthcare costs, you'll find that your financial stress is greatly reduced. Whether you choose to change health insurance plans or providers, or if you decide to dedicate yourself to living a healthier lifestyle, every little bit helps your wallet.
Want more helpful advice about getting your finances in tip-top shape? We've got you covered. Check out the rest of our blog for articles about everything from the financial impact of relocation to financial planning strategies.
READ MORE: