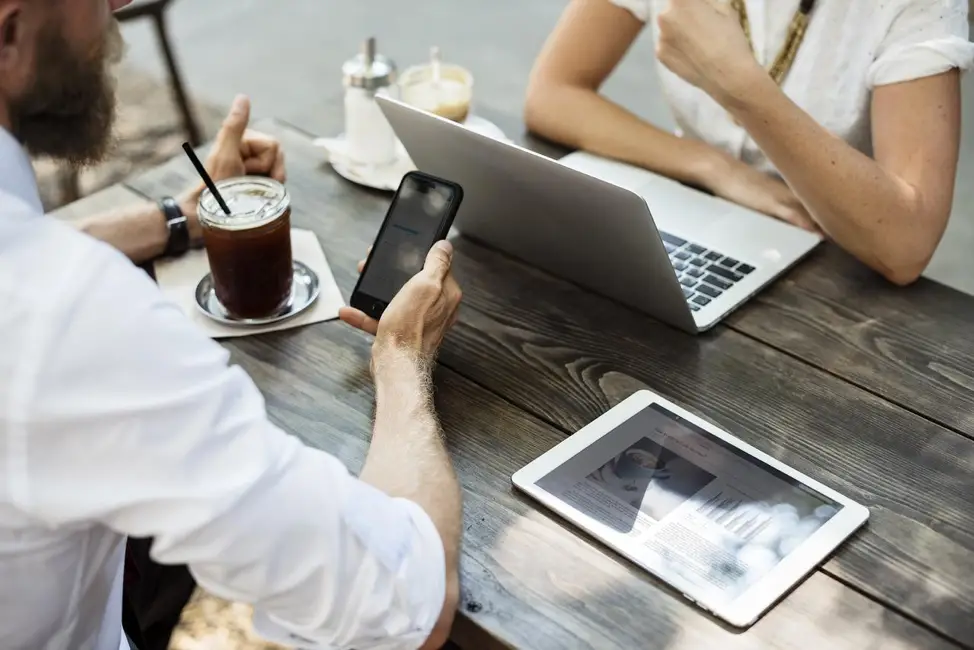 Self-lending via credit builder loans has typically been programs managed by small community banks and credit unions. Self Lender or Self Inc as it is known today, is the first company to launch a nationwide, online Credit Builder Account, and has cemented itself into the credit-building loan market providing services to the masses via several digital financial services. Is Self the right option for your credit building journey?
About Self Inc.
Self Inc. is an innovative financial institution that can help build your credit and save money at the same time. With over 1 million users, Self Inc understands the struggles that many individuals face when trying to improve their creditworthiness. That is why they have created a unique platform that allows users to take control of their financial future by better positioning themselves when applying for credit.
By offering credit builder loans, Self Lender helps establish a positive payment history, while also locking away money for your future goals. With their easy-to-use Self App and personalized support, Self Lender takes the guesswork out of credit building, making it accessible and achievable for everyone without spending hundred or thousands on credit repair services that lack transparency.
Self Lender vs Traditional Credit-Building Methods
When it comes to building credit, there are various methods available. However, Self Lender offers a unique and effective approach that sets it apart from traditional methods. Unlike secured credit cards or credit builder loans offered by banks, Self Lender's credit builder loans don't require an upfront deposit or a hard credit check. This makes it accessible to individuals who may not have the means or credit history to qualify for traditional credit-building options. Additionally, Self Lender's loans are specifically designed to build credit, whereas traditional loans may come with other requirements or restrictions. With Self , you have a dedicated partner on your credit-building journey, guiding you every step of the way.
If you meet the credit requirements, have the discipline, and looking for a credit card to build credit payment history and enjoy some additional card perks, I highly recommend the Chase Freedom Unlimited. You earn a $200 bonus after spending $500 on purchases in the first 3 months from opening your account. Other highlights are a 3% cashback on dining at restaurants, including takeout and eligible delivery services, drugstore purchases, and 1.5% cashback on all other purchases.
Self Credit Builder Account
We're more familiar with credit building credit cards known as secured credit cards, but credit building loans have also been available through traditional banks such as LeadBank and financial institutions for years. They're often called "CD-secured loans" or "savings-secured loans," since they're secured by a Certificate of Deposit (CD) or some other form of savings account.
By opening a Credit Building Account with Self Inc, you are commit to putting a certain amount of money into an account each month. Think of it as a CD account where your payments are reported to the three major credit bureaus (Equifax, Experian and TransUnion) in order to establish or build credit.  Why is this key to your credit building strategy? Well, credit payment history makes up 35% of your credit score. 
Key Elements
✅ Free to join Self Inc. One time $9 non-refundable fee to open a Credit Builder Account.
✅ Self's bank partners (LeadBank, Sunrise Bank) lends you a small loan in the form of a FDIC-insured CD which is held until it is paid in full.
✅ You start repaying your Credit Builder Account the following month by making equal payments over the term of the loan.
✅ Your  payment history is reported to the three major credit bureaus, Experian, Equifax and TransUnion each month.
✅  When you pay off your loan, you will receive the funds you put in over the 24 month period minus the interest and fees.
✅ Account is available online or via Self App in all 50 states.
Self Inc Credit Builder Plans
Self Inc offers 4 different credit builder plans to fit your budget and credit goals.  Similarities among the 4 plans are the flat $9 administrative fee and 24-month term. 
Your final cost and interest rate will vary based on the specific plan you choose.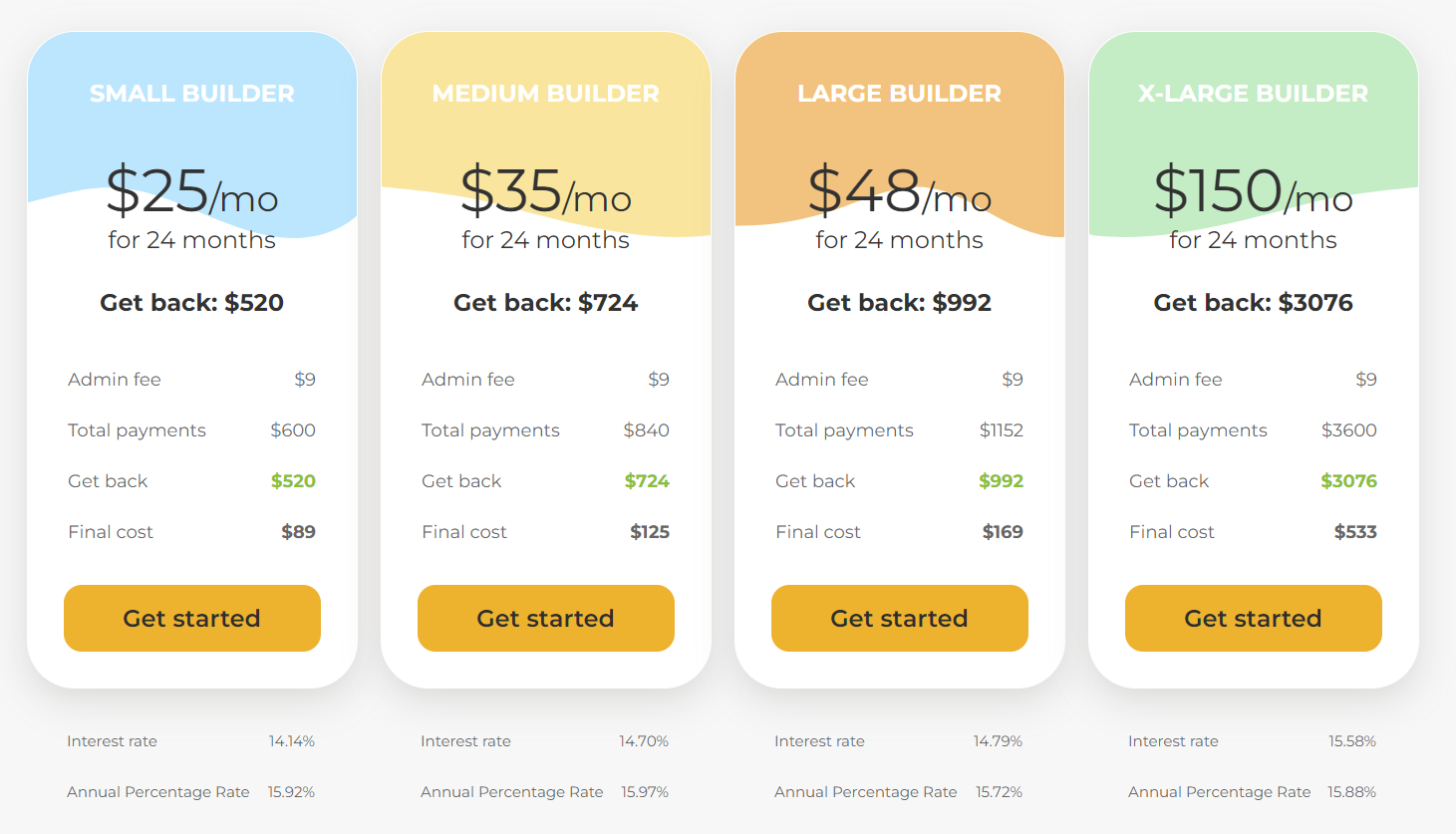 How Will Self Credit Builder Show up on Your Credit Report?
A Credit Builder Account will show up as a "secured-installment loan" from one of  Self Inc.'s bank partners such as Sunrise Bank.
Self Inc Banking Partners: Is Your Money Safe?
Self Financial partners with several banking institutions to provide a variety of credit building services. Credit Builder Accounts held in a Certificate of Deposit (CD) at one of these institutions below are FDIC insured. 
Sunrise Bank  –  Credit Builder Accounts
First Century Bank  –  Self Visa® Credit Card and certain Credit Builder Accounts
Lead Bank  – Secured credit card and certain Credit Builder Accounts
Atlantic Capital Bank  – Self Visa® Credit Card and certain Credit Builder Accounts
Closing Your Self Credit Builder Account Early
If you must complete an early withdrawal and close your account, you can cancel your account at any time as long as your account in good standing.  Before making a withdrawal request, login to your account and ensure your address and bank account information is up to date. This will prevent any delays in processing your request as it may take up the 3 weeks.
Self Lender Reviews: Is Self Inc the Answer to Your Credit Challenges?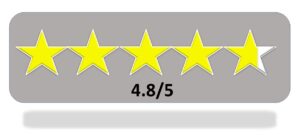 Self Inc is fairly transparent with its customer reviews. As of August 2023, the Self App has 4.6 stars, 7000+ reviews and over 1 million downloads on the Google Play Store. On the Apple App Store, Self App also boast an impressive 4.9 stars from over 240,000 reviews.  Review portal Shopper Approved has Self Inc at 4.7 stars with over 2500 5-star reviews.
Some users have seen a big improvement in their credit scores; some show more modest gains. It is also not exactly clear when credit improvements kick in as many factors beyond Self's control are at play here. In some cases, the benefits are immediate. In other cases, it takes could take 6-9 months to see improvements. While credit results may vary, Self Inc is a legit BBB-accredited financial technology organization that provide positive results to most of its customers. On average you can expect a credit score increase of 49 points.
One other important factor to consider is frankly, your personality. Some individuals perform better with an enforced method to improve their credit. However, if you prefer a more independent and flexible approach to your personal finances, their credit builder loans might not be the optimal option for you. Try this biweekly 26-week savings challenge instead. If you're looking for extra income to keep up with your payments, there are a large number of side hustle opportunities out there. For examples, you can get paid to write articles and blog posts or even testing apps and writing reviews.
Late Fees and Penalties
Self Inc is not an accountability-free method of possibly increasing your credit score. You are still required to make your payments on time, and failing to do so can leave you in a state that is worse than when you started to use the service.
✅ A Late equivalent to 5% of your monthly payment amount is charged 15 days after payment due date.
✅ A late fee of 5% of your monthly payment amount if your payment is at least 15 days past due.
✅ Failed payment made via bank account will be charged a $15 return fee.
✅ Expedited payment charge is you make payments with debit card (charge will vary based on your Credit Builder Plan).
✅ A small fee less than $1 for closing your Credit Builder Account early.
Self Visa Credit Card
The Self Visa Credit Card is another financial offering by Self that is aimed at assisting individuals in building or repairing their credit. This secured credit card requires a refundable security deposit as collateral while allowing users to establish credit history responsibly. With a Self Visa Credit Card, cardholders gain access to the extensive network of Visa benefits, enabling secure online transactions with everyday purchases. By making timely payments and maintaining good credit behavior, users can gradually improve their credit scores It serves as a valuable tool for those seeking to build credit or recover from past credit challenges.
Once you are eligible for the Self credit card, you will receive a notification inviting you to sign up for the card when you login to your account. However, eligibility does not guarantee approval. To be eligible for the secured credit card through Self, you must meet the following requirements:
✅ Have an active Credit Builder Account for at least 3 months and have made at least 3 monthly payments on time
✅ Have reached at least $100 savings progress in your Credit Builder Account (after interest and fees)
✅ Have your Credit Builder Account in good standing
✅ A permanent US residency or citizenship with a Social Security Number
✅ Login and add your income and expenses to your account
Self Lender Phone Number and Customer Service Contact
Self Lender offers personalized support through their Self App, website, and customer service channels. If you have question or concerns about any of their credit building services, Self Inc.'s customer support can be reached at 1 877- 883-0999 Monday-Friday from 7am-6pm CT
If you're looking to build slow and steady wealth, also check out Raisin for single sign on access to FDIC insured institutions offering high-yield interest rates above 5%. I like Raisin.com for its easy to use interface and access to multiple institutions to diversify your funds without creating multiple accounts across different banks. Click here and enter my referral code earlm014354 to earn up to $125 in bonus cash when you sign up and meet the deposit requirements.
Conclusion
Building your credit requires patience, discipline, and the right tools. There is no question as to whether or not Self Inc is legit. With Self, you have a trusted partner that can help you build credit and save money at the same time. Their credit builder loans are designed to establish a positive payment history, improve your credit score, and provide you with savings for your future goals. Whether you're starting from scratch or rebuilding your credit, Self Lender's user-friendly app and personalized support make the process accessible and achievable for everyone.
Ready to start building your credit? Apply at Self Lender today!
READ MORE: