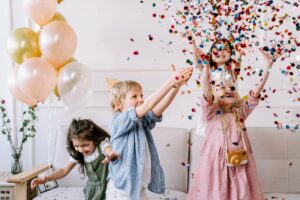 Planning a Budget Birthday? Check Out These Money-Saving Ideas
Your little one's birthday only comes once a year, so you want to make it extra special. But between venue costs, entertainment, food, supplies and more, expenses can quickly spiral out of control. With some creative planning though, you can throw an epic kids' party that feels luxurious without draining your bank account.
In this article, we'll explore top tips for celebrating your child's big day in style on a budget. From picking the perfect theme to scoring décor deals, you'll learn how every parent can pull off a pint-sized birthday bash kids will remember forever – without going broke. Let's get this party started!
Rockin' Theme Sets the Stage
A fun theme kicks the party off right while offering direction for decorations and activities. Brainstorm favorites like outer space, under the sea, jungle safari or tie-in children's movie themes. Visit Pinterest for inspiration on bring any chosen motif to life inexpensively.
With basic art supplies, you can craft signs, photo backdrops, confetti cones and garlands to transform any space into a wonderland. Use paint, construction paper, tissue paper and ribbons sourced from the dollar store. That handmade touch makes for an unforgettable party compared to store-bought kits.
Cake Hack: Costco to the Rescue
No need to stress perfecting a homemade cake when Costco bakeries make gorgeous, delicious options starting at just $15.99. Their wide selection lets you match any theme from pirates to princesses. A sheet cake easily feeds 30+ guests with money left over versus ordering a specialty cake.
Costco's cakes use quality ingredients for long-lasting freshness, so you can buy up to a week in advance. Let their in-house designers decorate masterpieces that avoid hours of frustrating decorating. Kids only care about devouring sugary goodness anyway!
Venue Hunt: Keeping it Local
Finding party space doesn't have to break the bank either. Start by scouting your own backyard, if weather permits. To add pizzazz, adorn the yard with balloons, streamers and lawn games. For indoor fun, look into nearby community centers or school venues which offer affordably priced party packages.
Parks hosting covered picnic areas provide sheltered spots for minimal cost – just review reservation policies. Wherever you celebrate, embracing a venue that simplifies setup makes hosting smoother. Focus time on fun versus logistics!
Trim the Guest List
To control headcount and cut overall costs, limit invited guests to your child's closest friends. For a first birthday, cap the list around 10-15 to keep things manageable yet lively. Get RSVPs early to accurately plan for food, seating and favors. Resist pressure to invite everyone by emphasizing this event is all about celebrating your birthday boy or girl.
Dazzle with Budget Décor
Dollar stores are your best friend when it comes to decorations on a dime (Or a dollar). Load up on packs of solid color plastic tablecloths, bundles of balloons, rolls of streamers, and festively patterned plastic plates, cups and utensils. All can be found for just $1-2 per pack.
Transform any space through strategic use of these dollar store finds. Mix and match balloons, streamers and plastic banners in the party's colors. Drape plastic tablecloths over folding tables for instant style. Arrange decorative embellishments like curling ribbon, pom poms, garlands and scene setters.
Construct a photo booth backdrop by mounting bold wrapping paper or fabric from the dollar store on cardboard. Craft papier mache shapes of key theme items like rocket ships or flowers using newspaper and flour. Let your creativity shine with budget materials without going broke on store-bought kits.
Mix and Match Affordable Eats
Satisfy guests with crowd-pleasing snacks and pizza delivery versus a catered spread. Do your own food prep ahead of time to save money. Slice fruit kabobs, assemble veggie platters with ranch dip, make sandwich wraps and chilled pasta salads. Get creative decorating your own homemade cupcakes instead of splurging on a full custom cake. Hit up Costco or Sam's Club for trays of cookies and other baked treats at bulk rate deals.
Provide juice boxes, bottled water and soda as drinks. For easy self-serve, arrange all food in a buffet style. Set up labeled food stations if hosting outdoors. Doing a potluck with parents pitching in on homemade side dishes and desserts also helps cut catering costs considerably. Get their help with setup and cleanup too!
Host High-Energy Fun
Involve kids in active games and crafts that bring the party's theme to life. For an ocean party, play fish bowl fishing for prizes or hold a sandcastle building contest. Hand out foam aquatic animal hats for kids to decorate themselves.
Jungle safari parties could feature limbo, bean bag toss, or making animal masks or binoculars. Use brown paper bags as the mask base and attach cutout eyes, ears and snouts. Space themes offer opportunities for an astronaut training obstacle course or decorating galactic space ship hats.
No need to spend on expensive entertainment. Provide inexpensive grab bag favors like bubbles, crayons and small toys to take home. By tapping into creative theme-based activities, you'll keep young guests engaged without breaking the bank. The birthday child will love celebrating their special day through games designed just for them.
DIY Favors on the Cheap
Instead of purchasing trinket favors, make your own utilizing supplies on hand. Fill brown bags with candy, stickers and party hats. Or help kids plant their own seed packets as a nature-inspired gift.
Printable coloring sheets and bookmarks require just paper and crayons for hours of entertainment. Handing out playdough or sidewalk chalk lets children get creative. Thoughtful party favors made yourself show guests extra appreciation.
Final Thoughts
Pulling off the perfect bash on a budget just takes a bit of resourcefulness. Dazzling décor, activities, food and favors can all be done affordably if planned out.
Follow these tips to make your child's celebration a memorable one without overspending. The real magic comes from celebrating your little one surrounded by family and friends.
READ MORE: